Christine Blasey Ford delivered an emotional testimony to the Senate Judiciary Committee about her allegation that Supreme Court nominee Brett Kavanaugh sexually assaulted her while they were in high school Thursday.
Outside of the hearing, people gathered to show support for Ford and for the Supreme Court nominee. An hour before the testimony began, there were roughly 200 people there.
People chanted about believing both Christine Blasey Ford and Anita Hill.
Women were there to support Kavanaugh too. This group assembled inside the Hart Senate Office Building. They wore shirts like "I Stand With Brett" and "Women for Kavanaugh."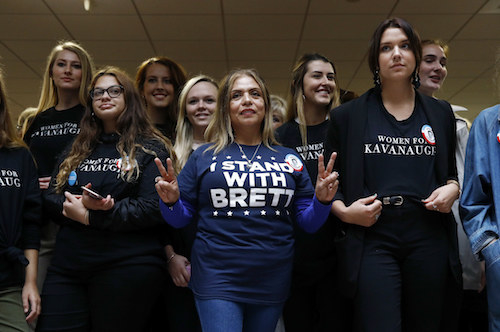 Supporters of the nominee also held a rally behind the Senate office buildings.
In the afternoon, a group of people held up lettered signs that spelled out "#believe."
This person held a red umbrella that said "Believe Women" on it.
These two women held up signs that read "Dear Survivors, we believe you."
These two teens, who go to Holton-Arms, the all-girls school Ford attended, took turns listening to the testimony. They were there "in support of our alumna."
One teen, there with her three friends, wearing her Holton-Arms uniform, told a reporter, "We wanted her to know we support her and what she is doing is important."
These students held hands inside the Senate building to show their support for Ford.
Women, wearing Holton-Arms shirts, also sang the high school's anthem in the office building.
These people sat in Sen. Ted Cruz's office. "She is risking everything to save our democracy," this protester said.
And this man, standing alone, held up a cardboard sign, which read "I Stand With Her."