Many people are upset that the Girl Scouts will participate in the upcoming inaugural parade on Jan. 20. Their participation was announced by the Presidential Inaugural Committee on Monday.
According to a statement published on Wednesday after complaints, attendance in the parade is voluntary — around 75 Girl Scouts will attend. The group stressed that they are nonpartisan and that members will also attend the Women's March on the following day, Jan. 21.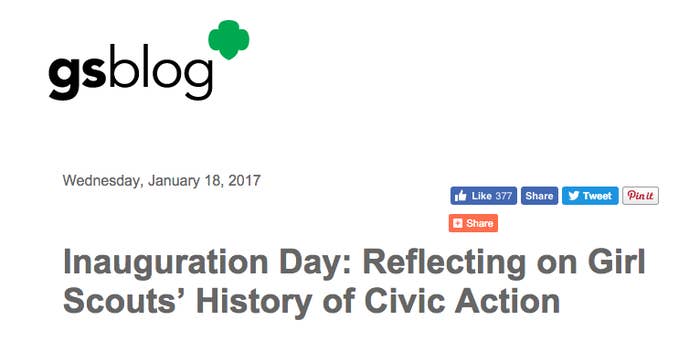 After the organization shared a link to that statement on Facebook, many people still weren't happy.

In addition the official statement, the organization has been responding to some complaints directly on Twitter. The group argued that attending the parade is both a tradition and an educational opportunity.
Some people, including women with strong ties to the group, attacked the explanation. This woman said tradition did not justify the choice.
Some women referenced the leaked Access Hollywood tape.
This woman, who said she is a mother of a Girl Scout, claimed that the decision was not in line with "Girl Scout Law."
As did others.

This person challenged the group's claim that this was educational by arguing that "not attending" could be an equally important learning experience.
Others, including this author, said that they will no longer be buying Girl Scout cookies. "Now I'ma go buy generic Thin Mints. Cuz I'm petty," she said.
Of course, many people did not understand the anger. This Twitter user said that the message is patriotic.

Another person said that the complaints were from "Democrat malcontents," aka sore losers.

This woman took issue with all of the criticism too. She said that girls and their families should be able to "make up their own minds."

But overwhelmingly, people were disappointed.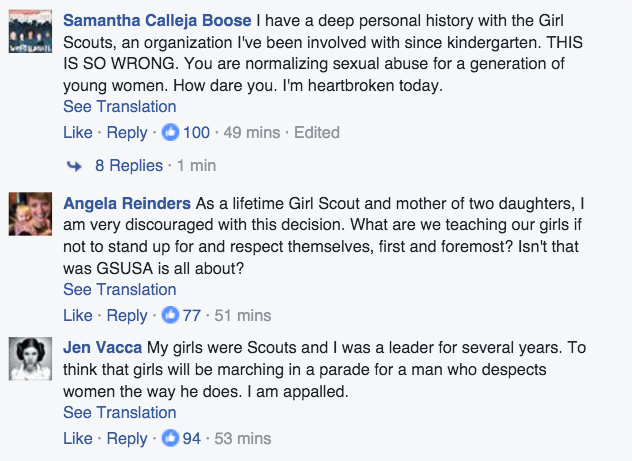 And many called for action.