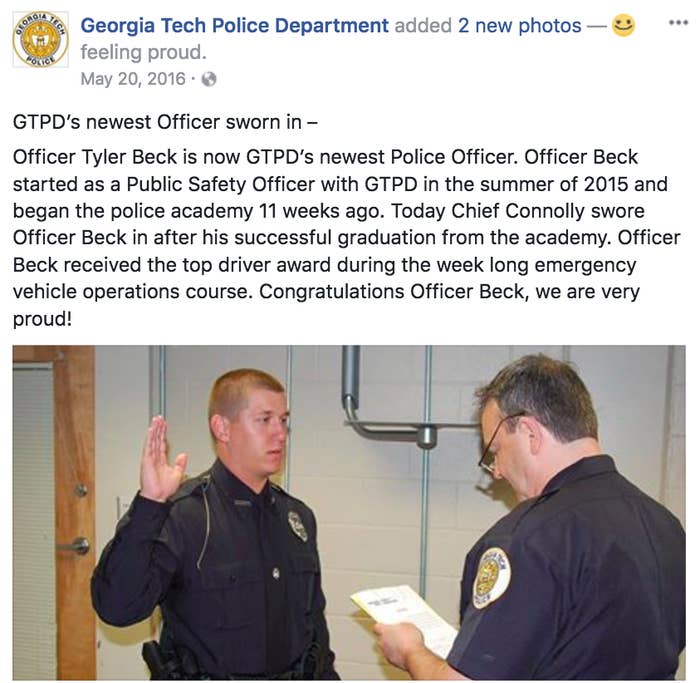 The Georgia Tech police officer who shot and killed the student body president of the school's Pride Alliance earlier this month received a performance review saying he is "young" and still learning "criminal procedurals," records viewed by BuzzFeed News show.
In a "classified performance appraisal record" dated April 2017 obtained through freedom of information laws, Officer Tyler Beck received all "meeting expectations" ratings.
In a comment on his "overall rating" a lieutenant wrote, "Officer Beck's strengths are that he has good listening skills and communication skills," adding, "His weakness are that he is young and is still learning laws, policies, and criminal procedurals."
A Georgia Tech spokesperson and the officer's lawyer, Don English, didn't immediately return requests for comment.
The review took in the time frame between May 21 and Nov. 30 of 2016. It was delivered on April 6, 2017.
The reviews of the officer, who was sworn as a police officer on May 20 of last year, were positive. According to the records, after becoming a POST-certified officer, Beck began to train in the field.
That training began on May 22, according to the records, and concluded in July of 2016.
"Officer Beck is performing very well in his first year of law enforcement," the lieutenant wrote in a separate review document, titled "performance appraisal record," which BuzzFeed News also viewed. That review looked at his work from Jan. 1 2016 to Dec. 31 2016; Beck was a school safety officer for about half that time frame.
The Georgia Bureau of Investigation revealed last week that Beck is under investigation for use of force. Beck is on paid leave pending the outcome of the GBI's investigation.
"His personnel records are outside of our purview," a spokeswoman for GBI said, adding, "No new updates to report at this time. Our use of force investigations usually take approximately 90 days to complete."
The school said that it was preparing a statement on its officers training requirements. L. Chris Stewart, an attorney for the Schultz family, told BuzzFeed News on Monday that Beck's performance review was "telling."
"I don't think Beck is some evil person, I just think that he was just not trained up-to-standard at that point in his young career and he didn't know what to do," Stewart said about the performance review.
"He resorted to lethal force in a situation that did not justify it," he added.
Ryan Powell, the director of operations for POST, a regulatory agency for officers in the state, told BuzzFeed News that Tyler Beck had not received crisis intervention training or CIT.
Beck fatally shot Schultz, outside of a Georgia Tech dorm. Schultz earlier called 911, reporting a suspicious person who fit Schultz's description. On the call Schultz said they thought the person had a gun.
When confronted by officers, Schultz was carrying a multipurpose tool, and didn't respond when officers told them to drop it. Authorities first reported that the student was armed with a knife.
The Georgia Bureau of Investigation said that three suicide notes were found in the student's dorm room.
This is a developing story. Check back for updates and follow BuzzFeed News on Twitter.