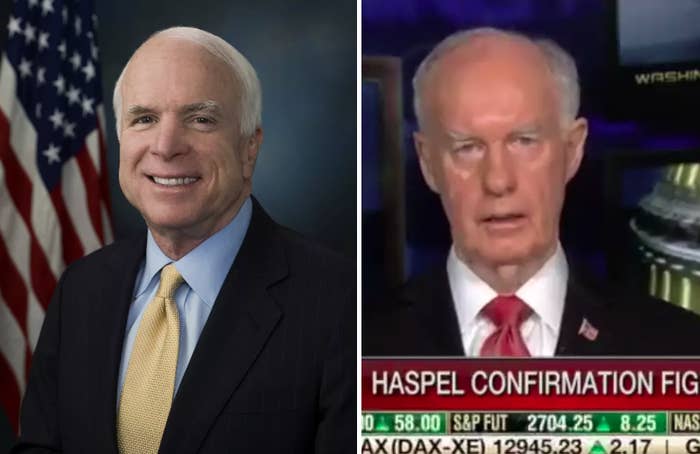 A Fox Business host apologized to Sen. John McCain on Thursday after a guest said torture had worked on the "songbird" former prisoner of war.
A spokesperson for Fox Business told BuzzFeed News Friday morning that McInerney will not be booked again.
Host Charles Payne and retired Air Force Lt. Gen. Thomas McInerney were discussing McCain's opposition to President Trump's CIA director nominee, Gina Haspel, due to her role in the agency's post-9/11 torture program.
"Should they be evaluating this nominee on her feelings, or based strictly on the facts and her commitment not to use it anymore because it's no longer legal for us?" Payne asked.
"She can't use it anymore because we've determined, the Congress, that it's not legal," said the retired general.
"The fact is— John McCain. It worked on John," he continued. "That's why they call him 'Songbird John.'"
"The fact is those methods can work, and they are effective, as former vice president Cheney said. And if we have to use them to save a million American lives, we will do whatever we have to," McInerney said.
"Sir, thank you very, very much," said Payne, wrapping the segment without acknowledging the slander.
McCain famously spent more than five years as a prisoner of war when he was captured by North Vietnamese forces in 1967. He was repeatedly tortured and beaten while in captivity to the point where he did sign a confession apologizing for his crimes against the North Vietnamese people, although he never handed over information.
The allegation that McCain was a "Hanoi Hilton songbird" who collaborated with the enemy was rated "Pants on Fire" (or ridiculously false) by Politifact in 2008.
"Because of the seriousness of the charge, the utter absence of evidence and the clear intention to harm McCain just days before a critical Republican primary, we find this claim to be Pants on Fire wrong," wrote the fact-checking website.
After clips of the Fox Business interview were shared online on Thursday, Payne issued an apology on Twitter.
"This morning on a show I was hosting, a guest made a very false and derogatory remark about Sen. John McCain," Payne said.
"At the time, I had the control room in my ear telling me to wrap the segment and did not hear the comment. I regret I did not catch this remark, as it should have been challenged," he said. "As a proud military veteran and son of a Vietnam vet, these words neither reflect my or the network's feelings about Sen. McCain or his remarkable service and sacrifice to this country."
McCain did not immediately respond to requests for comment. McInerney could not immediately be reached for comment.
McInerney, a frequent Fox guest, has a history of making radical comments, having once signed a legal affidavit expressing "serious — and widely held — concerns" that former president Barack Obama was born in Kenya.
Payne was briefly suspended from the network in 2017 after commentator Scottie Nell Hughes alleged he raped her. An internal company investigation found no wrongdoing, but Hughes' attorney said she was never interviewed and she later sued the network. Payne's attorney said his client "vehemently denies any wrongdoing."
The incident comes a day after Haspel was pressed about the CIA's use of torture during her confirmation hearing, sidestepping questions about how she feels now about the morality of the CIA's torture program.
She repeatedly said, "I think that we should hold ourselves to a stricter moral standard," as she was grilled about her views on torture.