Iranian director Asghar Farhadi, whose movie The Salesman is nominated for an Oscar, said Sunday he will not be attending the Academy Awards ceremony because of Trump's immigration order.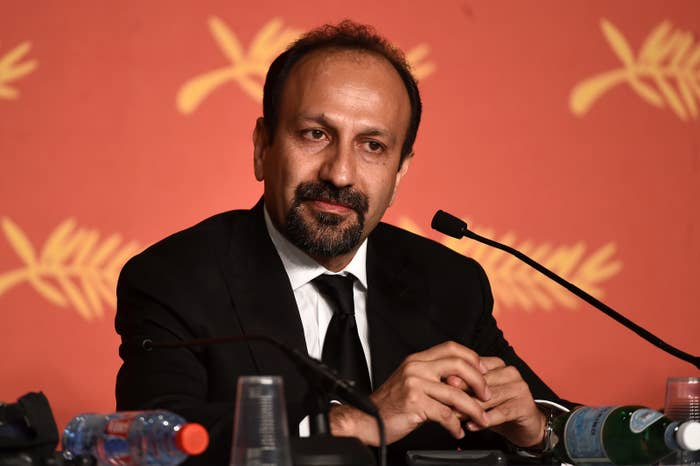 In addition to indefinitely ending the resettlement of refugees fleeing severe violence in Syria, the order Trump signed halts visas to seven countries, including Iran, for 90 days.
The Salesman, which Farhadi wrote and directed, is nominated for the Best Foreign Language Film Academy Award. In 2012, his film A Separation won the Oscar in that same category.
But because Iran is included in Trump's ban, the renowned artist and former Oscar winner won't be able to attend the Academy Awards on Feb. 26.
In his statement Sunday, Farhadi said that "it now seems that the possibility of this presence is being accompanied by ifs and buts which are in no way acceptable to me even if exceptions were to be made for my trip."
I regret to announce via this statement that I have decided to not attend the Academy Awards Ceremony alongside my fellow members of the cinematic community.

Over the course of the past few days and despite the unjust circumstances which have risen for the immigrants and travelers of several countries to the United States, my decision had remained the same: to attend this ceremony and to express my opinions about these circumstances in the press surrounding the event. I neither had the intention to not attend nor did I want to boycott the event as a show of objection, for I know that many in the American film industry and the Academy of Motion Picture Arts and Sciences are opposed to the fanaticism and extremism which are today taking place more than ever. Just as I had stated to my distributor in the United States on the day the nominees were announced, that I would be attending this ceremony along with my cinematographer, I continued to believe that I would be present at this great cultural event.

However, it now seems that the possibility of this presence is being accompanied by ifs and buts which are in no way acceptable to me even if exceptions were to be made for my trip. I would therefore like to convey via this statement what I would have expressed to the press were I to travel to the United States. Hard-liners, despite their nationalities, political arguments and wars, regard and understand the world in very much the same way. In order to understand the world, they have no choice but to regard it via an "us and them" mentality, which they use to create a fearful image of "them" and inflict fear in the people of their own countries.

This is not just limited to the United States; in my country hardliners are the same. For years on both sides of the ocean, groups of hardliners have tried to present to their people unrealistic and fearful images of various nations and cultures in order to turn their differences into disagreements, their disagreements into enmities and their enmities into fears. Instilling fear in the people is an important tool used to justify extremist and fanatic behavior by narrow-minded individuals.

However, I believe that the similarities among the human beings on this earth and its various lands, and among its cultures and its faiths, far outweigh their differences. I believe that the root cause of many of the hostilities among nations in the world today must be searched for in their reciprocal humiliation carried out in its past and no doubt the current humiliation of other nations are the seeds of tomorrow's hostilities. To humiliate one nation with the pretext of guarding the security of another is not a new phenomenon in history and has always laid the groundwork for the creation of future divide and enmity. I hereby express my condemnation of the unjust conditions forced upon some of my compatriots and the citizens of the other six countries trying to legally enter the United States of America and hope that the current situation will not give rise to further divide between nations.
Activists had said on Saturday that Farhadi might be unable to attend the Oscar ceremony.
Jamal Abdi, policy director at the National Iranian American Council, told BuzzFeed News there were no exceptions for artists in Trump's executive order. He called Farhadi's inability to attend the ceremony "barbaric."
"It's so profoundly sad that even as we may have problems with Iran's government and other governments, we are now cracking down on people," he said. "Especially people who are producing films and are symbols of our shared humanity. We are now treating them as if they were terrorists."
The film's US distributor did not immediately respond to a request for comment, but in a statement the Academy of Motion Picture Arts and Sciences, who organize the Oscars, said they find it "extremely troubling" that Farhadi could be banned.
Before the order was signed, Taraneh Alidoosti, a famous Iranian actor and the star of The Salesman, said that she would be boycotting the Oscars either way. "Trump's visa ban for Iranians is racist," she wrote on Twitter.
Abdi said Farhadi's absence at the Academy Awards will be deeply felt among Iranian-Americans. "When we see Iranian artists being targeted, it feels like they are targeting us," he said. "This is where our cultures overlap."
"We don't know where this type of discrimination ends. I think there is a lot of fear about what comes next," he added.