On Monday, students at Marjory Stoneman Douglas High School returned from their spring break and received clear backpacks. The backpacks are part of new security measures the high school is implementing after a gunman killed 17 students and faculty in February.
"When students return from spring break, clear backpacks are the only backpacks that will be permitted on campus," the superintendent of Broward County Public Schools, Robert Runcie, said in a letter addressed to Stoneman Douglas High School families last month.
The letter also said that each student would be issued a student identification badge and all students and faculty will be required to wear the badges on campus.
Runcie said that the district was also considering using metal-detecting wands and installing permanent metal detectors.
As Jack Macleod walked into school on Monday, a fellow student joked: "Have fun boarding your plane."
"It's seriously like the TSA," Macleod said in a video he posted on Twitter.
Macleod, 16, told BuzzFeed News that he is "100% for higher school safety measures."
"Sidenote, where can I register for MSD Pre-Check?"
"Getting into school today was really no different than any other," Macleod said. "I didn't bring my backpack, just three folders, a pen, a bag for lunch, and a water."
"They let me walk into campus — no problems. I feel as though today was more of a hassle than anything, but this is not what the peak of the security at MSD will look like. We're told we will get metal detectors and staff will get metal detector wands," he added.
"I think increased security is extremely needed but it doesn't seem to be any different from before Feb. 14," 17-year-old junior Aalayah Eastmond told BuzzFeed News.
"Again, I was able to walk on campus without being checked, or stopped," she said. "I think the backpacks aren't necessary if we're supposed to be going through metal detectors every day."
Students joked about their new transparent backpacks. Freshman Lauren Hogg quipped: "I feel sooo safe now."
And Delaney Tarr said that she was wrapping up her last year at the high school "with a good ol' violation of privacy!"
One student used the backpack's transparency to share a handwritten message in the front pocket: "This backpack is probably worth more than my life."
One student made sure to preemptively say "no" to some common requests.
People will know the truth.
A new trend.
Students, such as freshman Holden Kasky, spoke out about the policy before it was implemented.
"I don't want people to feel uncomfortable or judged," he listed as one of the reasons he disagreed with the backpacks, in a letter addressed to the superintendent and posted by his dad on Twitter.
"My school is starting to feel like a prison," wrote student Sarah Chadwick the night before the students' return to school.
At the time of the announcement about clear backpacks last month, students who spoke to BuzzFeed News had mixed feelings about the new security measure.
Dana Craig, a 16-year-old junior, said that she didn't have any issue with them. "I understand that the school is just trying to bring some sense on security," she told BuzzFeed News last month.
Another 16-year-old at the school, Sara Giovanello, said, "I'm going to miss having privacy, but I guess if it makes us safer, I shouldn't complain."
"But I'm genuinely anxious that someone will see some hygiene products from the inside of my backpack, or see what i keep inside and rob me for it."
Senior Carly Novell, 17, at the time expressed doubt over the effectiveness of the security measure, noting that people could hide anything they wanted between folders inside the backpack.
"If the police can't protect us, backpacks can't either. I want to feel comfortable going to school and I haven't felt that since I've gone back," she said.
Other students also questioned on Monday how well the backpacks will work.
"These bags are useless," junior Kai Koerber, 17 told BuzzFeed News after school on Monday. "In a concealed carry state, no one puts weapons in their bag! Safety is metal detectors! Not cheap no-frills backpacks that can't carry real textbooks without breaking!"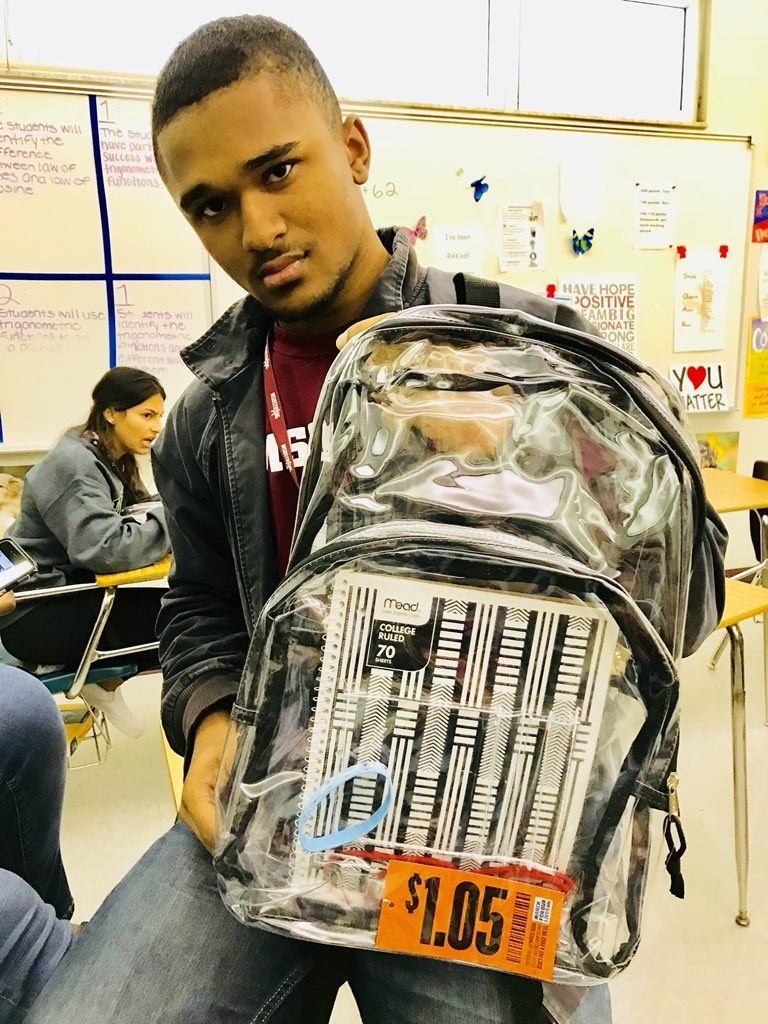 In response to Holden's letter, Runcie said the district will "continue to reevaluate" the safety measures.
"We love our students & teachers. Our #1 priority is the safety of our schools," he wrote.