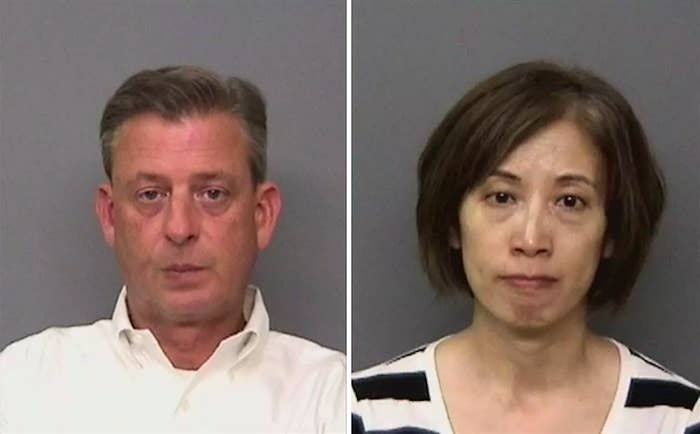 Two people were arrested and booked for conspiracy and kidnapping after allegedly taking a flight school student from his apartment and — in an apparent vigilante attempt — trying to expel him from the country, the Redding Police Department in California said.
On Thursday, according to the department, Jonathan McConkey, who is reportedly the general manager of the IASCO flight school, and his assistant, Kelsi Hoser, told student Tianshu Shi, 21, that he was being sent back to China.
"During the investigation officers learned Jonathan McConkey and his assistant, Kelsi Hoser, responded to Shi's address last night to advise him they are sending him back to China," the statement from the police on Friday read.
McConkey has certificates as an airline transport pilot, flight instructor, remote pilot, and ground instructor, according to Federal Aviation Administration records.
McConkey, Hoser, and the Redding police didn't return requests for comment from BuzzFeed News.
Shi is a pilot in training at the local flight school, according to authorities. He told the Record Searchlight that he has been in the US for about seven months on a M-1 visa that is valid for a year.
He has not been able to fly for two months, he said, he guesses because of his English.
"I can't speak English well in life, but I can speak English well with air traffic control," he told the Record Searchlight.
Shi told the Searchlight that the two visited him Thursday, demanding he be ready to depart for China in the morning. "I said I didn't receive any documents from China," he told the Searchlight.
When they returned Friday morning, Shi said, he recorded the interaction.
"Do you understand what 'in my custody' means?'" says the male voice in the recording Shi says is of the incident. "Do you understand? It means I will forcibly remove you."
He then goes on to say that the police can come. "If you want the police to come with guns, I got you on that. Alright?" the man says. "Your ass is leaving now. Let's fucking go."
The man says he has the student's passport. "Boy, don't fuck with me. Do you understand?" he says.
Shi then asks if the guy is threatening him. "Your ass is getting on a plane right now or I'll break your fucking arm."
"You better believe I'm fucking threatening you. And the United States government needs you out of this country right now, you understand?" the man voice says.
"You are here illegal, you know that?" the woman says. "If you don't go with us, you go to jail."
On Friday morning, Shi spoke to his brother, Baihan Fu, who lives in Shanghai, authorities said, telling him that someone was at the apartment to take him away.
After the brother didn't hear back from Shi, he called and spoke to another student, who said that Shi had been attacked and taken, authorities said.
The Shanghai-based brother then reported a kidnapping to the Redding Police Department.
"Shi ultimately left with them in fear for his safety and was transported to the Redding Municipal Airport to be sent back to China," the police said of the student.
Officials said that they found the three of them — the student, McConkey, and Hoser — at the Redding Airport. The student, the police said, sustained minor injuries.