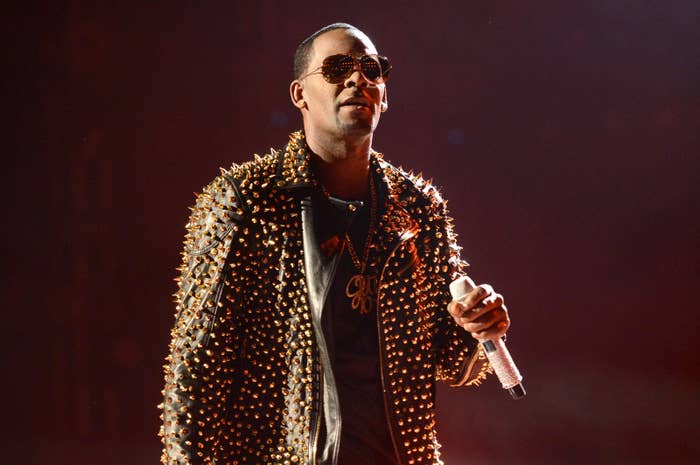 Officials in Fulton County, Georgia, want to ban R. Kelly from performing a concert there later this month, but the show's promoter says it will go on as planned.

Members of Fulton County's Board of Commissioners held a press conference Friday outlining their "grave concern" about the show — scheduled to take place Aug. 25 at Wolf Creek Amphitheater just outside of Atlanta — in light of recent allegations that Kelly is physically and mentally abusing young women at his home in the city. The allegations were first reported by BuzzFeed News.
An attorney for the board wrote a letter to promoter Live Nation this week asking that the show be canceled on moral grounds.
"Based on allegations reported in various news media regarding the artist, the citizens of Fulton County have expressed their collective concerns that Live Nation would allow this artist to perform at a venue that is supported in part by taxpayers," the letter read.
But Live Nation, which holds exclusive rights to program the amphitheater, says it will move forward with the show despite objections. Company spokesperson Carrie Davis told BuzzFeed News, "The show is proceeding. No comment beyond that."
The county's opposition is the latest fallout from explosive charges leveled against Kelly last month by the parents of two young women who spoke to BuzzFeed News contributor Jim DeRogatis, who reported on the alleged abuse. One family, the Savages, told police that their daughter had been held "against her will." The daughter released two videos that aired on TMZ in which she said, "Everything is okay with me." But when prompted, she did not reveal her location or say she was free to leave.
Through his lawyer, Linda Mensch, Kelly strongly denied the charges at the time in a statement. "R. Kelly is both alarmed and disturbed at the recent revelations attributed to him," it read. "Mr. Kelly unequivocally denies such allegations and will work diligently and forcibly to pursue his accusers and clear his name."
At the press conference, social activists in Fulton said they plan to protest outside the amphitheater on the 25th. This week, Kelly canceled four other shows, reportedly due to poor ticket sales. A review of Live Nation's website for Wolf Creek showed that hundreds of tickets to the show were still available Friday evening.
"This is about understanding that the platform given to Mr. Kelly unfortunately provides him the insulation when he gets caught up in these precarious situations, or the legal counsel that gets him out," said Kenyette Barnes, creator of the social media hashtag #MuteRKelly. "We need to send a message that our girls matter."