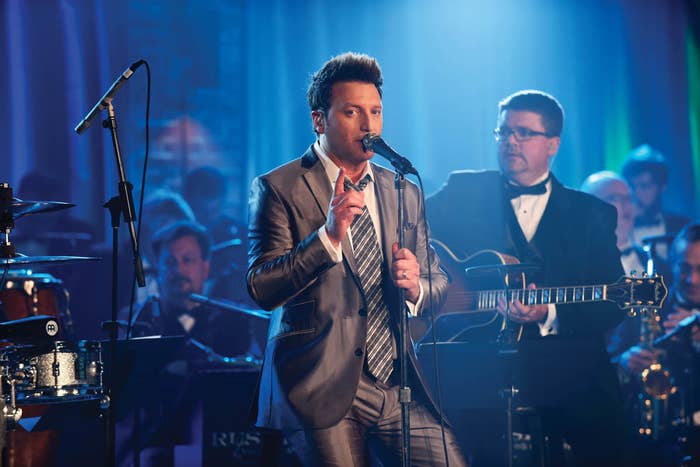 Tim Rushlow & His Big Band will provide the music for Donald Trump and Melania Trump's first dance as president and first lady, BuzzFeed News has learned. The swing jazz ensemble, whose last album, Classic Christmas, was released in 2014, has been booked as the house band for the Freedom Ball at the Walter E. Washington Convention Center on Jan. 20.
Rushlow, a onetime member of the '90s country act Little Texas, is also performing the night before the inauguration at the Make America Great Again! Welcome Celebration with another group, the Front Men of Country.
In an interview Tuesday evening, he told BuzzFeed News he was approached about the Freedom Ball performance last month by a music supervisor working with reality TV producer Mark Burnett. "We'll be playing selections from the great American songbook and from the artists that I love from a time gone by, like Bobby Darin, and Frank Sinatra, and Dean Martin," Rushlow said. "It's gonna be awesome."
Trump's inauguration committee has faced intense scrutiny over its ability to attract top-tier performers for a slate of events ushering in the new administration. Announced musical guests include America's Got Talent alum Jackie Evancho, country stars Toby Keith and Big & Rich, rock band 3 Doors Down, and the Mormon Tabernacle Choir. Broadway singer Jennifer Holliday was previously scheduled to perform at the Make America Great Again! Welcome Celebration, but pulled out of the gig this past Saturday after the move caused an uproar among fans and stirred up reported death threats.
Tim Rushlow & His Big Band follow in a long tradition of artists who have serenaded the incoming president and first lady at the formal black- or white-tie soirees that close out Inauguration Day. At the inaugural ball for Barack Obama in 2009, Beyoncé performed a cover of Etta James' classic "At Last" for the president and first lady Michelle Obama. In 2001, President George W. Bush and Laura Bush's first dance was soundtracked by the Tommy Dorsey Orchestra. And in 1993, the soft rock band Ambrosia performed "Biggest Part of Me" for President Bill Clinton and Hillary Clinton.

The Freedom Ball is the largest of three inaugural balls President-elect Trump is expected to attend Friday night; he will also be at the Liberty Ball and the Salute to Our Armed Services Ball.
Rushlow declined to reveal what the president-elect has chosen as his first song.