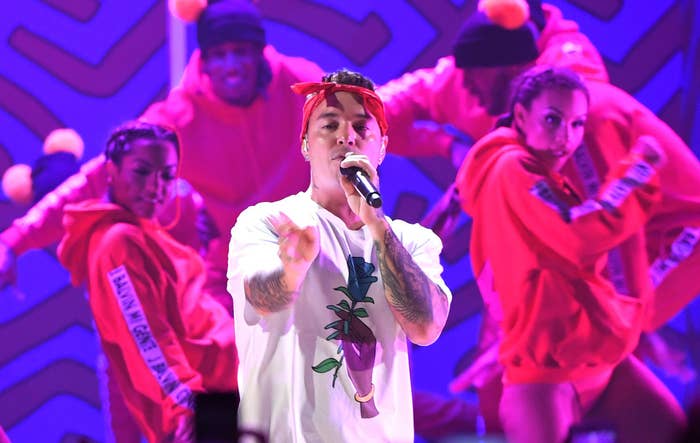 A little more than a year ago, J Balvin, the 32-year-old Colombian reggaeton superstar, set out to prove that a new generation of Latin music could be as big and accessible as anything produced by its neighbors to the north. He followed the example of American hitmakers, some of whom had commissioned him to infuse their songs with secret sauce, and turned the tables — hiring US pop impresario Pharrell Williams to coproduce, write, and sing for him in Spanish. Their collaboration, the slick and swaggering "Safari," didn't realize Balvin's ambition of breaking through the English-language barrier that can be a glass ceiling for foreign pop stars. But now he's back with a new song, and a new strategy, that just might crack it.
"Mi Gente," Balvin's recent hit with French DJ and electronic producer Willy William, has quickly become one of the most popular songs in the world. It's the first fully Spanish song to top Spotify's Global Top 50 chart, dethroning another Latin export — Luis Fonsi and Daddy Yankee's "Despacito (Remix)" — which features an English verse from Justin Bieber. "Mi Gente" was released just over a month ago, but it's already the biggest crossover hit of Balvin's career, currently perched at No. 30 on the Billboard Hot 100 and climbing. It has over 340 million views on YouTube, and on Shazam's global songs chart — an up-to-the-moment barometer of consumer interest — it's spent over a week at No. 1.
"It's crazy, and the fact that it's in Spanish from beginning to end is even better," Balvin told BuzzFeed News. "Numbers don't lie."
"Mi Gente," which translates to "My People," is as much a diplomatic mission as it is a pop song. Its lyrics pose a dauntless overture to the broadest possible cohort — a paean to open bars and open borders, a nativist's nightmare. Balvin spends the song's entirety narrating the world's least pretentious party. "Mi música no discrimina a nadie," he sings in the first verse, Spanish for "My music discriminates against nobody."
Following his experience with "Safari," Balvin recalibrated. Rather than cast himself as the equal of his contemporaries in US pop and hip-hop, he would leapfrog them, leveraging the borderless nature of streaming services to take his vision for Latin music to new horizons. Watching the recent surge in popularity of dancehall-derived rhythmic pop, and the persistence of EDM — a genre in which lyrics are often secondary — he saw an opening for reggaeton to reassert itself.
"As Latinos, I still see a lot of people in this industry that think, Ah yeah, it's Latino, so it's not a big deal," Balvin told BuzzFeed News. "But we are a big deal. Check it out: We are making the global music right now."
"I still see a lot of people in this industry that think, 'Ah yeah, it's Latino, so it's not a big deal."

In William, the French DJ and producer, Balvin found the perfect confederate. "Mi Gente" is essentially a remake of William's "Voodoo Song," released in March, which consists mainly of a boom-cha-boom-cha dancehall beat and a prominent vocal loop that's been digitally transmogrified to sound like a snake charmer's flute. When a mutual friend sent Balvin the track in January, he was immediately drawn to it and saw collaborating with William as a win-win: The two could expose each other to new audiences and new markets, but neither had a built-in advantage in the English-speaking world. If the song became a hit in the US, or other countries where Latin music isn't dominant, people would be forced to recognize the category's inherent power.
This spring, Balvin and William met in Miami to write and record, a process that William described to BuzzFeed News — in broken English — as answering the question "How do we make it more bigger — more international?"
"He brought his vibe, I brought mine; he helped me write some Spanish lyrics, and I helped him with some melodies," William continued. "It's really difficult for a French guy [alone] to break into the US market, but ["Mi Gente"] is a French guy singing in Spanish, and a Colombian guy on a big dance track, and together we're on the US charts."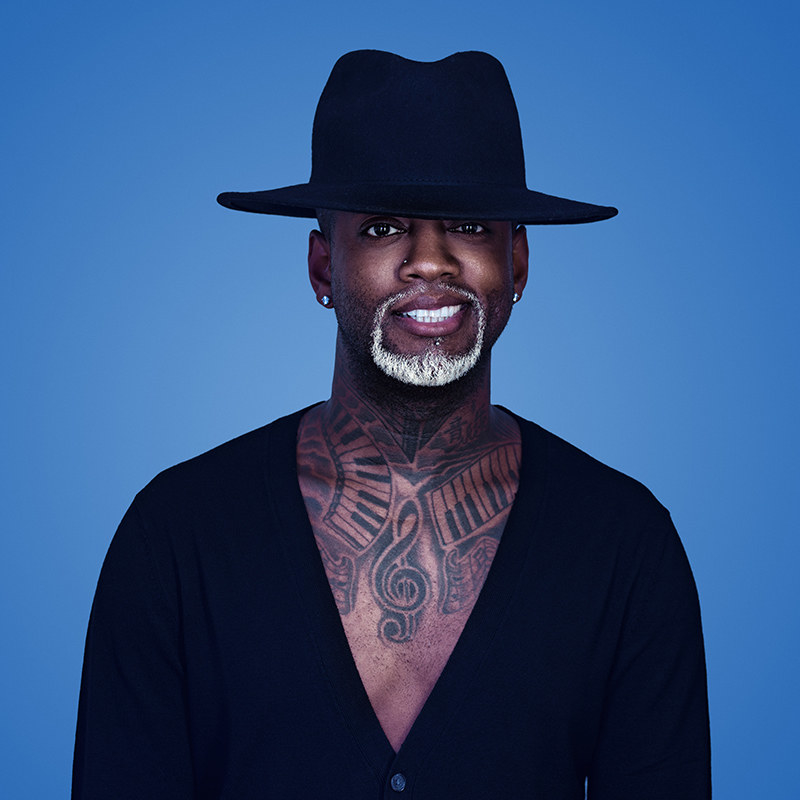 It's too early to say how high the song will climb. "Mi Gente" has recently been added to dozens of Top 40 radio stations — a critical step toward mainstream ubiquity — where its lack of an English vocal could translate to long odds. "Despacito," this summer's other crossover Spanish smash, didn't reach the stratosphere until pop radio threw its weight behind the English-friendly Bieber remix. The only fully Spanish song to ever top Billboard's singles chart was Los Lobos' cover of "La Bamba" almost exactly three decades ago.
Rob Thomas, programming director at the Top 40 station i101 KSKR in Roseburg, Oregon, is one DJ who is pulling for "Mi Gente," even though he says he doesn't "understand what the heck they're saying." In Roseburg, an hour outside of Eugene, Thomas says Top 40 listeners are typically slow to embrace unfamiliar sounds. But "Mi Gente" is off to a strong start. "I think 'Despacito' really reopened that door for a lot of people," he said. "It was kind of like, 'Hey, we're here; we've got good songs too.'"
That's music to Balvin's ears.
"Daddy Yankee and Fonsi created new roads," he said. "And now we created another new road. And then there will be another one. And, god willing, the Spanish [music scene] is going to become global — really global."
He was buoyed by the thought, which put him in mind of his own formative experiences with foreign-sounding music. "When I was a kid, I used to listen to Tupac, and Biggie, and all these rappers," he said. "I didn't know what they were saying, but I was feeling it."