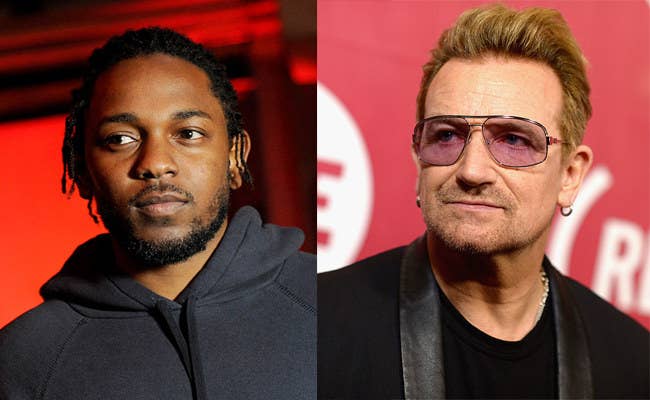 When you hang out with Jimmy Iovine for long enough, sooner or later you get to meet Bono.
At least that's how Mike Will Made-It makes it sound. Speaking with BuzzFeed News on Thursday, the super-producer described how the U2 frontman might have ended up in Kendrick Lamar's orbit and on "XXX," one of the most talked-about songs from the hip-hop artist's rapturously received new album DAMN.
Mike — who co-produced "XXX" along with DJ Dahi, Sounwave, Bekon, and Top Dawg — wasn't in the room when Bono recorded his part for the song, but he said he has a good idea of how the collaboration went down. He's personally met the mononymous rock star a few times over the years at the home of Iovine, the head of Apple Music and founder of Interscope Records, the label to which Mike, Lamar, and U2 are signed.
"I done had breakfast with Bono, I had had lunch with Bono, just like being around Jimmy," said the producer, known for his prior work with Future, Rae Sremmurd, and Katy Perry.

The first time Mike and Bono met, years ago, neither one initially recognized the other. "Of course I know U2, but I didn't know who that was at the table with me eating," Mike confessed, laughing. "Jimmy was like 'You know who this is?' I was like 'Maaan, no disrespect, but no.'"
"Jimmy might have anybody around," he explained. "He might have the owner of SoundCloud, or the owner of some other company, you know what I'm sayin'? ... So I was like, 'No, I don't know which cool friend this is for you.' And he said, 'Yo this is the legendary Bono from U2,' and I was like 'OK, dope.' And then he told Bono, 'Yo, this is a hot producer' ... After that, we exchanged numbers, we exchanged emails, and we always said we wanted to work together."
When he was working on the beat that became "XXX" on his own last year, Mike didn't actually have any idea that his occasional lunch buddy would end up on the song — a hard-hitting, shapeshifting elegy about structural racism's effects on black American life. He wasn't totally surprised when Lamar called him with the news ("I'm sure he's met Bono multiple times as well") but he had a hard time conceiving of what the song might sound like initially (as did others). "I was really tryin' to imagine, like, 'How could U2 get on that track?'" he said. "Like the track was just so uptempo."
To make it work, Lamar's production team expanded on the template established by Mike's original drums (heard in the song's middle portion), adding transitions and some new instrumental sections, including the downbeat piano that accompanies Bono's part.
When Mike heard the final product, he was delighted at the way everything clicked. "It was just ill to play a part in that. It was just ill to produce that record and actually go in with [Lamar] and do some creative shit," he said. "With Bono, I hadn't wanted to really blow him up or force it, because I wasn't really sure how we could even work together. But with everybody adding their contributions to this song right here, it just came out dope as fuck man."