Early on a recent Tuesday afternoon in a stylish bar on New York's Lower East Side, the Haim sisters are remarkably attuned to each other's frequencies — knotty thought trains and goofy in-jokes manifest as real-time collaborations — even though they haven't yet tasted their first cups of coffee. The synergy is physical, too, with Danielle, 28, Este, 31, and Alana, 25, each styled as an integral member of a thriftily glamorous gang of three. Este, who is blonde, wears a long-sleeved dress with asymmetrical cutouts; brunettes Danielle and Alana are in oversized jackets and T-shirts tucked into denim; and all three are framed by their signature hippie hair, with long tresses parted down the middle.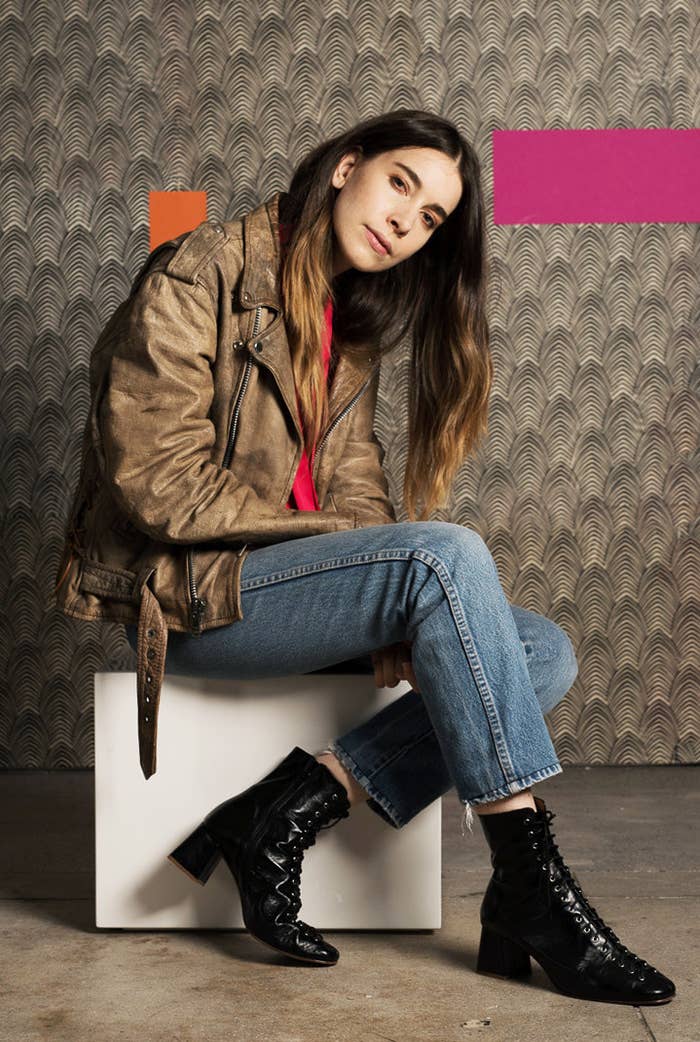 But family ties have their own weaknesses and sensitivities. Danielle is mid-sentence in a discussion of the band's hit new album, Something to Tell You — which exalts both rock and pop traditions with equal relish — when the conversation momentarily goes off the rails.
"I play drums, Este plays bass, I play guitar," she begins, rattling off the instruments the siblings have played since forming a family band with their parents over a decade ago, called Rockinhaim. But before she can finish the roll call, Alana cuts in, responding to a perceived slight as if by reflex.
"I also play things," she deadpans, lowering her eyebrows in bemused indignation. The comment prompts a single full-bellied "Ha!" from Este, who nearly doubles over.
"That's a common thread in this family — that everyone forgets about me," Alana continues. "YOU JUST SAW IT LIVE!"
"We feel like these mad scientists kind of tinkering with things, trying to get what's in our brains onto tape."
It's a playful protest that underscores the serious pride Haim take in their musicianship. Since the release of their celebrated debut album Days Are Gone in 2013, they've been embraced by rock deities like U2 and Stevie Nicks. But even as they acknowledge themselves as heirs to the imperiled legacy of guitar music ("We love the way that [classic rock bands] used to record," says Danielle), they consistently reject many of the genre's historically protectionist impulses. A pet peeve is the tendency of some listeners to highlight the band's instrumental chops as part of an implicit, or explicit, rebuke of prevailing pop, hip-hop, and electronic music.
"We've never been snobby about genre," says Este, who had a serious nu-metal phase in high school. Alana, whose first CD purchase was Destiny's Child's The Writing's on the Wall, goes further — "There's no such thing as genre anymore, at least in my opinion" — before Este completes her thought: "Everyone's just kind of borrowing from everyone else." Danielle, the band's primary vocalist and measured spokeswoman, concludes, "I think, first and foremost, we're songwriters. Whatever is going to breathe life into a song — whether it's guitar or piano or synthesizers or drum machines — we're gonna go that way."
For their new album, Something to Tell You, released July 7, Haim went deeper into their analog roots while simultaneously expanding their repertoire of digital production flourishes — blowing out the formula that made their debut feel miraculously modern and classic at once. Much of Days Are Gone had been recorded during short breaks while the band was on the road, and it owed some of its fit and finish to logistical necessity. In a haste to meet the album's deadline, readymade GarageBand samples that were initially intended as placeholders got left in the final product.

This time around, the sisters took things slowly. After over two years on tour — including stretches opening for Taylor Swift and Rihanna — they resettled in their native San Fernando Valley in the exurbs of Los Angeles and began the work of making a new record on their own terms. They put samples aside and recorded as much as possible live in a handful of LA studios. In an in-studio video for the song "Right Now," you can can see them in action, lithe and dexterous, like tennis players in flow. The video was directed by the renowned filmmaker Paul Thomas Anderson — a fellow Valley native and a friend of a friend who the sisters discovered had been a student in their mother's elementary art class. And its quiet intensity — building over the course of a single, unbroken tracking shot — is a product of their reconstituted creative dynamic.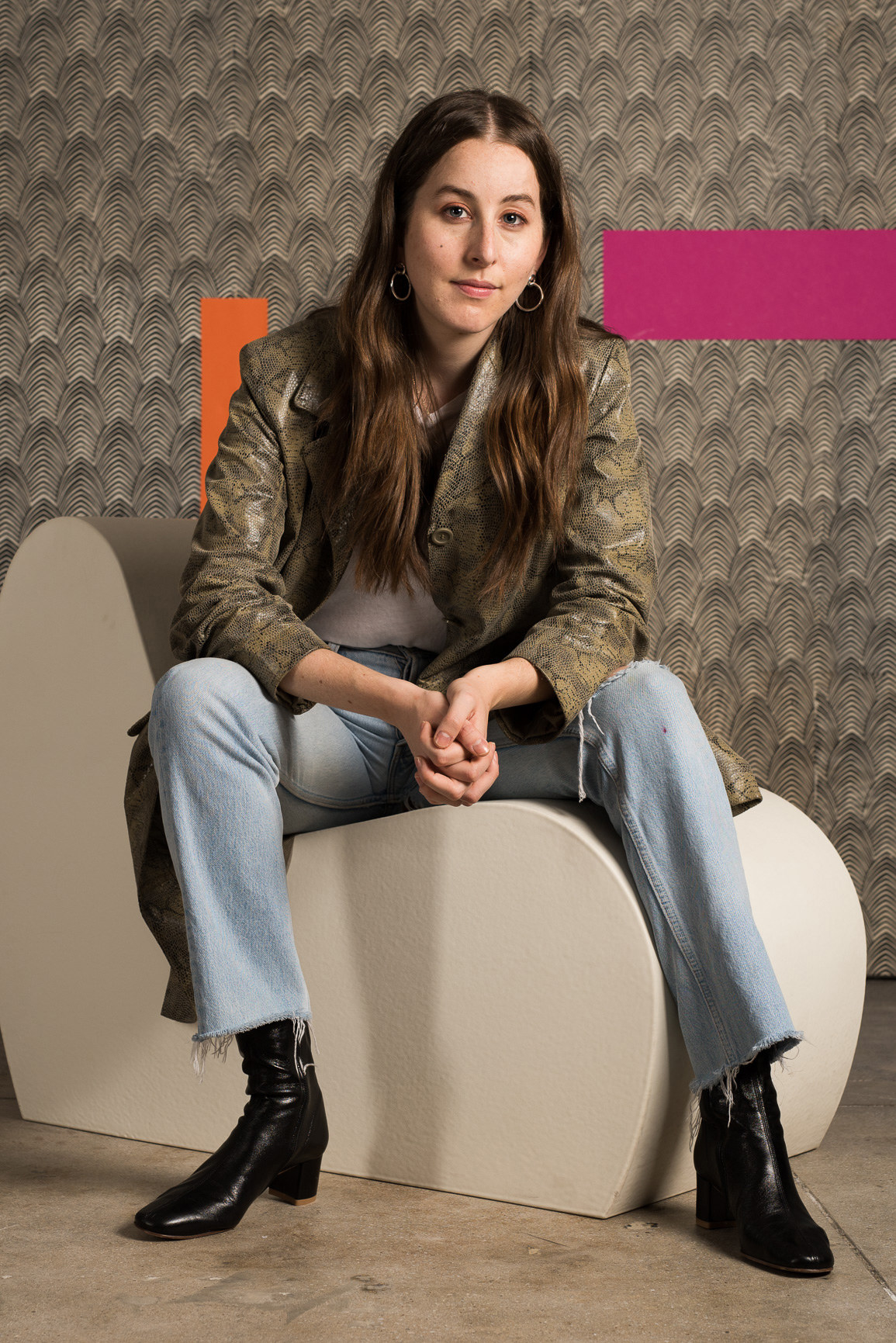 "We said, 'Let's try and get as much of this organically as we can, and then we can kind of play with [the recordings] later," says Danielle. "It was liberating to be able to experiment in the studio like that," adds Este. "We feel like these mad scientists kind of tinkering with things, trying to get what's in our brains onto tape."
The tinkering produced about 50 songs and sketches of songs for Something to Tell You, 25 of which Haim recorded and then whittled down to the final 11 that appear on the album. They tracked prospective candidates on a dry-erase board they kept in the studio, marking favorite songs with stars or hearts in an unsparing series of elimination rounds. Surprisingly, the album's opening track and the first single — a balmy, strut-friendly update of '70s FM rock called "Want You Back" — almost didn't make the cut.
"It started out as this kind of acoustic guitar crooner song, like 30 bpm slower than it is now," explains Danielle, singing the song's opening lines ("Some things are long forgotten") at a snail's pace. It had been one of the first songs written for the album. "We worked on it for a couple of weeks [initially] and were just like, this is not working."
"As girls, we had to fight for people to listen to us."
But something about the song stuck with Alana. A month before the album locked, she convinced her fellow bandmates to make one last go of it. "Everybody was like, 'Ugggggh,' and I was like, 'Come oonnnn!'" This time, they sped up the tempo — too much at first ("It was literally hard to sing," says Danielle), but eventually arriving at a happy medium.
The finishing touches were the drums — the linchpin of many a Haim song — which Danielle used an 808 drum machine to turn into a minimalist "kick-clap" pattern that gave the song a heartbeat-like pulse. By the time the track was finished, what had begun as a stately ballad was infused with Haim's signature bounce and verve.
"It was forged into something where we finally felt like, 'Oh, OK, this is it!'" says Danielle. As she's speaking, Este reenacts the eureka moment by impulse, launching into a strange pantomime (the universal zombie pose: arms outstretched, wrists limp, palms down; but while bouncing your shoulders and turning side to side) that the sisters giddily identify as the "I made fire" scene from the Tom Hanks movie Cast Away — a family favorite. "We reference that movie like once a day," laughs Alana.
A recurring theme in Something to Tell You is women's empowerment amid the vicissitudes of romance. The album ends with what the band describes as a four-song cycle charting the bittersweet dismissal of an underachieving partner: from epiphany ("Found It in Silence") to resolve ("Walking Away") to reflection ("Right Now") and acceptance ("Night So Long").

Though many of the songs were written over a year ago, the material still resonates. The night before our interview, Este says she briefly relived her own version of "Found It in Silence" (lyrics: "And though I have found happiness, in my life that's truly mine / You'd think I could just laugh it off, but it gets me every time") after encountering the friend of an old flame in her hotel elevator.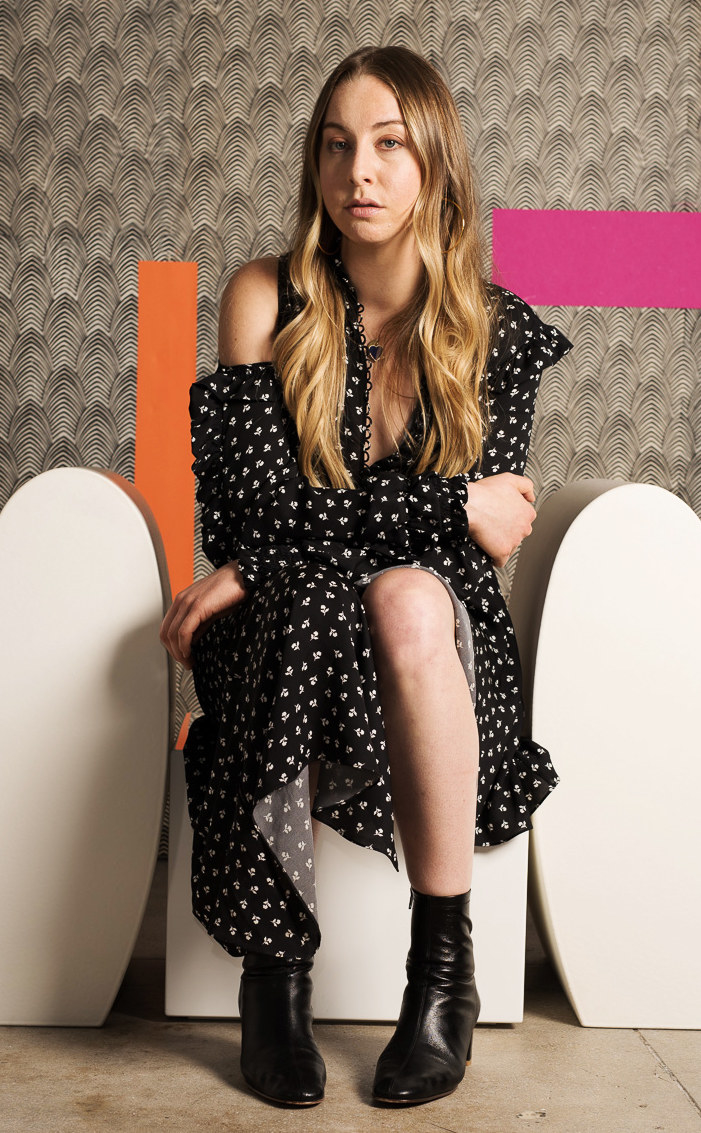 "[The breakup] was so long ago and I'm so past it; like, I've grown, you know?" she says. "But weirdly you kind of go back to it and it's like, 'Oh my god. I haven't thought about that guy in a minute.' And even though you're over it, you can't help but ruminate."
Haim have found empowerment in their careers as well, though it hasn't always come easily. Since the band's early days, they've weathered endemic sexism in the male-dominated music industry — backstage areas with only urinals in the restroom; sound guys at venues who conveniently disappeared before their sound check.
In the years they spent as an opening act before the release of Days Are Gone, there were occasions when simply walking out onstage meant being greeted by a chorus of jeers.
"As girls, we had to fight for people to listen to us," says Alana. "And that honestly fueled us because you have to have a thick skin. When [crowds] grunted, I would be like, 'Fuck yes!' [with Este, in unison] Challenge accepted!"
Those kinds of challenges are fewer and further between now. This week, Something to Tell You became Haim's second album to debut in the top 10 of Billboard's album chart. And as the sisters' profile has grown, jeers have largely been replaced by fan letters, many from young women and girls who say that seeing the band perform inspired them to pick up instruments of their own. It's an early affirmation of Haim's possible place in the long continuum of rock/pop/whatever.
"That's the biggest compliment..." says Danielle. And before she can elaborate, Alana cuts in again: "That's fucking nuts!" ●