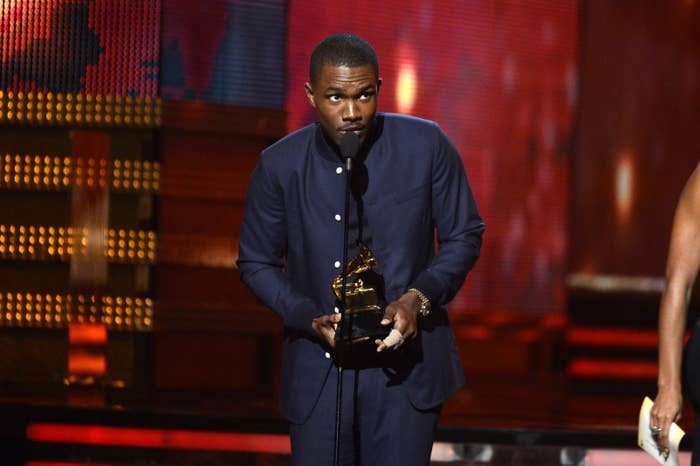 In the long and tortured history of the modern music industry, digital distribution platforms have been either saviors or saboteurs — sometimes both at once — depending on who's doing the recounting. Now, a year after taking the plunge on a contentious new strategy that involved releasing music exclusively to individual streaming services in advance of wider rollouts, one of the industry's largest players is reaching for a parachute. Universal Music Group, whose artists include Katy Perry and Justin Bieber, will curtail its practice of supplying Apple Music and other streaming services with long-term exclusives, BuzzFeed News has learned, following an earlier report by Bob Lefsetz. The move was precipitated in part by the departure of one of the group's brightest stars, Grammy-winning R&B singer Frank Ocean, who walked away from UMG label Def Jam Recordings over the weekend in favor of dealing with Apple directly as an independent artist.
"We're learning as we go. This is uncharted territory," a source familiar with the label's thinking told BuzzFeed News late Tuesday, speaking on the condition of anonymity because he was not authorized to speak publicly. "But our view is that giving exclusives to individual streaming platforms for long periods of time is not good for the artist, it's not good for the fans, and it limits the commercial opportunity for everybody involved."
Contrary to some reports, UMG's turn against exclusives does not amount to a "blanket ban," the source said. He cautioned that the label group's chairman and CEO Lucian Grainge is continuously re-evaluating UMG's digital strategy, and that only exclusivity agreements of a week or more are currently being targeted. Shorter exclusivity periods, such as the two-day window granted to Apple Music for the release of UMG/Def Jam rapper YG's Still Brazy in June, may continue on a case-by-case basis.
UMG also counts several artists on its roster whose work it does not solely own or control, including megastars like Taylor Swift (who's signed to independent UMG partner Big Machine Records) and Drake (who's signed to Cash Money). Both of them have made lucrative exclusivity agreements with Apple in the past, and UMG may be powerless to prevent such deals if Apple goes to the artists or their labels directly.
"Was it good for Rihanna to put one of the best records she's recorded in the lastdecade exclusively on Tidal? I don't know."
In many ways, Ocean, who was famously signed, neglected, rediscovered, and ultimately championed by Def Jam beginning in 2009, is a special case. His troubles with his label were singular, as was the extraordinary and largely organic demand for his new music (Endless, a "visual album" and his last release on Def Jam, came out on Aug. 19, while an official third album, Blond, arrived as an independent release to Apple Music the following day). But the maneuver is likely to be regarded as a tipping point between the labels and streamers like Apple, which are presently engaged in a delicate and increasingly complex alliance.

Record labels like UMG had agreed to provide exclusive content to platforms like Apple Music and its competitor Tidal (Spotify has largely avoided the practice) for two main reasons: First, those services offered large bonuses up front that helped shoulder the burden of traditional label expenditures, like music videos and marketing campaigns, and second, to stoke competition between the platforms that was believed to serve the labels' interests in the long run. But a growing chorus of consumers and industry observers have complained that the exclusives, which typically last for up to two weeks or more, have become too prevalent too quickly — and that no one but the services themselves gains nearly as much as is lost.

"Is [releasing exclusively through one platform] longterm good for Frank as an artist? Time will tell," the source said. He referred to UMG's foray into exclusives — including the latest albums by Kanye West and The 1975 — as "experimenting." "Was it good for Rihanna to put one of the best records she's recorded in the last
decade exclusively on Tidal? I don't know."

"You're leaving a lot of money on the table and you're alienating a shitload of fans."
The downsides of exclusives, in UMG's view, grew increasingly worrisome even as they quickly became the standard for high-profile artists across the industry. The Ocean incident — as well as the much-touted, direct-to-Apple Music release of Coloring Book by unsigned artist Chance the Rapper in May — made plain that streamers' increasingly cozy relationships with artists are creating a scenario where the fundamental utility of record labels, already in doubt in the digital age, is not always immediately obvious. The source complained that labels are investing millions of dollars to sign and promote artists around the world, only to then hand over their best chance at earning a return on that investment to potentially hostile distributors that have a limited reach in many important international territories.
"You're leaving a lot of money on the table and you're alienating a shitload of
fans who wanna go out and purchase the music," the source said.
Although UMG's about-face will affect Apple Music and Tidal most significantly, their loss may not ultimately mean a win for Spotify. It recently hired former Lady Gaga manager and industry veteran Troy Carter in a new artist relations role, and initiating the company's own exclusive agreements with artists is rumored to be among his first tasks. That will be much harder now.
Furthermore, a new kind of limited release strategy, long desired by the record labels, could leave Spotify specifically out in the cold. The model would give any service that requires users to pay for music — including Apple Music, Tidal, iTunes, Napster, and SoundCloud Go — access to new albums before they arrive on services that allow users listen for free, such as Spotify. That would likely provide more cumulative streaming revenue than more narrow exclusives while having the added benefit of pressuring Spotify to abandon its free tier, which Grainge and others have vocally criticized as devaluing the industry.

As for Ocean, the premature end to his contract with Def Jam would be unusual even if Apple weren't involved. The unconventional Endless is only the singer's second release for the label, and major-label artists are typically signed to contracts that stipulate the release of a minimum of three albums, often many more than that. But the source, declining to go into specifics, pointed out that early exits may be negotiated when differences between the artist and the label have become irreconcilable.
"Sometimes the label just says, 'You know what? You're not happy with us, we're not happy with you. We're not good partners. Best of luck to you,'" the source said.
Ocean's desire for independence from Def Jam may explain why the notoriously sponsorship-shy artist agreed to partner with Apple in the first place. For an artist of his caliber, the need for traditional label services — including, if Kanye West has anything to say about it, radio promotion — is relatively minimal, while the financial independence being offered by Apple is unprecedented. For UMG, losing Ocean, with an assist from Apple, was a reminder that in the ever-shifting music landscape, today's partners can be tomorrow's competitors.
"What we hope for is an ecosystem where all of these platforms are competing for audience and they're competing for artist content," the source said. "It's our job to work across all of them and make sure that there's not just one winner."