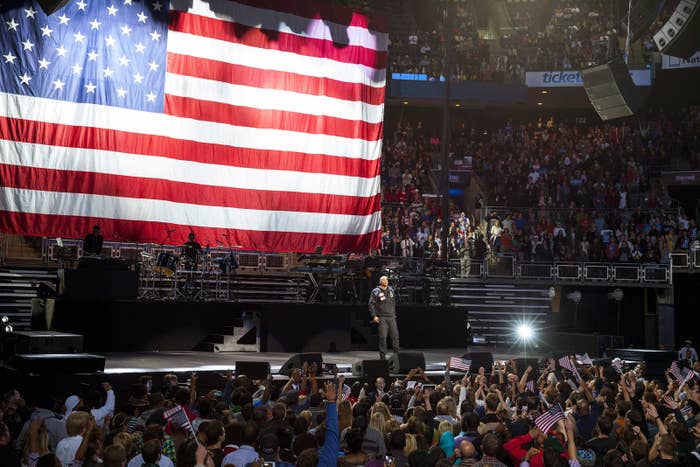 In 2004, Michael Stipe of REM summoned his inner patriot for John Kerry in DC — sporting a tight, red-white-and-blue T-shirt bearing the candidate's last name — during a performance broadcast live on primetime television. In 2008, 15,000 Deadheads and Southern rock loyalists descended on Penn State to witness the Grateful Dead and the Allman Brothers Band jam as one for Barack Obama. And in 2012, a 63-year-old Bruce Springsteen whipped and wailed through three concerts in three different states on a single day to help send Obama back to the White House.
In the final stretch of an unpredictable election season that has left few norms intact, Hillary Clinton's campaign has continued an old tradition of Democratic presidential hopefuls: the swing state–based "get out the vote" concert. The campaign's Love Trumps Hate concert series, which began last week and has included performances by Katy Perry, Jennifer Lopez, and Jon Bon Jovi, will culminate in a performance by Jay Z in Cleveland, Ohio, this Friday night.
But the events, which have historically doubled as a morale boost for war-weary campaign staffers, are freighted with anxious energy this year, as the Clinton camp seeks to use every tool at its disposal to mobilize a broadly dispirited electorate.
The Jay Z show in particular, at which Clinton is scheduled to appear on stage, is viewed as a climactic final overture to young voters — especially young black Americans, whose tepid support of the candidate relative to that of her predecessor has dogged Democrats almost since Clinton's campaign launched.
Clinton campaign staffers are elated to have "a powerful voice with African-Americans."
"There's some fear that African-Americans are operating under the premise that we already had our president and nothing is going to be as great as that again," Debra Lee, chairman and CEO of BET, told BuzzFeed News. Lee hosted Clinton in Florida at the Leading Women Defined Summit in March. "I think the Clinton campaign is really focused on energizing that demographic and really motivating people to come out and vote."
In several swing states, where early voting is already underway, turnout among black voters has fallen short of 2012 tallies, lending credence to fears that Clinton won't reignite the cross-section of voters who twice elected President Obama. In North Carolina, the number of early votes cast by African-Americans is down by 15% compared with those cast at the same time four years ago; in Florida, African-Americans' share of early votes is down by 10%; and in Cuyahoga County, Ohio — which will host the Jay Z concert and has a sizable African-American minority — voters have requested 17% fewer absentee ballots than in the last presidential election.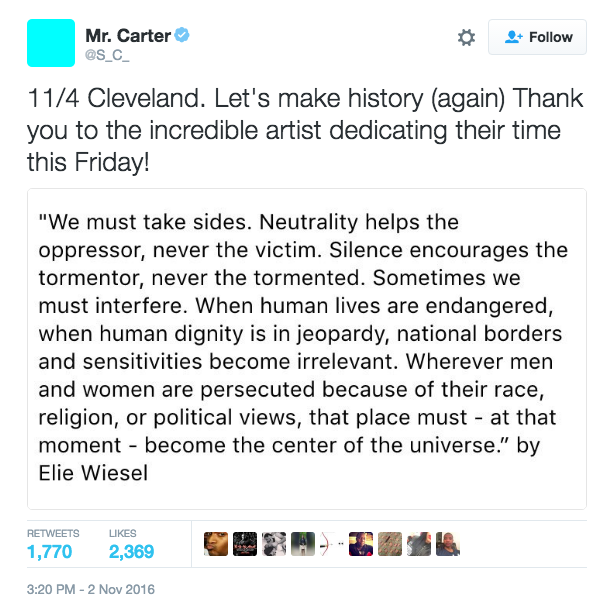 A quarter-century ago, then–Arkansas Gov. Bill Clinton wooed an earlier generation of black voters in part through his fluency with historically black music, famously riffing through a saxophone solo on The Arsenio Hall Show that brought the audience to its feet. But in a fractious cultural and political era, when young black voters are more politically radicalized and the media is far more fragmented, efforts by Secretary Clinton to refract the star power of black musicians have been less fruitful.
In September, clips from an interview between the Democratic nominee and Mary J. Blige, in which the R&B heroine sings to Clinton about the ravages of police brutality, were instantly mocked online. And last week, when Clinton surrogate Pusha T appeared on The Late Show with Stephen Colbert to discuss his support of her campaign, the late-night host quoted a tweet that snarkily questioned whether the candidate even knew who the rapper was, echoing a chorus of incredulous internet commentators.
"We're in a different era, there are different elements, so of course the black community's support [for Clinton] is not the same," said Karen Civil, a prominent blogger and Clinton backer who brokered the Clinton campaign's alliance with Pusha T. Civil, like many black Democrats, has often invoked civil rights advancements made under President Obama in her attempts to recruit reluctant friends to Team Clinton. "This is about continuing the legacy that he created."
In interviews with BuzzFeed News, Clinton campaign staffers said they were elated by Jay Z's endorsement and optimistic that he will serve as "a powerful voice with African-Americans." In September, Bill Clinton was photographed backstage at the hip-hop mogul's Made in America music festival in Philadelphia — chatting up both Jay Z and his wife, Beyoncé — but neither artist has campaigned on behalf of Mrs. Clinton up until this point. Representatives for Jay Z and Beyoncé declined to comment.
In keeping with tradition, Clinton's "get out the vote" concerts have corralled large, captive audiences of prospective voters seen as critical to victory on November 8. Last Saturday, the concert featuring Jennifer Lopez and special guest Marc Anthony targeted Latino voters in Miami, with testimonial videos and excerpts of Clinton speeches interspersed between songs throughout the set. "We gon' get out that vote! We gonna change things!" Lopez exclaimed at the start of her unofficial election anthem, "Let's Get Loud." It rained intermittently during the show, but Lopez — wearing thigh-high boots and a billowing red-and-white dress with a plunging neckline — didn't seem to notice. After the concert, Clinton joined both Lopez and Anthony on stage to implore the crowd to "get loud at the voting booth."
The Jay Z concert in Cleveland will add to the noise. The 21-time Grammy winner performed at events for both of President Obama's campaigns in 2008 and 2012, and made headlines during the latter by recalibrating one of his hits to ensnare Mitt Romney. "I got 99 problems but Mitt ain't one," he rapped.
Jay Z's concert for Clinton, which is free to the public via RSVP on her campaign website, takes place at Cleveland State University's 13,000-capacity Wolstein Center. Four days before the election, Clinton's appearance there will be a final opportunity to nudge an evolving and elusive constituency toward the voting booth.
"The concert itself won't single-handedly persuade anyone," Scooter Braun, Justin Bieber and Kanye West's manager and host of multiple Clinton fundraisers, told BuzzFeed News. "But what is said at that concert could help someone get off the fence."