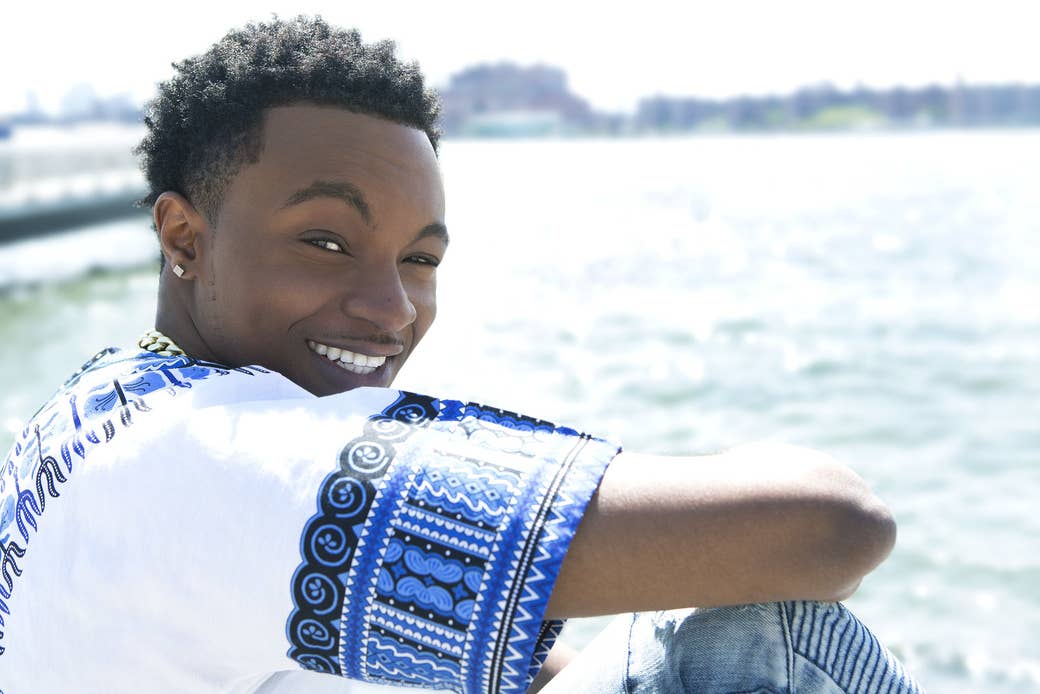 You may not be familiar with the 26-year-old singer and songwriter Ayo Jay, but you might know his viral, dancehall-influenced song "Your Number." On the East Coast, recent listeners to Top 40 or urban radio would have had a hard time missing it, or the remixed version featuring Fetty Wap. Late last month, RCA released another remix of the song, this one featuring Chris Brown and Kid Ink, that it's promoting nationwide. In any version, but especially the original, "Your Number" is everything you want in a radio song: a three-minute charm offensive that glides to the pleasure centers on rails of luminous marimba and trash-can drums. Its lone lyrical conceit is so simple and PG-rated as to verge on the quaint: A young man, echoing generations of young men since time immemorial, steels himself to ask for a young woman's phone number. It's "I Want to Hold Your Hand," or "ABC," or "Bonita Applebum" — only Jay, who hails from Lagos, Nigeria, and sings in high-pitched, accented English, somehow finds something new in the sentiment, burnishing it with an easy panache and playful yearning until the whole thing gleams.
On the radio, where "Your Number" has been gaining steam since early summer (it's climbed to No. 19 on Billboard's Hot R&B songs chart and has over 12 million streams on Spotify and more than 19 million views on YouTube), the song is consonant with other recent Caribbean-indebted hits by Sia, Drake, Major Lazer, Rihanna, Ariana Grande, and a growing federation of trend-conscious pop stars. But it's also recognizably foreign. Jay's Nigerian accent (chorus: "Can I git your numbaaahh") has no real precedent in mainstream American pop, which is to say nothing of subsequent traces of Otherness, including the use of West African pidgin English, the name of his paramour (Amarachi), and her titular phone number, which, thanks to an international area code, takes several measures to sing in full.
The rise of "Your Number" is the latest product of pop music machinery that has become increasingly globalized. Like "Cheerleader," the unlikely 2015 smash by the Jamaican artist Omi, it was an international hit years before being adopted by US radio (first released independently in 2013, RCA re-released "Your Number" in late June). But this time, the artist's home country is one that has never before produced a crossover star in America. And on the heels of Drake's world-conquering "One Dance" featuring another Nigerian artist, Wizkid, major record labels are betting that will soon change.
"We feel strongly about global artists and breaking acts globally, and we're excited about taking the West African vibe, with maybe a splash of Caribbean, and blowing it up over here," says J Grand, senior vice president of A&R at RCA. "It really feels like the time is right to break those records."
At RCA, which is also home to Justin Timberlake and A$AP Rocky, Jay is the second Nigerian act working in the genre known as Afrobeats, or Afro-fusion — a kaleidoscopic blend of African genres, including Afrobeat (singular) and highlife, with international sounds from Caribbean dancehall and soca, American hip-hop, and R&B — to be signed this year. In July, the label welcomed Davido, one of Afrobeats' most prominent figures, and speculation over the future label home of Wizkid has been building for months.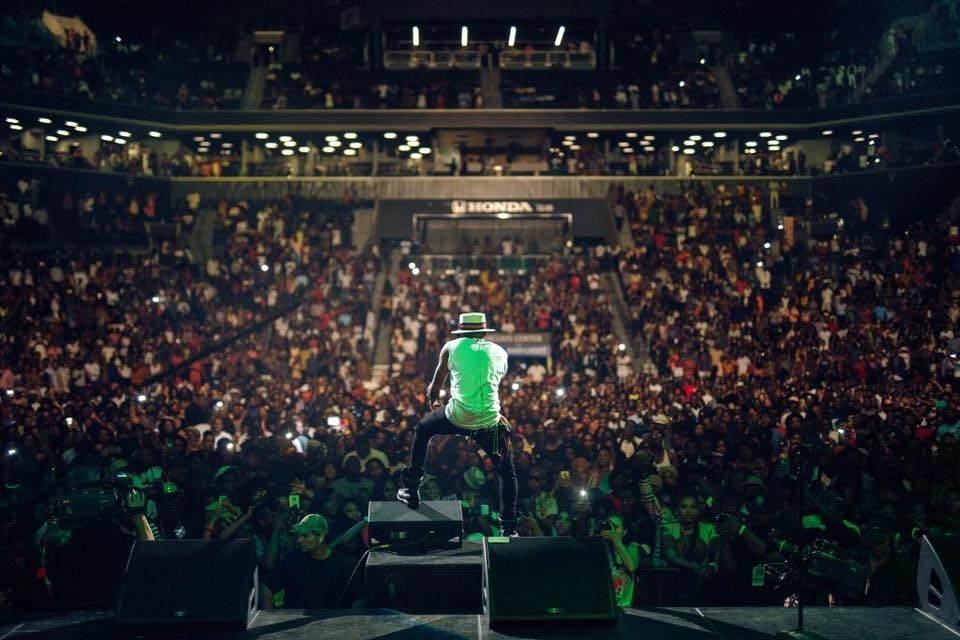 RCA isn't alone. In June, Jay Z's Roc Nation signed Tiwa Savage, another Nigerian Afrobeats star and "the Beyoncé of Africa," who performed alongside Ayo Jay, Davido, Jidenna, and Wizkid at the movement-affirming One Africa Music Fest at Brooklyn's Barclays Center the following month. The concert was the first of its kind in America, featuring young African and Caribbean artists — without the imprimatur of Western underwriters — performing on a stage commensurate with their status in their respective home countries. And for devoted followers of contemporary African music, it symbolized the extent to which a long-held dream had come within tantalizing reach.
"In the United States, I don't think there's ever been a show that big focused only on Afrobeats, or even African music," says Tuma Basa, global head of hip-hop programming at Spotify and the creator of that service's recently launched "African Heat" playlist. "And I'm not talking about back in the day when Paul Simon brought out Ladysmith Black Mambazo, or Peter Gabriel. I'm talking about music that came from the streets, from the youth, from the continent. Not the traditional stuff that the West picks."
"I'm not talking about Paul Simon or Peter Gabriel. I'm talking about music that came from the streets."
The route to radio for "Your Number" illustrates how barriers to entry are shifting for some international artists seeking a mainstream American audience. When the song was first recorded in 2013, the demo sounded like such an irrefutable smash that Jay's manager, Jean Paul Wadibia, says it moved him to tears. But Wadibia, a DC-born, New Jersey–based music industry novice and former financial manager who owns multiple Wingstop franchises, struggled to get the attention of radio programmers and press outlets in the US. While "Your Number" lit up music sites overseas everywhere from Senegal to Greece, gatekeepers in America, where Jay has lived on and off, seemed indifferent.

In 2014, hoping to move the needle, Wadibia poured $22,000 of his own money into a twerk-themed music video for "Your Number." But the video suffered a litany of setbacks during production and, when it was finally released, was poorly received. Defeated, he and Jay moved on. But more than a year later, they noticed that people were making their own videos to "Your Number" and posting them to YouTube. The videos were coming from all around the world: Russia, the UK, South Africa. Reinvigorated, Wadibia decided to make one last push in America, reaching out to a friend of a friend to see if Fetty Wap, then a relative unknown with a rising star thanks to "Trap Queen," might be interested in recording a new version of "Your Number." Fetty agreed, and their resulting collaboration in July 2015, at long last, began to catch fire.
"Every label called: Epic, Columbia, E One, Def Jam, Interscope, RCA," says Wadibia, 34, who signed a partnership agreement with RCA via his own label, One Nation Records. "It was nice getting courted and going to free dinners, but a lot of people just wanted to blow the single up. RCA really loved and believed in Ayo as an artist."
Jay concurs.
"Here in America, they love the artist," he says, in a can you believe this racket? kind of way. "If they appreciate the music, you're like a god."
"The audience is more open-minded than I think a lot of people realized."
Five years ago, an endorsement from even the most established figures in American pop music wasn't a guarantee of success here for artists making music as identifiably African as "Your Number." In 2011, Kanye West made headlines by signing the Nigerian-born singer D'banj to his G.O.O.D. Music imprint, but a would-be crossover single, "Oliver Twist," never charted in the US, despite a music video boasting appearances from West and labelmates Big Sean and Pusha T.
In 2016, however, the prevailing winds of pop in America and across many parts of Africa have been spiraling toward convergence. The dancehall influence in "Your Number," and Afrobeats more generally, reflects a new generation of African artists building on centuries of transatlantic dialog with the Caribbean, taking the music of the diaspora and making it their own. In America, a more generalized affinity for cultural sampling, combined with a frenzied demand for breezy dance music, has afforded those artists a new level of currency. The first "Your Number" remix featuring Fetty Wap arrived the same summer that "Cheerleader" was burning up the charts, which was followed by Justin Bieber's "Sorry," which was followed by Rihanna's "Work," which was followed by "One Dance" — all number ones that pointed a giant flashing arrow toward new horizons.
"The lines are getting blurry," says Rick Thomas, program director for the Top 40 radio station AMP 92.3 in New York, which put the original version of "Your Number" into regular rotation in late July. "What used to be a UK record is no longer just a UK record. What used to be 'just an American record,' or 'just a Nigerian record'… we're seeing songs cross from every which way. The audience is more open-minded than I think a lot of people realized."
When he was growing up in Lagos, Jay, like a lot of kids he knew, listened primarily to American hip-hop: Tupac, Biggie, Eminem, Big Pun. The first songs he ever wrote were hip-hop songs, which he would rap around the house or among friends for fun. When he turned 18 in 2007, his parents sent him to college in New York, where a friend who lived in the Bronx got him hooked on dancehall. Jay started trying to write his own dancehall songs and found that they came more naturally to him than rapping. The ideal career, he thought, would be having the best of all worlds — singing hooks for hip-hop heroes like Jay Z and Drake, while threading the sounds of Africa and Jamaica, via the Bronx, in his own music.
At the time, it felt like a pipe dream. And it was.
"There are thousands, millions of people in Africa who make music, and they never get to this level," says Jay. "Trust me, I'm not taking anything for granted. It makes me feel like I have to do more and show more qualities of the African musician, so that the world knows we're here to stay."