Columbia University's administration has been under fire for its alleged mishandling of sexual assault claims.
A student group named No Red Tape has used red tape to protest what they say is inaction by the university and to show solidarity for survivors on campus
The group is "working to end sexual violence and rape culture at Columbia University."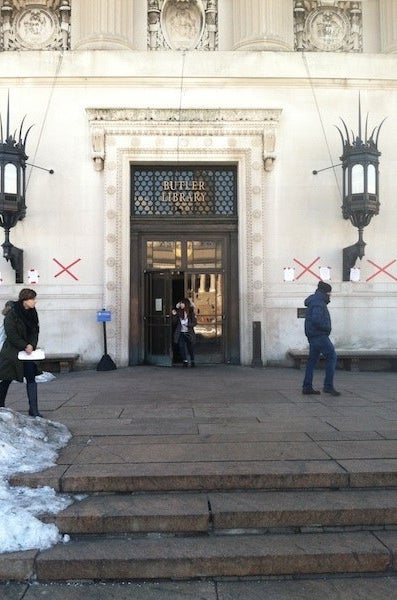 An email sent by Rakhi Agrawal, Barnard 2014, on May 18 asked graduating seniors to attach red tape to their graduation hats to show solidarity for the sexual assault survivors graduating amongst them.
To the graduating students of Columbia's Class of 2014,

This week, we celebrate all that we have accomplished at this University — and all we have endured. As you may know, this semester, students have demanded that the University take several important steps to reform a woefully inadequate set of services, policies, and procedures dealing with sexual violence that students face on campus...

As we prepare to walk across our stages and accept our diplomas, we cannot forget that the responses we've gotten remain insufficient and inadequate. The longer we wait for these changes to come about, the more our fellow students remain vulnerable to assault. It is our responsibility to leave a lasting mark on the community we have been a part of for several years... By placing a piece of red tape on your cap (ideally parallel to the right side), you will demonstrate and signal to the University that you do not accept your degree lightly, that you understand the culture that they have been complicit in perpetuating, and that you will not stand for it, and that you demand justice and support for all survivors, even as a graduate of this institution.
The demonstration was not planned by the student group No Red Tape, but shared its symbol. Red tape was handed out at stations around campus at all graduation exercises of the university.
Red tape was visible at all of Columbia's schools' individual graduation ceremonies:
A Columbia spokesperson told BuzzFeed via email that "it is a hallmark of Columbia's values to support and encourage the right of students to express their views through such peaceful, symbolic speech."