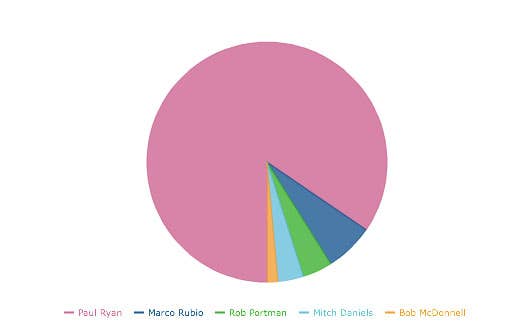 Wisconsin Rep. Paul Ryan has a far higher profile in social media than the other Republicans mentioned as possible running mates for Mitt Romney, according to a social media study powered for BuzzFeed by Attention, a media agency that focuses on quantifying the impact of topics and individuals on the social space.
A look at Facebook and Twitter conversations that mention Romney's likely running mates—Ryan, Fla. Senator Marco Rubio, Ind. Governor Mitch Daniels, Ohio Senator Rob Portman, or Va. Governor Bob McDonnell—shows Ryan included in 84% of the June dialogue.
In the data analysis, conversations were defined as Facebook posts or tweets that generated feedback from other users: comments, shares, likes, or retweets. Conversations are thought to be most representative of meaningful political dialogue due to their interactive nature. Attention's platform pulled data from Facebook and Twitter tracking the number of posts and conversations that mentioned each of the VP candidates.
Ryan's high social profile is focused largely on his anti-spending budget proposals, but in a handful of the posts about Ryan directly reference his chances at being named Romney's VP. Facebook user Emil John posted on Ryan's page on June 16, cheering him on as Romney's pick. "There are plenty of reasons for Republican presidential candidate Mitt Romney to choose Rep. Paul Ryan as a running mate," he wrote.
Ryan's Facebook page is the locus of much of this economic discourse. The congressman wrote on his Facebook page on June 11, "America's Defining Challenge: Will we leave the next generation with more opportunity?" The post received 82 comments and 361 likes. The question prompted a heated discussion about tax policy, social security, and congressional deadlock, among other topics.
On the other hand, Rubio, who was mentioned in just over 6% of the conversations, was generally discussed in the context of his VP candidacy or Obama's recently announced immigration policy.
Ryan has not disclosed whether the Romney campaign has begun vetting him for the VP spot.