A blog post from earlier this month that criticized a medical resident in Mexico for sleeping on the job has led to a social media movement with doctors defending their long hours and need for rest.
In the blog post, the writer chastised the young resident, who reportedly fell asleep at 3 a.m. doing paperwork, and posted a picture of her asleep on a desk.
"We are aware that this is a tiring job but doctors are obliged to do their work," the blogger wrote. "There are dozens of patients in need of attention."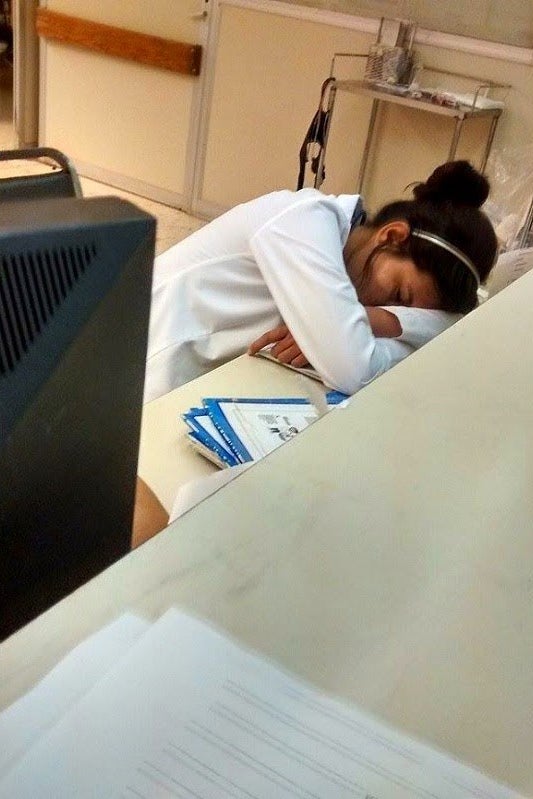 But when Mexican doctor Juan Carlos heard about the criticism, he defended the young doctor by using the hashtag #YoTambienMeDormi ("I've also fallen asleep"), and inadvertently sparked a movement.
"I've also fallen asleep after operating on one, two, three and even four patients on any regular shift," he wrote on Twitter (seen below).
Carlos wanted to "expose the differences between the rights of doctors and the rights of patients," he told the BBC.
"As a doctor here in Mexico, it's illegal to take a picture of a patient without their prior consent, even if it's for medical purposes. But a patient can take a photo of a doctor with the sole purpose of damaging our reputation," said Carlos to the BBC.
Many people in the medical field in Latin America began to use the hashtag to show pictures of themselves sleeping on the job, which often requires young doctors to work shifts of up to 36 hours.
"36 hours working nonstop is impossible without 10 minutes of rest," wrote Paolo Perez, a surgeon in Ecuador.
But needing to rest after working an unreasonably long shift doesn't mean the doctors aren't good at their jobs, they argue.
The hashtag has been used over 14,000 times, according to Twitter analytics site Topsy, and has begun to spread to other parts of the world.
Ann Romanova, a medical student in Latvia, wrote: "I guess, mostly people think that to be a doc or med student is really easy, so we don't deserve sleep #YoTambienMeDormi."
In the U.S., rules were implemented in 2011 by the Accreditation Council for Graduate Medical Education that interns can't work more than 16 hours in a row, while higher resident physicians are limited to 28 hours.
The hashtag has also served to highlight the sacrifices many doctors make for their profession, including forgoing meals and working for days on end.
Doctors should be treated as normal humans with the same "physiological needs" as everyone else, Mexican doctor Marcela Cueva told the BBC.
"And that doesn't mean that we don't take good care of our patients," he said. "The problem is that nowadays the doctor-patient relationship has been damaged and social media is part of the reason. People are more likely to write when they go through bad experiences rather than good ones."
"We are people, not machines."