A Reporter Chasing A Local Mystery Leads To Her Own Marriage Proposal
Unexplained signs with hearts painted on them had been appearing around her town for weeks, so Maryanne Firth decided to find out why. She ended up getting the surprise of her life.
For weeks, reporter Maryanne Firth had been seeing signs around her town of Welland, Ontario. The signs were simple: A piece of plywood with a pink heart, staked into the ground.
Firth started asking everyone she knew about the signs. "They were bright. They contained no message. They were everywhere. My curiosity was piqued," she said.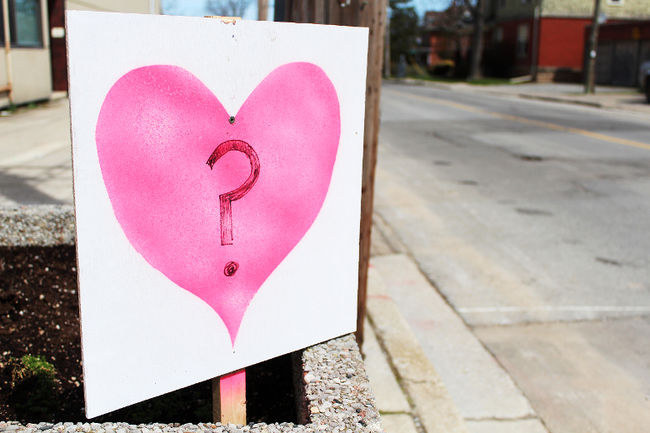 Being a reporter, the 29-year-old decided to get to the bottom of where the signs were coming from. She asked the public for help, and wrote a story about the mystery in the Welland Tribune.
"Some believe it's a way to spread love through the city," she wrote.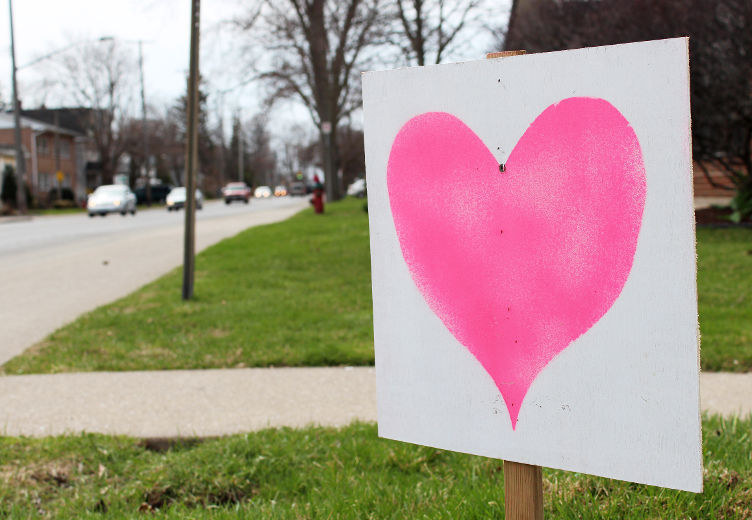 New signs began appearing, including one next to the newspaper's office the weekend that Firth had to work. One included an address: Chippawa Park on Sunday at 3 p.m. She set out in search of her story.
With her camera slung over her shoulder, Firth excitedly trekked to the park to see who might take responsibility for the seemingly random acts of kindness.
She arrived at a tent set up near the park's pavilions, where a man was handing out flowers while wearing a box over his head. Over the box was painted the signature pink heart.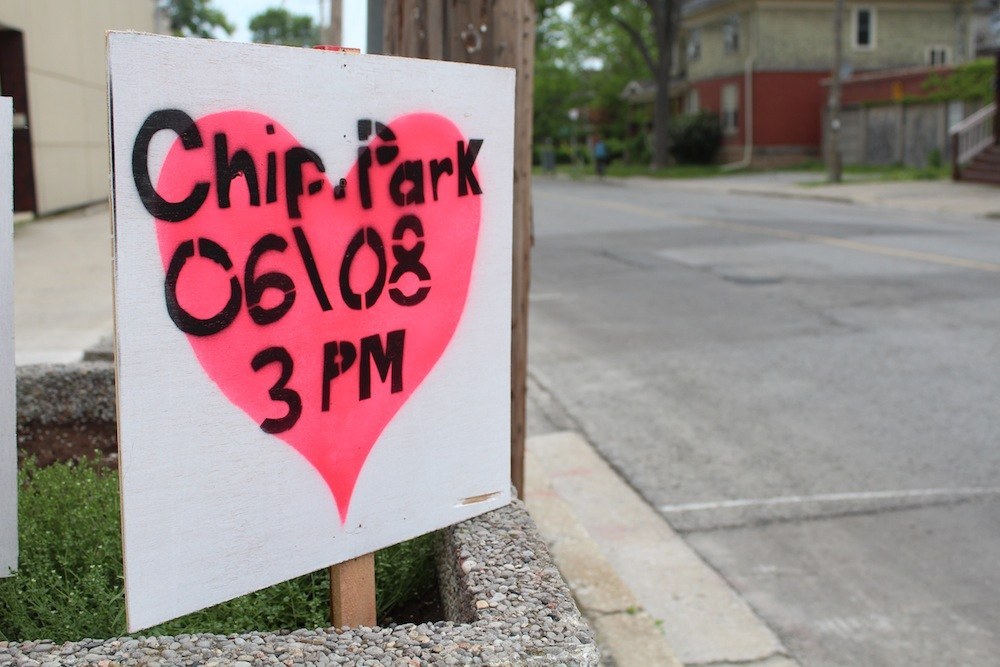 Firth writes of the stranger:
He was handing out flowers to onlookers with what I can only imagine was a smile behind his cardboard disguise.

He handed one to me -- a sweet, but familiar gesture -- then continued passing them out to others. Then he gathered up the remaining flowers into a bouquet, and he turned to me.

He removed the disguise.

This was the man who I've loved for the past eight years. Who I've built a life with.

This was all for me.

Ryan got down on one knee, and as I tried but failed to hold back tears, he asked me to spend the rest of my life with him.
Firth's boyfriend of eight years, Ryan St. Denis, had been planting the signs all over town, building over 50 of them and hiding them in the garage.
"I couldn't believe he had spent so much time and put so much thought into making me feel so special. It was definitely a lot of work and all he could say afterward was, 'You're worth it,'" Firth told BuzzFeed of her high school sweetheart. "How amazing is that?"
St. Denis knows her better than anyone else, Firth wrote, and was sure her reporter's instincts would carry her to the surprise.
"He knew I'd see the signs. He knew I'd be curious. And he knew my nose for news would drive me to unearth the secret," the reporter said.
Looks like she found her story.