Desperation And Heartbreak In Philippine City Flattened By Super Typhoon Haiyan
"People are dirty, hungry, and thirsty," one shop owner in Tacloban said. "A few more days and they will begin to kill each other."
UPDATE — Nov. 13, 1:50 a.m. ET: The official death toll rose Wednesday to 2,275 people. Some 3,665 were reported injured and 80 others missing, the Philippines government said.
Survivors of Super Typhoon Haiyan, which hit the Philippines on Nov. 9, are beginning to realize that the deadly storm was just the start of their struggle, as food shortages forced desperate residents to turn to looting.
Village councillor Edward Gualberto, a father of four, rummaged through a wrecked home in nothing but basketball shorts.
"I am a decent person. But if you have not eaten in three days, you do shameful things to survive," he told Agence France-Presse while digging out canned goods. "This typhoon has stripped us of our dignity ... but I still have my family and I am thankful for that."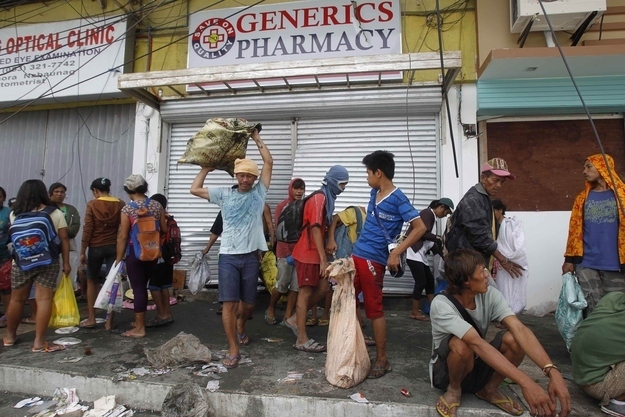 Some survivors have been breaking into shops to steal anything they can get their hands on, witnesses said.
Pastry shop owner Emma Bermejo said she thought the lack of relief goods would lead people to "begin to kill each other." "This is shameful," she said. "We have been hit by a catastrophe and now our businesses are gone. Looted. I can understand if they take our food and water, they can have it. But TV sets? Washing machines?"
Though two Air Force planes arrived at Tacloban's wrecked airport this morning, the planes could only carry a few hundred of the more than 3,000 people hoping to escape the city's devastation, where corpses still litter the ground.
CBS News reported there were only about a dozen soldiers to hold back the crowd: "Mothers raised their babies high above their heads in the rain, in hopes of being prioritized. One woman in her 30s lay on a stretcher, shaking uncontrollably."
"We need help. Nothing is happening," said Aristone Balute, an 81-year-old who also didn't get a flight. "We haven't eaten since yesterday afternoon." Her clothes were soaked from the rain, and tears streamed down her face.
Streets clogged with debris have made it difficult for aid to reach some of the hardest-hit areas. Up to 5,000 people are feared dead.
U.S. Marines have been dispatched to the city with food, water, and generators, and the U.S. has pledged $20 million in immediate aid. Aircraft carriers credited with saving lives after the 2004 Asian tsunami are expected to arrive soon.
"I don't believe there is a single structure that is not destroyed or severely damaged in some way — every single building, every single house," U.S. Marine Brig. Gen. Paul Kennedy said after flying over Tacloban.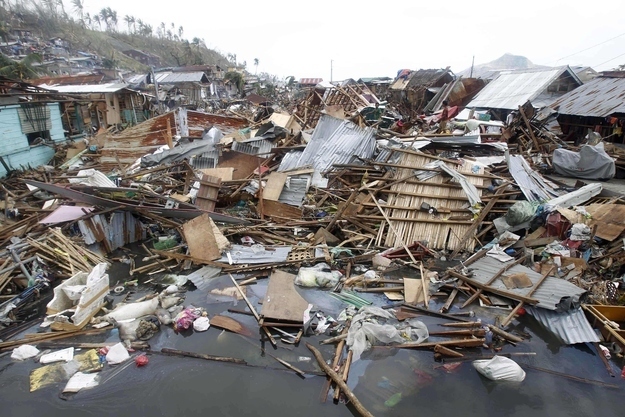 Around 1,000 people are reportedly being treated for wounds at a makeshift clinic with shattered windows.
"It's overwhelming," said Air Force Capt. Antonio Tamayo. "We need more medicine. We cannot give anti-tetanus vaccine shots because we have none."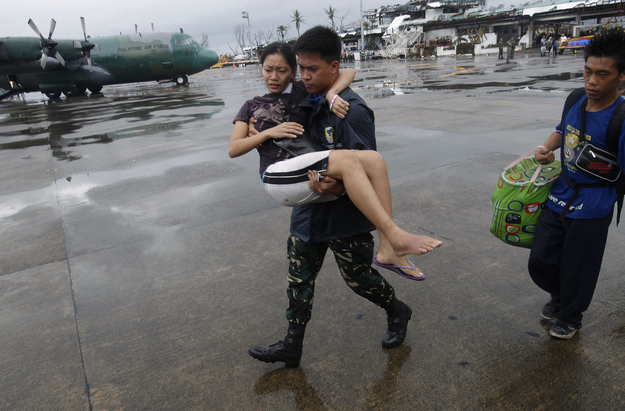 Six trucks of military cadaver collectors have begun to scour the island, but the soldiers are apparently overwhelmed. "There are bodies everywhere, we do not have enough people to get to them," said one driver.
After his brother survived the typhoon, climate change representative Yeb Sano made an emotional speech at the UN's climate meeting in Warsaw, Poland, pleading for the world to take action to reduce climate change-causing carbon dioxide emissions.