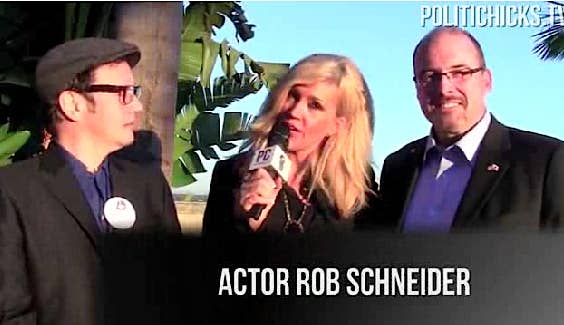 Actor Rob Schneider made an appearance in a video for web show Politichicks, where he declared that he hasn't made a movie in California for more than half a decade because of the rise of Democrats in state elections.
Schneider, who appeared with California Assemblyman and Republican gubernatorial hopeful Tim Donnelly, said he was a Democrat for many years, but has recently switched sides.
"The state of California is a mess, and the supermajority of Democrats is not working. I've been a lifelong Democrat and I have to switch over because it no longer serves the people of this great state. We need to have a new voice. We need to have a new direction, and we need to break the supermajority. It isn't helping with jobs."
The star of Deuce Bigalo: Male Gigolo and Deuce Bigalo: European Gigalo said he's also moved a vitamin company he owns out of state because of "overregulation."
Schneider added, "Another four years of a Democratic administration will be a disaster to this state, as it already has been."
Correction: Deepest apologies for an earlier version of this article which got the Adam Sandler film wrong in which Rob Schneider says, "You can do it!" We regret the error.