Rare Set Of "Mono Mono" Twins Hold Hands Moments After Birth
"There wasn't a dry eye in the whole OR." Update: The hospital now tells NBC's Today show that the babies grabbed on to each other soon after they were born.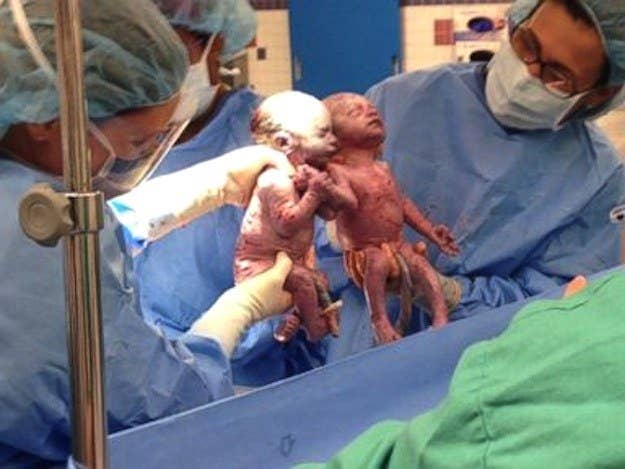 Updated — May 12, 10:22 a.m.
Ohio mom Sarah Thistlewaite got a special early Mother's Day gift when her rare identical "mono mono" twins were born healthy on Friday.
The twins, named Jenna and Jillian, had the rare condition of being monoamniotic, or "mono mono" identical twins, which means the fetuses share an amniotic sac and remain in near-constant contact for the duration of the pregnancy. The mono mono condition occurs in about 0.3% of births.
Thistlewaite, who has a 15-month-old son, was on bed rest at Ohio's Akron General Medical Center for nearly two months, where doctors could monitor the babies' health, as the siblings can often become entangled in each other's umbilical cords.
"It's really mentally challenging. It's a very tough experience to go through," she said.
On Friday, the girls were born healthy at 33 weeks through a caesarean section. Doctors held them above a sheet so that the mom and her husband could see that their newborns were holding hands. Initially it was reported that they were born holding hands, but later doctors told NBC's Today show that the babies grasped on to each other after they were born.
"I didn't think they would come out and instantly holding hands. It was overwhelming. I can't even put into words," she told ABC News. "There wasn't a dry eye in the whole OR."
The girls were born healthy but are reportedly under observation for some breathing problems in the hospital's neonatal unit.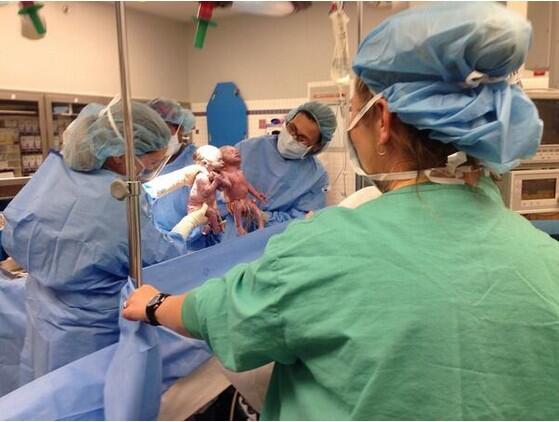 This post originally said the mom's name was Sarah Thistlewhistle, but her name is actually Sarah Thistlewaite, which is not as fun to say. Sorry for the confusion.