This Photographer Takes Pictures Of His Wife In Front Of Frightening, Gorgeous Storms
"There are plenty of amazing severe weather photos out there," Nicolaus Wegner told BuzzFeed News, "but I wanted to do something a little different."
While bad weather might make most photographers pack up the equipment and head indoors, Wyoming-based photographer Nicolaus Wegner tries to get as close to the danger as possible.
In his stunning weather photos, Wegner, 34, captures the beauty of the sky juxtaposed with his wife, Daow, 32.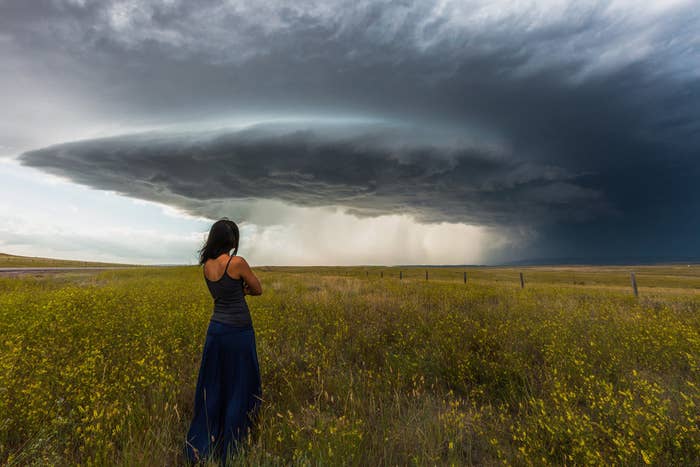 In order to find the storms for the stunning photos, the couple, who have been married about four years, use forecast tools to predict where they'll be. Most of the photos are in Wyoming, but some are in nearby states like Montana and Nebraska.
When they're not chasing down the perfect outdoor shot, Wegner said the two shoot weddings together.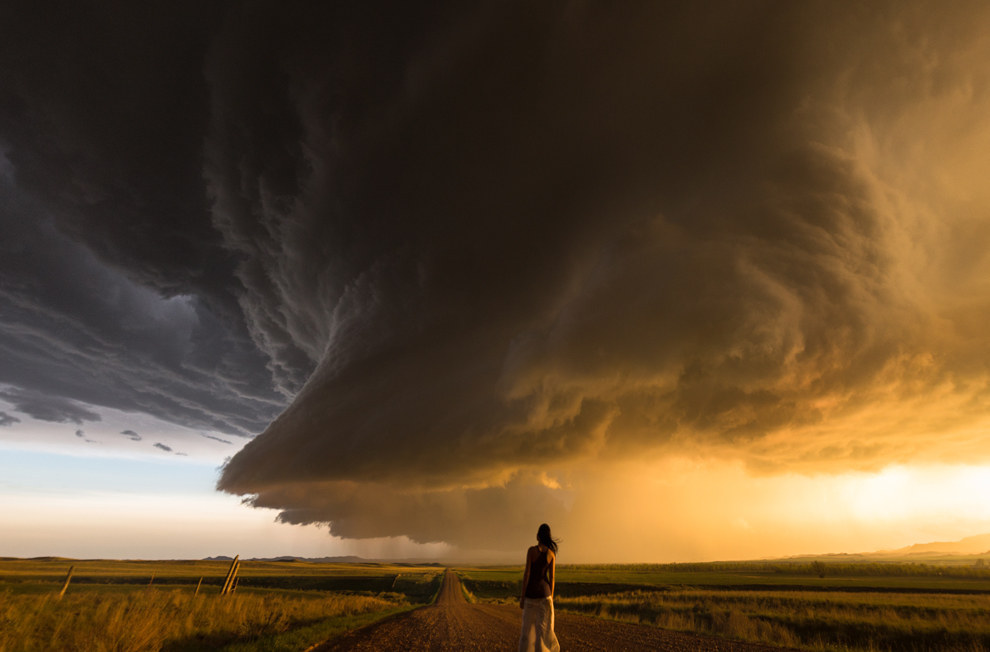 Lightning is the biggest danger, and hail is the second biggest, Wegner told BuzzFeed News. They "rarely" see tornadoes, he added, having spotted about 10.
"When the lightning is too crazy, the time lapse gear is usually already set up and running, and we're both chilling in the vehicle, doing our best to avoid touching any electronics or metal," he explained.
Though he's "never really been worried of getting stuck in a storm," Wegner said he he makes sure to have several escape routes planned.
"We're not storm chasers or spotters," said the Casper, Wyoming, native. "Don't want to be."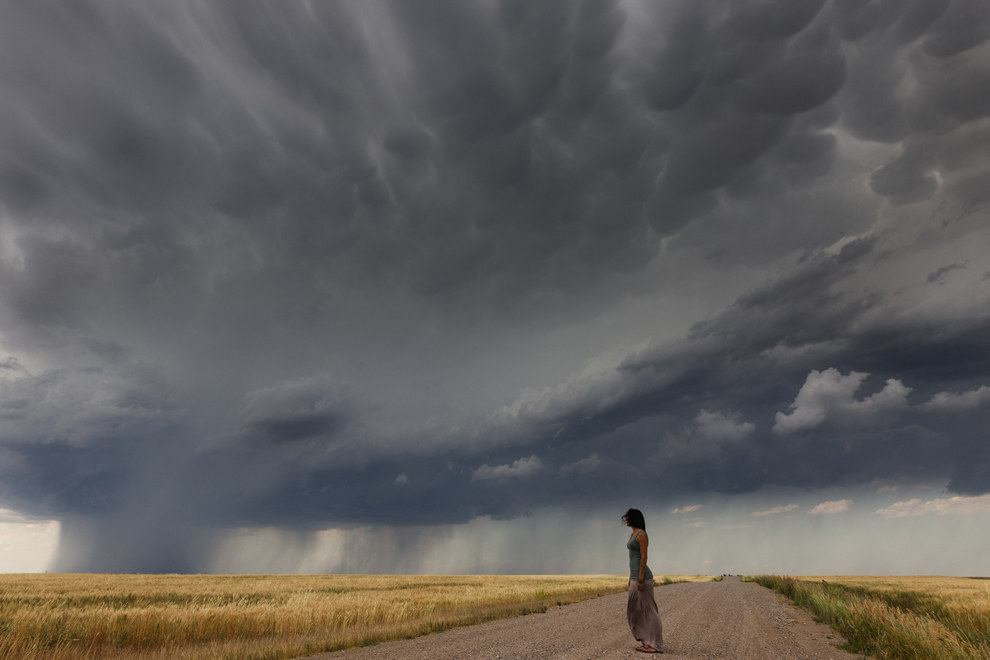 After spotting a storm through the forecast, the couple try to find a safe spot to photograph. While the time lapse cameras are going, Daow will strike a few poses. Mostly, Wegner said, they avoid flash and just let the lighting be natural.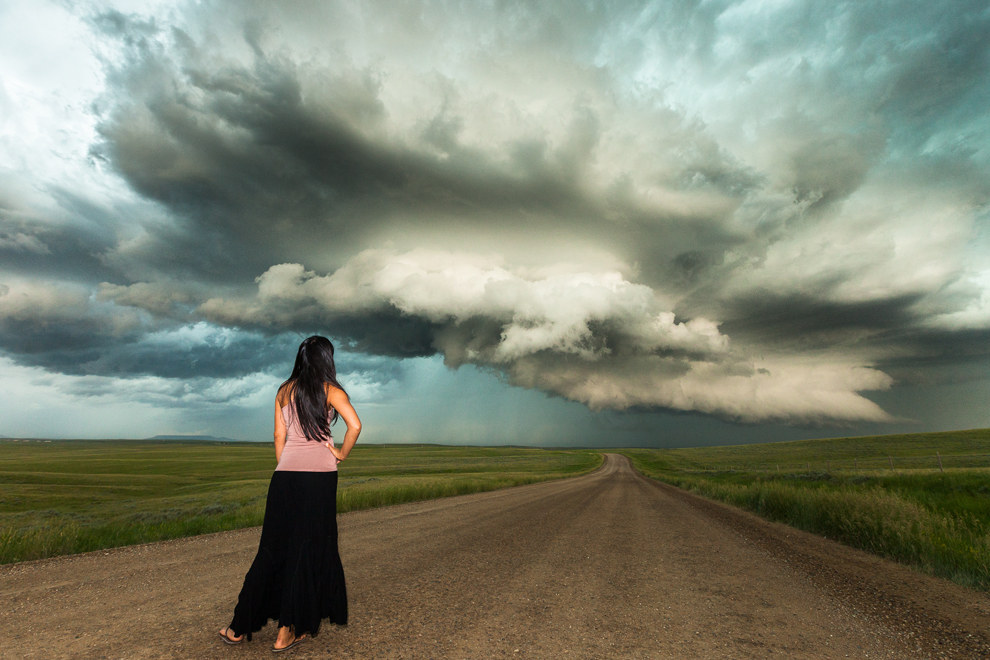 Wegner said he got the idea because severe weather photos are fairly common, but he wanted to mix it up with something different by having Daow in the shot.
He wasn't "especially interested in posing myself in front of them," he added, which he thought would seem "sort of lame."
"I find the female form much more photogenic anyway," he said. "[I] thought using Daow as a human element against weather like this would be a nice addition to its somewhat chaotic nature."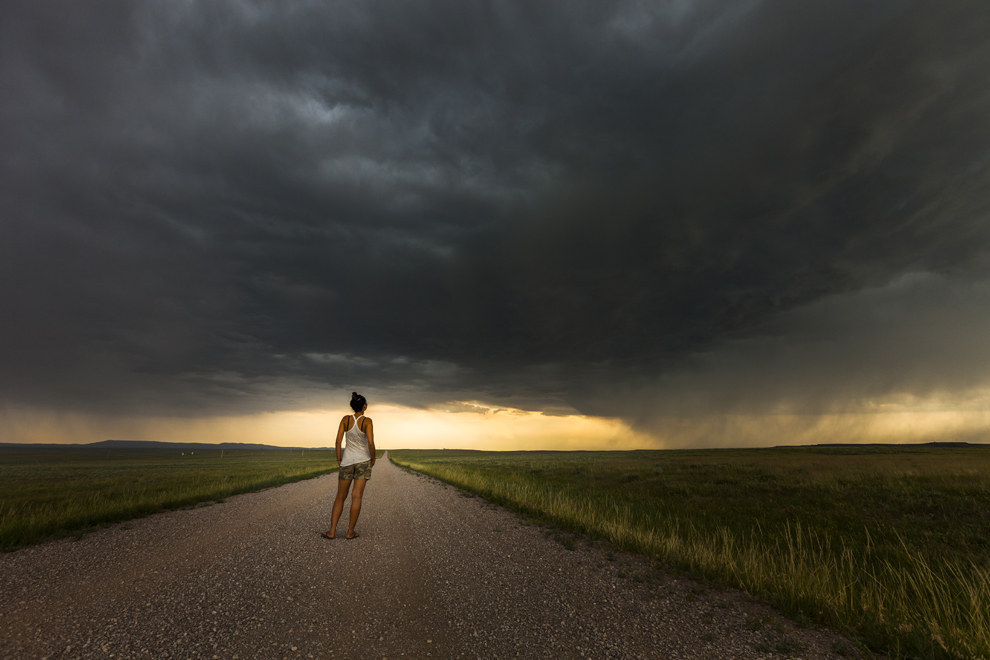 If either of them ever feels unsafe, the two will pack up and move on.
"I'm a little nervous sometimes — but I find the experience exciting and scary at the same time," Wegner told ABC News. "Life is short so I try to enjoy the moment."