Philippines Struggles To Recover After Devastating Storm
A food truck from the Red Cross had to turn back after it was nearly hijacked by hungry people. UPDATE: The official death toll reaches 1,744 in the Philippines.
The Philippines is struggling with a grave humanitarian crisis following Super Typhoon Haiyan, which is now being called the strongest recorded storm to ever make landfall.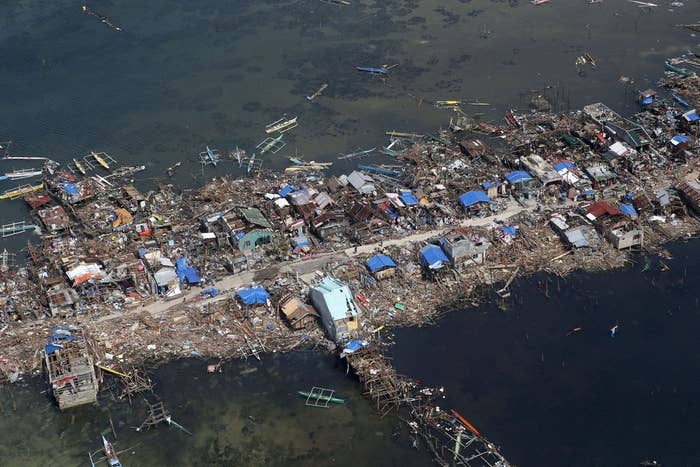 The city of Tacloban, capital of the Leyte province, is "almost totally flattened," Cecil Laguardia, a spokeswoman for aid organization World Vision, told Time.
As many as 10,000 people are feared to be dead in the province, with another 500 dead and 2,000 missing in the provinces of Samar and Eastern Samar. Laguardia says the toll could climb even higher.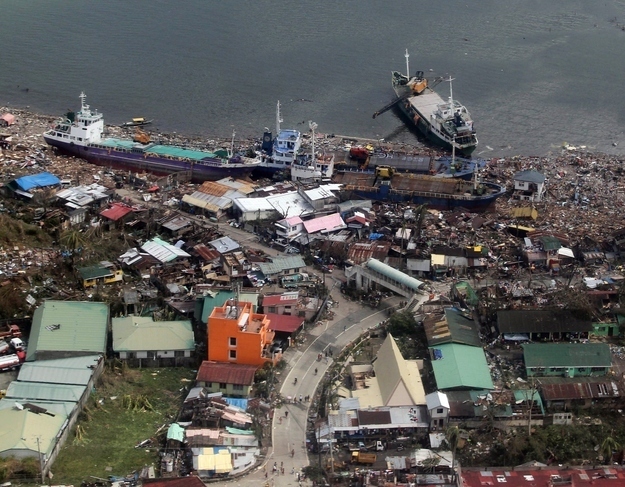 At least 9.7 million people in 41 Philippine provinces were affected by Haiyan, which demolished tens of thousands of homes. Downed phone service has made it hard to determine how badly more remote areas were affected.

Survivors are now struggling to find food amid the wreckage, and there have been reports of looting. "I've never in my 17 years of work seen people so desperate to get food," Gwendolyn Pang, secretary general of the Philippine Red Cross, told Time.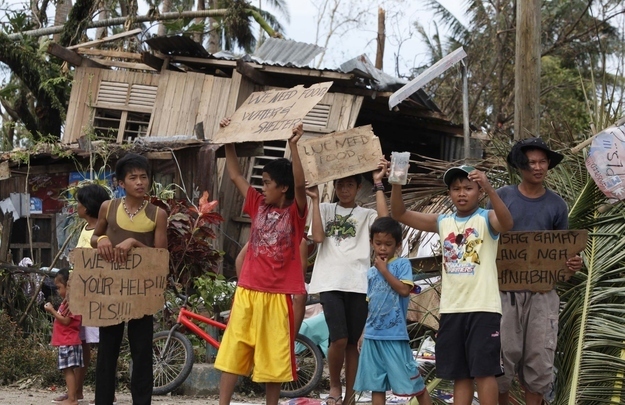 Richard Gordon, head of the Philippine Red Cross, told the BBC that roads are finally being cleared to bring relief to the hardest-hit areas.
"It's only now that they were able to get in and we're beginning just to bring in the necessary food items... as well as water and other things that they need," he said.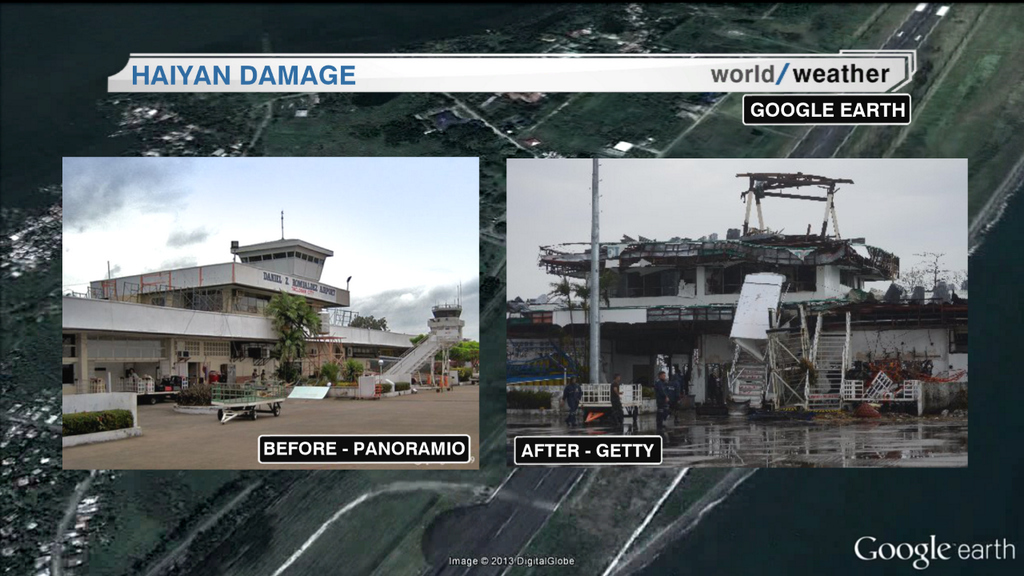 But Gordon told The New York Times that a Red Cross aid convoy had to turn back after they stopped at a collapsed bridge in Tacloban and nearly were hijacked by a swarm of hungry people.
"There is very little food going in, and what food there was, was captured" by the crowd, he said.
Adding to the misfortune, a tropical depression that could bring heavy rain is predicted to hit the south and central Philippines on Nov. 12, which could further hamper relief efforts.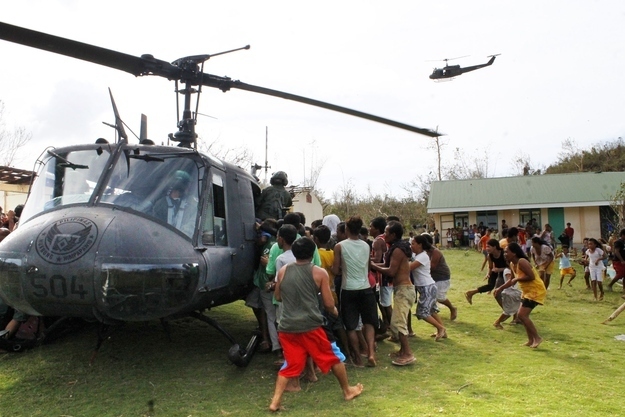 Storm photographer Jim Edds was in the thick of the storm, and said he saw many unclaimed bodies scattered around after the devastation.
Video Edds shot shows residents wading through waist-deep water to bring injured people to safety, surrounded by downed power lines.
Though Tacloban has been reported as the hardest-hit, UNICEF's regional communication adviser Christopher de Bono said some cities that are more difficult to reach, like Ormoc in western Leyte, could be just as bad.
One colleague told de Bono they saw "a whole lot of people walking up and down the roads. They were walking because there was nothing else. They had the vacant stares that come from having your home ripped out from under you, and not having answers," TIME reported.
The economic impact from the natural disaster may reach $14 billion, economic consulting firm Moody's Analytics told USA Today.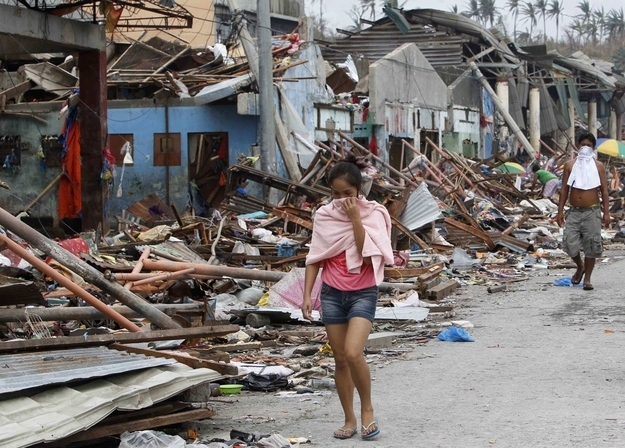 The U.S. military has arrived with rescue teams and cargo planes with water and generators, and a U.N. Disaster Assessment Coordination team has also arrived. Other countries have also pledged assistance, from medical supplies to food.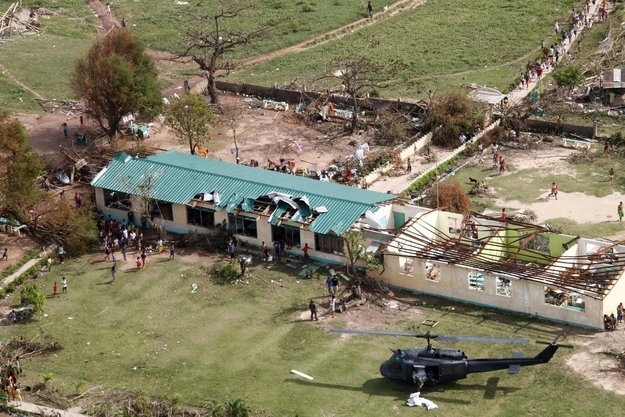 The destruction is so dire that for one pregnant woman, a demolished room had to be used as a makeshift birthing clinic after the storm.
Baby Beatriz was born on Nov. 11, two days after Typhoon Haiyan.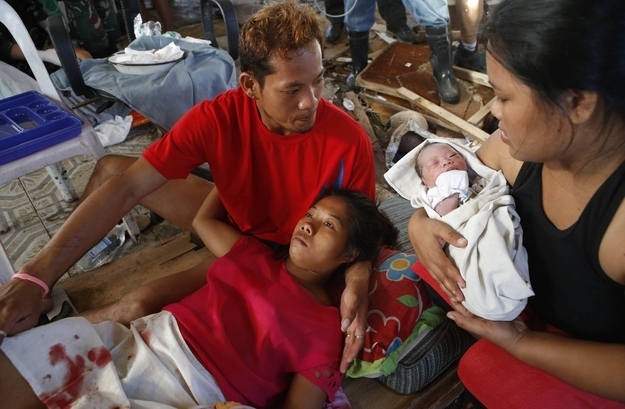 UPDATE — Nov. 12, 1:25 a.m. ET: Official death toll reaches 1,744 in the Philippines.
The government has raised the official death toll, but the final number is expected to be much higher, reports AP.