Oscar Pistorius Breaks Twitter Silence With Biblical Passages And Inspirational Quotes
This is the first time he's spoken on social media since the anniversary of Reeva Steenkamp's death, his former girlfriend who he is accused of shooting to death.
Paralympics champion Oscar Pistorius — on trial for killing his girlfriend — has broken his five-month Twitter silence by quoting a passage from Psalms, along with other quotes and photos.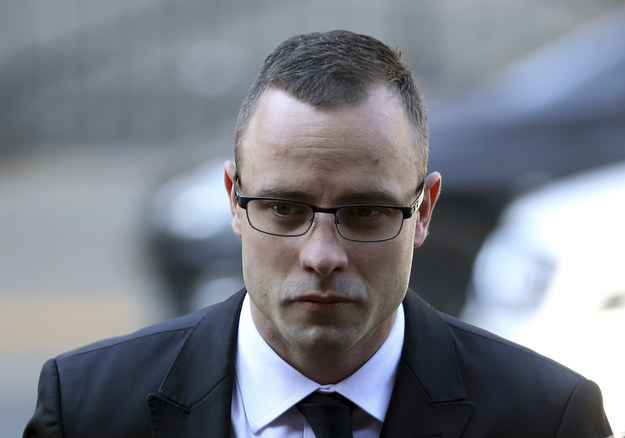 Pistorius tweeted four times yesterday, all pictures with text overlays.
The 27-year-old is accused of killing his girlfriend, Reeva Steenkamp, on Valentine's Day in 2013. Pistorius' defense team is arguing he mistook the model for an intruder when he shot her through the bathroom door.
The South African athlete, who faces 25 years in prison if convicted, also tweeted a photo collage of him posing with amputee children.
Pistorius also tweeted this picture of a page from the 1946 book Man's Search for Meaning, written by psychologist and concentration camp survivor Viktor Frankl.
Frankl's wife, brother, father, and mother all died in concentration camps as he survived Auschwitz. The book analyzes why some inmates were psychologically broken by the camps, while others were not.
According to The Week, "Frankl believed that some victims of the Nazis had survived by fixing their hopes on a beloved person, or on God. It was the thought of that figure which gave them the strength to carry on and avoid sinking into despair."
The moment Pistorius has quoted is a pivotal moment in Frankl's imprisonment, when he thinks of his wife as he suffers, understanding that "the salvation of man is through love and in love."
The last time Pistorius tweeted was to share a blog post he wrote on the one-year anniversary of Steenkamp's death.
On the stand, Pistorius has called his former girlfriend "a very good Christian," and broke down crying during an April testimony while describing how she would pray for "all the small things in my life."
"My religion is what's gotten me through this last year ... my God is my refuge," he told the court.
Final arguments for the trial will take place Aug. 7 and 8.