Oldest Known Holocaust Survivor Dies At 110
Pianist Alice Herz-Sommer died in London on Sunday.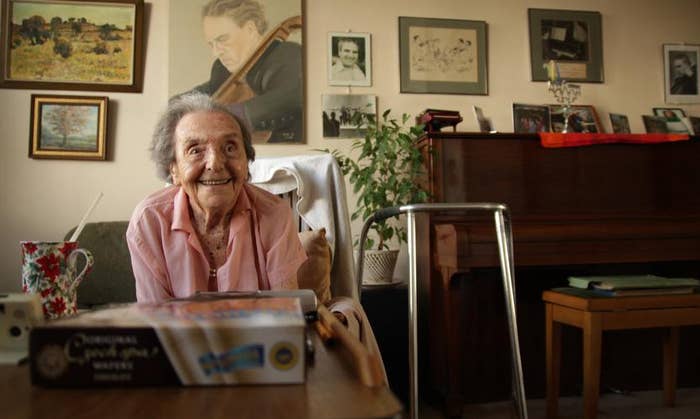 Alice Herz-Sommer, thought to be the oldest survivor of the Holocaust, died in a London hospital at 110 years old on Sunday, according to her daughter-in-law, Genevieve Sommer.
Sommer told ABC News she was admitted to the hospital on Friday with health problems.
Herz-Sommer, an accomplished pianist, is the focus of the new film The Lady in Number 6: Music Saved My Life, an "extraordinary story of surviving two years in a Nazi prison camp through devotion to music and her son." Her death comes just a week before the movie will be up for an Oscar for Best Documentary Short at next Sunday's Academy Awards.
"We all came to believe that she would just never die," producer Frederic Bohbot said. ''There was no question in my mind, 'would she ever see the Oscars.'"
In 1943, Herz-Sommer, along with her 6-year-old son and husband, were sent from their home in Prague to a concentration camp in the Czech city of Terezin, called Theresienstadt in German.
"We were poor, and we knew that they will send us away, and we knew already in this time that it was our end," she said.
Although 33,430 prisoners died at the camp, inmates were allowed to put on concerts, and Herz-Sommer was frequently the star. Her son, Stephan, was also cast as a sparrow in an opera they put on.
"My boy was full of enthusiasm," she recalled. "I was so happy because I knew my little boy was happy there."
When the camp was liberated by the Soviet army in May 1945, Herz-Sommer and Stephan were among fewer than 20,000 people who were released. Her husband died of typhus at Germany's Dachau camp.
Herz-Sommer left Czechoslovakia in 1949 to be with her twin sister Mizzi in Jerusalem, teaching at the Jerusalem Conservatory until 1986, when she moved to London.
Stephan, who changed his name to Raphael after the war, died in 2001 after a career as a concert cellist.
During her time at the Terezin, the musician remembered herself as "always laughing" from the joy of still being able to make music.
"These concerts, the people are sitting there, old people, desolated and ill, and they came to the concerts and this music was for them our food. Music was our food. Through making music we were kept alive," she once said.
She added, "When we can play it cannot be so terrible."