California Officer Suspended For Saying She Wants To Run Over Cyclists In YouTube Video
"I hate bicyclists, every single one of them."
Laura Weintraub, a volunteer police officer at California's Santa Paula Police Department, has been placed on administrative leave after railing against cyclists on YouTube.
The Calabasas resident made the comments in her vlog series "Cup Holder Commentary," where she films herself in the car giving opinions on everything from fetishes to revealing Halloween costumes.
But her recent (now-deleted) vent about hating bicyclists, in which she asked her husband how much she'd have to pay him to run over one, resulted in enough controversy for her to be suspended from her volunteer police job.
In the video he responds, "How much do you have in your wallet right now?"
During the clip, Weintraub does not identify herself as a police officer, and she was not on-duty while filming.
The video closes out with a shot of an iconic bike crash image from 2008, where a drunk driver plowed into a crowd of bikers during a race, killing one and injuring at least 10 others. The caption on the video said, "Like you've never thought about it..."
After commenters began angrily sharing the video on the police department's Facebook page, a post said the officer had been placed on administrative leave.
"The purpose of this post is to notify the community that the volunteer who made the video about cyclist has been placed on Administrative Leave pending an investigation," the department wrote.
A second reserve officer who responded to the comments was also placed on administrative leave.
Though the video was gone from Weintraub's YouTube page by Saturday, at least one other person had reposted it.
Unsatisfied commenters still took to Weintraub's Facebook to criticize her comments on public pictures from her wedding.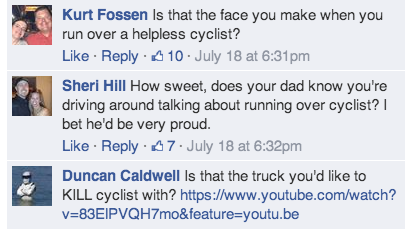 A follow-up post allegedly written by Weintraub apologized for giving the department negative attention.
This post is intended for all those in the cycling community and others whom I may have offended. I was the volunteer who made the original comment regarding the video about the cyclists. My comment was not intended to downplay the seriousness of the safety issues bikers face when they are out on the road. What I regret most is putting our Chief, officers and police department in a negative light. Many accused the Chief of making the comment, he did not. I also was the one that deleted some of the replies when the language became severe. I again sincerely [sic] appoligize for the comment and honestly wish everyone a safe journey out there on the road.
Though many were still leaving angry comments, by Sunday, some people were just ready for the whole thing to blow over.