New York Governor Outlines Medical Marijuana Pilot Program
During his annual State of the State address, Gov. Andrew Cuomo outlined his plan to bring medical marijuana to the state of New York.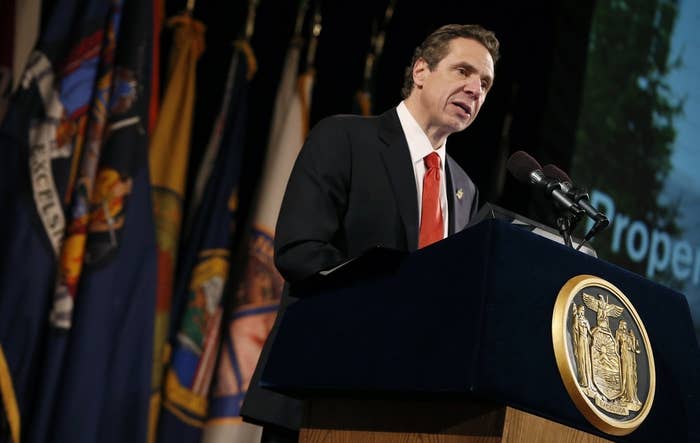 In his briefing book for the State of the State address, New York Gov. Andrew Cuomo outlined an executive action that will utilize an obscure state law from 1980 to provide medical marijuana to those who are suffering from cancer, glaucoma, and other diseases approved by the commissioner of health.
During his speech on Wednesday, which was more than an hour, Cuomo spoke for only a few seconds on the program.
"Research suggests that medical marijuana may help manage the pain and treatment of cancer and other serious illnesses," Cuomo said roughly 50 minutes into his speech. "We will establish a program allowing up to 20 hospitals to prescribe medical marijuana for patients being treated for serious illnesses."
He added, "The program will evaluate the effectiveness and feasibility of a medical marijuana system."
The 1980 law established something called the Antonio G. Olivieri Controlled Substance Therapeutic Research Program. But it is unclear how the marijuana for this program will be provided since one caveat of the law is that it does not allow hospitals to buy or sell the drug, outlining that marijuana will come from the federal government or from drug busts.
As The New York Times first reported, "state and federal laws prohibit growing marijuana, even for medical uses," so "New York will have to find an alternative supply of cannabis."
The program was named after former city councilman and assemblyman Antonio G. Olivieri, who advocated marijuana as a treatment for chemotherapy side effects before he died from a brain tumor in 1980.
The law is outlined as a pilot project and "leaves a lot of questions unanswered," Gabriel Sayegh, the New York director for the Drug Policy Alliance, told BuzzFeed.
Sayegh said the Olivieri Law will not establish an "effective system" for patients to receive marijuana.
"This can only serve as an interim step," Sayegh said. "The system that patients need, where there's a variety of strains of marijuana, and people with a variety of conditions, under the supervision of a healthcare provider, can get marijuana, that's not going to be able to be done under the Olivieri Program."
The briefing book also describes how the medical marijuana program will allow scientific research into "whether medical marijuana can be dispensed in an effective and controlled way without being abused."
While the Olivieri Law can help establish the early steps of a system for medical marijuana, Sayegh said he is going to continue to work on getting the Compassionate Care Act passed in the Senate, which would legalize a tightly controlled marijuana program in New York State where hospitals serve as dispensaries and the Department of Health acts as a regulator.
Though the act has passed in the assembly four times, once as recently as last year, it has yet to be passed in the Senate.
There are currently 21 states, plus the District of Columbia, that allow medical marijuana treatment for conditions like AIDS, epilepsy, and multiple sclerosis.