New York Court Rules Spanking Children Is A "Reasonable Use Of Force"
A four-judge panel in New York unanimously found that a father who spanked his young son was in the right.
A New York state appeals court has ruled that it's fine for parents to spank their kids after a Long Island father was brought to trial for spanking his 8-year-old, the Daily News reports.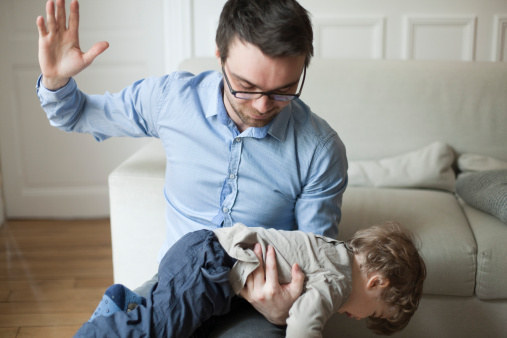 A ruling last Wednesday from the state Appellate Division found that the spanking "was a reasonable use of force," despite a family court judge determining last year that the father had abused his son "by inflicting excessive corporal punishment."
The alleged open-handed spanking was punishment for cursing at a party at a friend's home in 2012.
Though the dad, who remained anonymous, admitted spanking his son for cursing, he denied using a belt to punish him, which was also alleged in the complaint.
The Appellate Division said there was insufficient evidence to uphold the original charge, and let the spanking pass.
"The father's open-handed spanking of the child as a form of discipline after he heard the child curse at an adult was a reasonable use of force and, under the circumstances presented here, did not constitute excessive corporal punishment," the panel of four ruled unanimously.
And the New York court isn't alone: Last year, a California federal appeals court ruled a woman should not be labeled a child abuser for spanking her 12-year-old daughter with a wooden spoon, and a panel in Florida ruled that one spank does not constitute domestic violence. A Minnesota Supreme Court made a similar ruling when they cleared a father who hit his 12-year-old son with a wooden paddle 36 times on the upper thighs, determining that spanking isn't necessarily abusive.