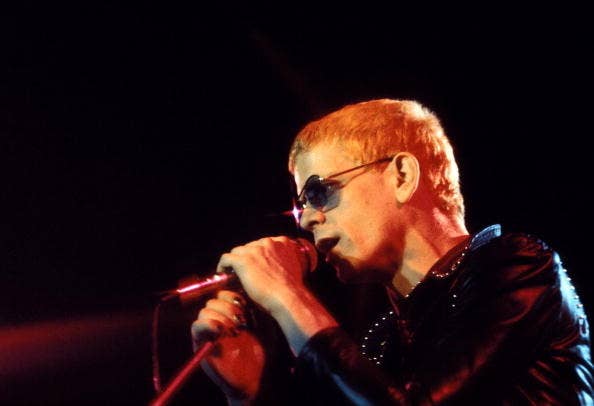 Lou Reed, the lead singer of The Velvet Underground, associate of Andy Warhol's Factory and one of the original voices of punk rock, has died at 71, according to Rolling Stone.
Reed's literary agent, Andrew Wylie, said Reed had been in frail health for months following a liver transplant. The singer died at the Southampton, N.Y. home he shared with his wife of five years, musician Laurie Anderson.
Born in 1942 in Brooklyn, Reed grew up in Long Island and attended Syracuse University. Following his graduation, he moved to New York City, where he worked at a record store and met John Cale. The pair formed a band, and several permutations and name changes later, they became The Velvet Underground, with Sterling Morrison and Maureen Tucker in tow. Warhol insisted German model-singer Nico become a part of the band, and in 1967 the group released the album The Velvet Underground & Nico, which sold few copies but became one of the most influential records to what would become the New York punk scene.
The album resonated for its frank talk about the New York City underground, and songs like "Venus In Furs," "I'm Waiting For The Man," "Femme Fatale," and "All Tomorrow's Parties" became landmarks.
The group, minus Nico and Warhol, followed with several other albums, including White Light/White Heat,, Loaded and a self-titled album. Songs like the seminal "Sweet Jane" came from those albums.
Reed left the group in 1970 and his second solo album, Transformer, which was co-produced by David Bowie, featured another era-defining hit, "Walk on the Wild Side." Several strong albums followed; Reed then tanked an album — some say it was on purpose to get out of a contract — called Metal Machine Music, which was a double album of electronic sounds. He regrouped in the '80s with albums like New Sensations and New York, and even reunited with Cale after an estrangement that lasted over two decades.
He continued playing throughout the years, including with a new group in the late 2000's, Metal Machine Trio. In 2008, Reed married artist Laurie Anderson. His final album, 2011's Lulu, was a collaboration with Metallica.