Kids will be able to role-play as a paleontologist, astronomer, or chemist with Lego's female-centric new Research Institute play set.
The kit was created by actual geophysicist Ellen Kooijman, according to the company.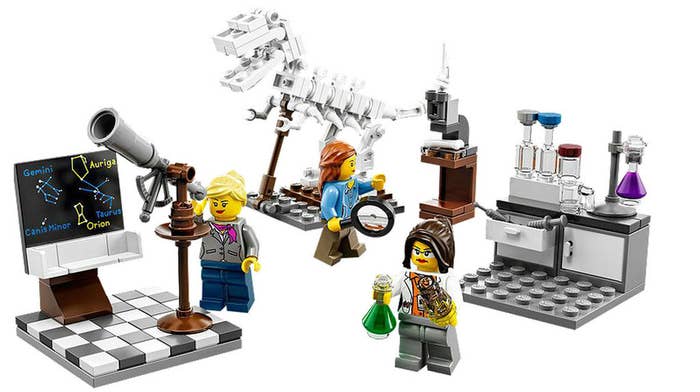 The new Lego kit comes a few months after 7-year-old Charlotte Benjamin chastised the company in a handwritten letter for their lack of smart female toys.
"I love Legos," Charlotte wrote, but said there are "barely any Lego girls." When she saw the sets at the store, she noticed all the female Legos did was "sit at home, go to the beach, and shop," while the male toys "saved people, had jobs, even swam with sharks!"
The little girl's letter went viral, with the company itself responding a few days later, telling Charlotte, "We have been very focused on including more female characters and themes that invite even more girls to build."
Lego wrote that it was considering a female set just two days after Charlotte's letter went viral, though it's possible that was just a coincidence.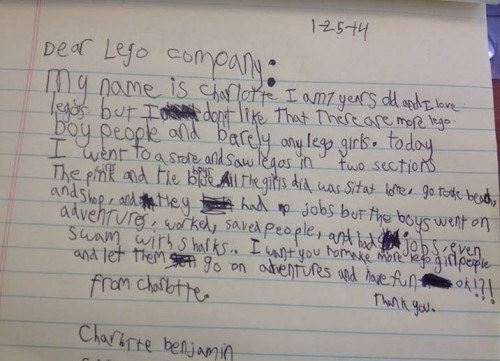 The kit, which includes a telescope, a lab set, and dinosaur fossils, came about thanks to Lego Ideas, a program that encourages customers to submit suggestions for future products.
Though Lego has long trumpeted themselves as gender neutral (see the ad below), they began to tailor more of their products to girls in 2011.
But not everyone was happy about it. The onslaught of gendered Legos inspired a Change.org petition that garnered tens of thousands of signatures, demanding the toy manufacturer "stop distinguishing between toys for girls and those for boys," NPR reported.