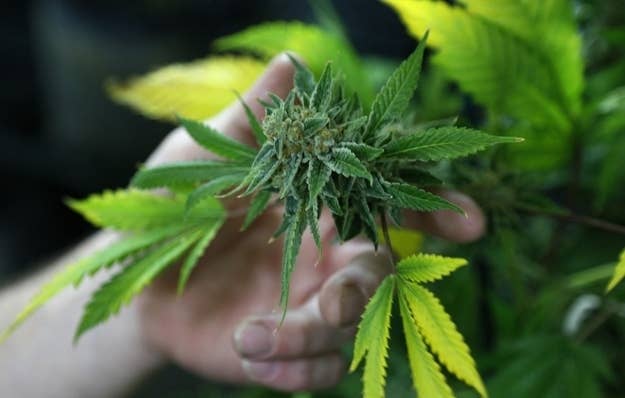 Last month, President Obama said he believes marijuana is no less dangerous than alcohol; this month, 18 Congress members are seeing if he'll stand by his comments by requesting he remove marijuana from being listed as a hard drug by the federal government.
Currently, marijuana is listed as a Schedule I drug, the same category as heroin and LSD, and a harsher classification than cocaine and meth, which are Schedule II.
"We were encouraged by your recent comments," the letter said. "We request that you take action to help alleviate the harms to society caused by the federal Schedule I classification of marijuana."
Drugs that are listed as Schedule I are deemed to have no medicinal use, which "disregard[s] both medical evidence and the laws of nearly half of the states that have legalized medical marijuana," they wrote. They added that Schedule I or II classification also means dispensaries can't deduct business expenses from their taxes.
"This makes no sense," the 17 Democrats and one Republican wrote.
The lawmakers, nearly half of whom are from the California, are asking that Attorney General Eric Holder delists or reclassifies weed.
Letter signers include California Rep. Dana Rohrabacher, the only Republican, who last year told Time, "If it was a secret ballot, the majority of Republicans would have voted to legalize marijuana a long time ago," and Oregon Democratic Rep. Earl Blumenauer, who has pushed for tax reform for dispensaries.
"Lives and resources are wasted on enforcing harsh, unrealistic, and unfair marijuana laws," they wrote.
Activists have long been pushing for a reclassification of marijuana, which the federal government currently says has a "high potential for abuse."
"When President Obama took office, he promised his administration's policy decisions would be based on 'science and the scientific process,' not politics or ideology. Every day marijuana remains a Schedule I drug, his administration is breaking that promise," Dan Riffle, the Marijuana Policy Project's director of federal policies, told BuzzFeed in a statement. "If marijuana is safer than alcohol, as the President has acknowledged, his administration should treat it that way by removing it entirely from the list of scheduled substances."
Just yesterday, a bill was introduced in Congress seeking to repeal laws that prevent the director of the Office of National Drug Control Policy, commonly called the "drug czar," from studying the potential benefits of legalizing marijuana.
The Unmuzzle the Drug Czar Act, pushed by Rep. Steve Cohen, also seeks to rewrite legal wording that requires the office to oppose any effort to legalize marijuana.