UPDATED — Sept. 17, 10:52 a.m. ET: TMZ posted pictures this morning allegedly of actress Daniele Watts and her boyfriend in their car, though the couple still denies they were doing anything besides kissing.
"Just saw the pics and I feel it proves we were NOT having sex," Watts' boyfriend, Brian Lucas, said to BuzzFeed News via text message.
He added, "We already completely admitted to making out passionately with door open. Who would have sex in a car with a door open? If we ever thought of doing that we would have tried to find a place with no one around, hang up stuff in the windows, and door would definitely not be open."
A witness told TMZ the two appeared to be engaged in sex, and that someone at a nearby office building asked the couple to stop, but they refused:
Brian was sitting in the passenger seat with his feet on the curb and Daniele was straddling him with her shirt pulled up — breasts exposed. The eyewitness says she was grinding on top of him, rocking back and forth.
Lucas said that they did stop after someone asked.
Though the couple did not file a formal complaint with the Los Angeles Police Department, Lucas said Sgt. Rudolph Valadez told him they filed one on his behalf. He added that the officer asked if he recorded the audio that was leaked to TMZ, and he said he had not, which likely means it has come from within the department.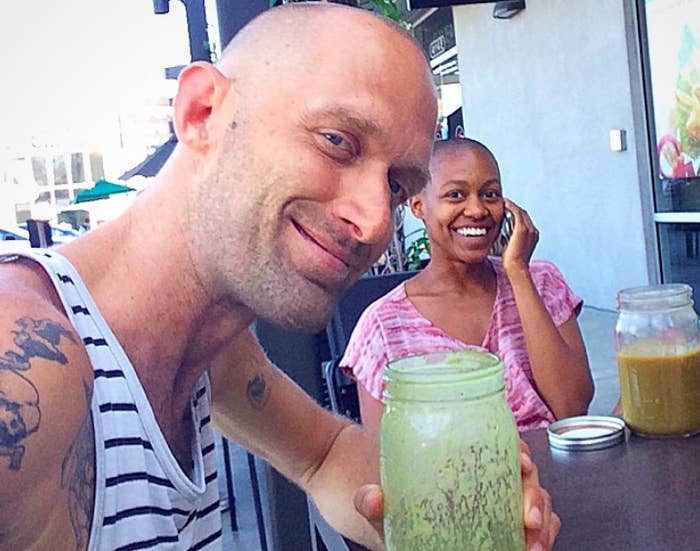 We still haven't learned why the officer felt it necessary to run her identity. But what is clear is that LAPD's continued statements concerning an officer's authority to arrest a person for merely failing to provide identification are not only inaccurate but contrary to law. Without a valid reason to identify her, the officer seems only to have wanted to detain and punish her for exercising her rights.
The Django Unchained actress said that police handcuffed her for prostitution for kissing her white boyfriend, but was allegedly having sex with him when Los Angeles police detained her, TMZ reported.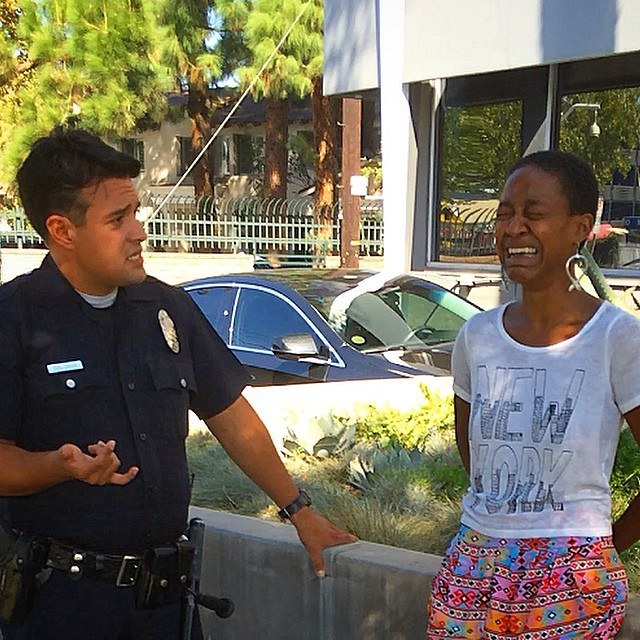 Sgt. Jim Parker told The Hollywood Reporter that Watts is "lying." In the audio, he asked Watts for her identification. She refused and continued to talk to her dad on the phone.
As she was talking, she appeared to become more agitated. "Daddy, I can't believe it. ... I can't make out with my fucking boyfriend in front of my studio without getting the cops called on me."
According to TMZ, witnesses at the nearby Directors Guild building told police Watts and Lucas were having sex in the front seat of a car with the door open. Parker told KFI AM 640 that the caller who initially contacted police said Watts was straddling Lucas, and they were having intercourse.
Parker said he asked for details about what the couple was doing to avoid any misunderstanding.
"[The caller] was very explicit about how it was done," he said.
Parker said police respond to these types of calls frequently. He did not catch the couple in any lewd behavior, but he said he wanted to run their IDs before letting them on their way.
"We don't treat these [types of calls] as very big deals," Parker said.
As Watts walked away, Parker said he asked a female police officer in the area to detain her while he checked her ID. The female officer brought her back to the scene, and that's when Watts began talking about her publicist.
"It's not really relevant to me, just like her race isn't relevant to me," Parker said.
In his interview with The Hollywood Reporter, Parker added that at least one witness took a photo.
"People don't make this shit up," he said.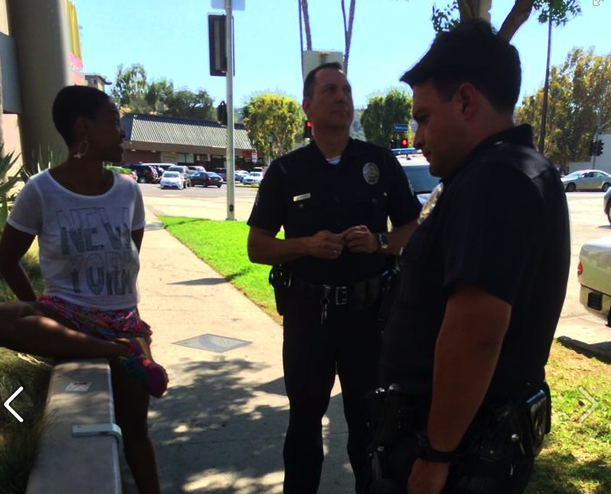 In the recording, Parker asked Watts for her ID, she refused and started yelling, "It's my right to sit on the fucking street corner and make out with my boyfriend!" To which the officer replied, "Keep yelling; it really helps."
The officer also said to her, "Thank you for bringing up the race card; I never hear that."
Lt. Neiman told BuzzFeed News police requested ID from the couple, and that Watts refused. When she walked away and tried to leave the scene, she was put into handcuffs to prevent her from walking away.
Neiman said there is now an internal investigation for the incident because of all of the media publicity, "just to make sure our officers did everything they're supposed to do," he said, adding that the incident itself may also be investigated further.
Watts claimed that police arrested her for prostitution after they saw her kissing her boyfriend, Brian Lucas.
She told BuzzFeed News on Sunday that the two were kissing in the front seat of his car, fully clothed, in front of CBS's studio when someone came out and told them to "stop putting on a show."
The actress, who is also on the TV show Partners, said police then arrived and told her they had gotten a call for lewdness. Though she claims she did not need to give her ID and walked away, she said a second squad car pulled up.
"So then I'm still talking to my dad," Watts said, "and a squad car pulls up and shouts at me, 'Put your hands on the wall.'"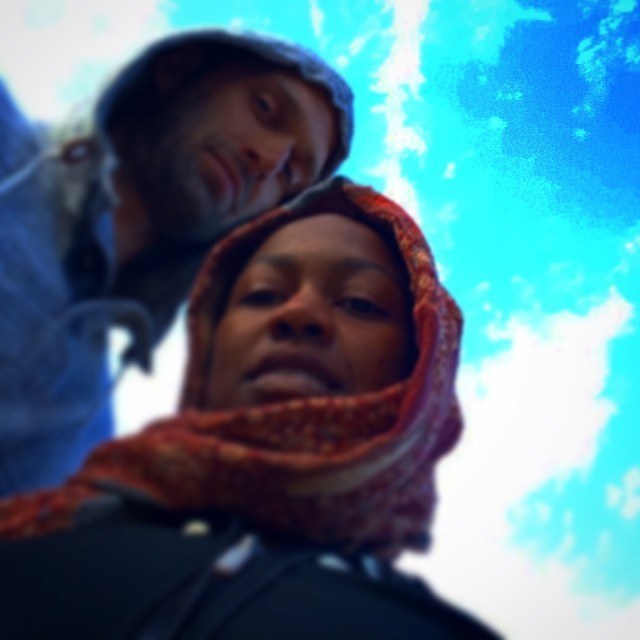 After the police handcuffed Watts and had her sit on the sidewalk, Lucas turned over her ID, and the two were released by police.
According to Lucas, the police kept asking, "Do you really know her?" He described their questions as being filled with "innuendo."
When asked what that meant, he said the questions seemed to imply that Watts was a prostitute and he was a client. Lucas said the police never explicitly said that was what they thought, but that was how he felt.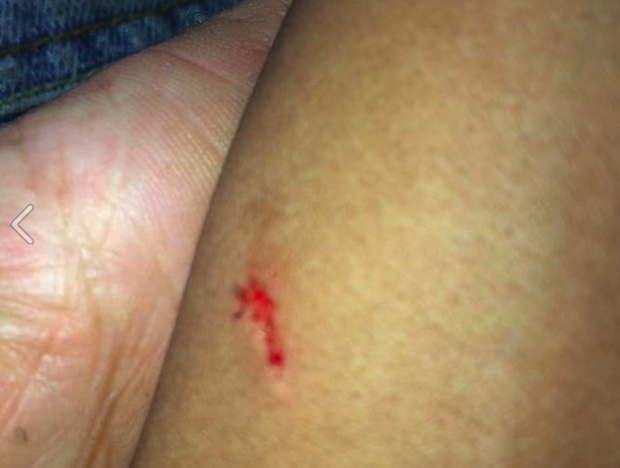 Watts has allegedly hired a lawyer and plans to file a complaint with the LAPD.
She and Lucas did not immediately return requests for comment.