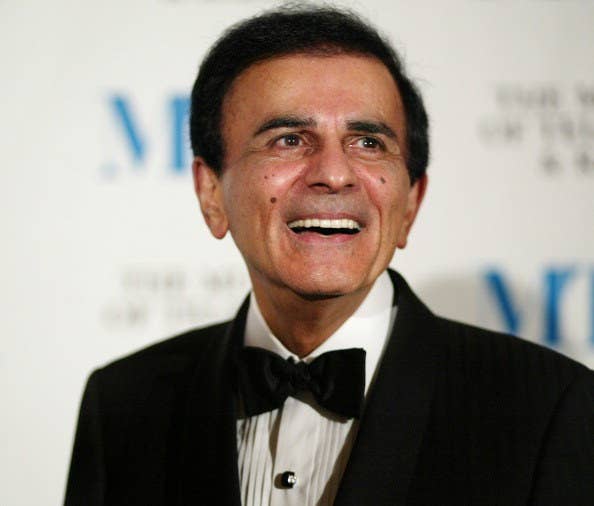 A Los Angeles judge has revoked an earlier decision ordering doctors to artificially feed and hydrate radio legend Casey Kasem.
The 82-year-old has been hospitalized at St. Anthony's Hospital near Seattle since June 1.
"You have blood on your hands," said Jean Kasem, the broadcaster's wife of 34 years, as she stormed out of the courtroom.
Her lawyer, Steve Haney, added, "You just imposed a death sentence."
Medical records show Kasem, who suffers from Lewy Body Disease, was not responding to artificial nutrition and fluids, causing painful complications and leading Judge Daniel S. Murphy to change his earlier decision. The disease is a form of dementia where patients often lose the ability to walk and talk.
"It would be acutely harmful for Mr. Kasem to have nutrition and hydration restored at this time," said Murphy, who also upheld the conservatorship of Kasem's daughter, Kerri Kasem. "This was at the advisement of doctors at St. Anthony's."
Kasem's children told TMZ in a statement that their dad wanted it this way, saying that he told them, "If the extension of my life would result in mere biological existence, devoid of cognitive function, with no reasonable hope for normal functioning, then I do not desire any form of life-sustaining procedures, including nutrition and hydration."
Jean Kasem, 59, argued that her husband, who also voiced Shaggy in Scooby Doo, used eye and eyebrow movements to express his wish to live during a brief meeting at his bedside last week.
"We have tried everything to keep him alive," his 41-year-old daughter told the Daily News. "We did put him back on fluids, but we had to take him off again because his lungs were filling up. It sounded like he was drowning. It was excruciating to watch."
A representative for Kerri Kasem tells local media that her father is currently in hospice care. "Transitioning our father's treatment to comfort-oriented care was one of the hardest decisions we've ever had to make," the statement said.