Joan Rivers stormed out of a interview today with CNN Newsroom host Fredricka Whitfield after Whitfield described Fashion Police as mean-spirited.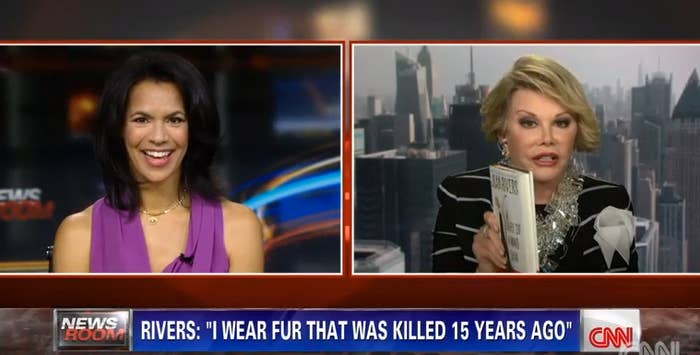 The 81-year-old also came under criticism for recently describing the First Lady as a "tranny" and calling President Obama gay during an on-the-street interview earlier this week.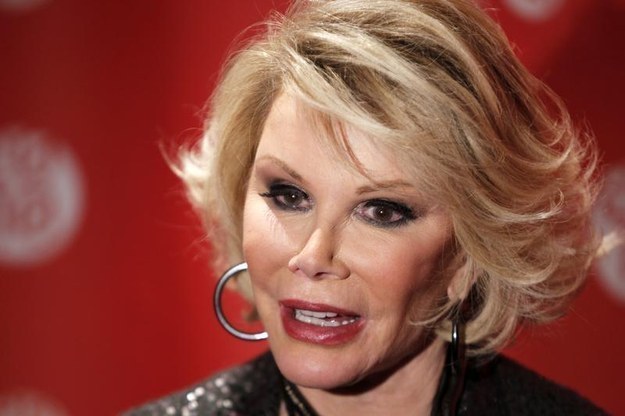 After officiating an impromptu same-sex wedding during a book signing on Monday, the comic was asked whether she thinks the U.S. will first see a gay president or a woman president.
"We already have it with Obama, so let's just calm down," the Fashion Police host responded.
Before she walked away from the reporter, Rivers added, "You know Michelle is a tranny." When asked to confirm her brash statement, she replied, "A transgender. We all know. It's OK."
A representative for Joan Rivers said that the comment about Michelle was "a compliment" in a statement to CNN.
I think it's a compliment. She's so attractive, tall, with a beautiful body, great face, does great makeup. Take a look and go back to La Cage Au Follies (sic). The most gorgeous women are transgender. Stop it already ... and if you want to talk about 'politically correct,' I think this is a 'politically incorrect' attack on me because I'm old, Jewish, a woman and a 'hetty' -- a heteosexual ... and I plan to sue the reporter who, when he turned off his camera, tried to touch me inappropriately on the a** - luckily he hit my ankle. Read the book ... if you think that's silly, wait to (sic) you see what I say about FDR and Eleanor!
Rivers recently said Kristen Stewart threatened to sue her for comments she made in her book, Diary of a Mad Diva, about the actress' affair with her married director.
"Many stars only do one thing well. Of course, the best one-trick-pony is Kristen Stewart, who got a whole career by being able to juggle a director's balls," Rivers wrote.