First Same-Sex Marriage License Issued In Arkansas
The marriage license was issued a day after Judge Chris Piazza ruled a decade-old ban is unconstitutional. Kristin Seaton and Jennifer Rambo of Fort Smith were the first couple to be married Saturday morning.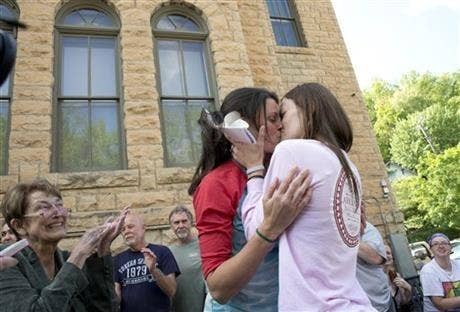 The first same-sex marriage licenses were issued in Arkansas this morning, ending a constitutional ban on marriage equality that was put in place by voters a decade ago.
Carroll County Deputy Clerk Jane Osborn issued the license to Kristin Seaton, 27, and Jennifer Rambo, 26, of Fort Smith, the Associated Press reports.
The couple, who have been together four years, slept in their Ford Focus overnight, and were the first of about 10 couples to line up outside the courthouse before the doors opened.
A woman in a rainbow dress officiated their marriage ceremony on the courthouse steps. "Thank God," Rambo said when the license was issued.
Friday, Pulaski County Circuit Judge Chris Piazza ruled that the 2004 ban was unconstitutional. Courts around the U.S. have struck down similar bans since last June, when the Supreme Court ruled a key part of the Defense of Marriage Act was unconstitutional.
Since judge Piazza's ruling did not include a stay, same-sex couples can begin applying for marriage licenses once most clerks' offices reopen their doors on Monday. The Eureka Springs office, where Seaton and Rambo were married, is usually open for marriage licenses on Saturdays.
State Attorney General Dustin McDaniel said he would defend the state's ban on same-sex marriages and appeal the ruling.