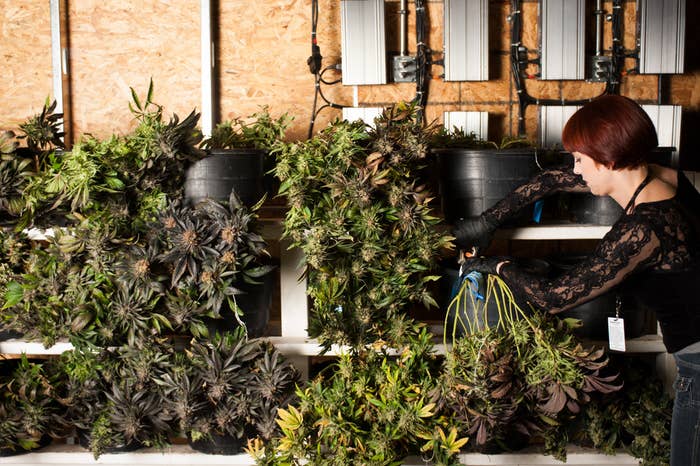 DENVER — There are two ways to buy marijuana legally in Colorado: Buy it from a licensed pot shop and suck up the high taxes, or register for a medical marijuana card to get much cheaper grow.
But some people like Mario, a 31-year-old graduate student who works part time at a restaurant, are still turning to the black market for their weed.
Sitting in a vegetarian café near his Denver apartment that has a bathroom covered in graffiti like "Urban Farming Is The Future!," Mario said he feared being on a medical registry while still in school.
A lifelong Colorado resident, Mario, a slight man with glasses and a goatee, who asked that his last name be withheld, has yet to step foot in a dispensary. That's because he can get an ounce of weed for $60 from a co-worker whose family member has a home grow. Granted, that's an unusually low price, as high-quality green generally costs an average of $237 an ounce, according to priceofweed.com, a self-described "global price index for marijuana."
Purchased legally, without a medical card, that same amount would put him out around $400.
"I'm afraid that information could get somehow compromised," he said about his fears of his loans being affected by being on a medical registry. "The last thing I'd want is to get my federal funding cut off."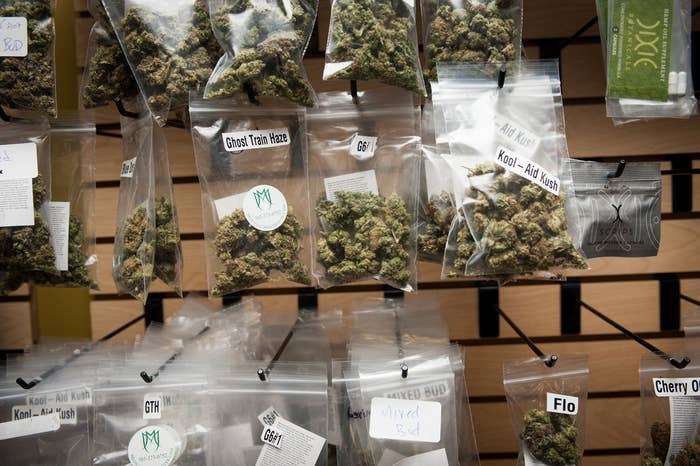 Dispensary workers say Mario is not alone in his decision to stick with the black market.
Inside Denver's massive Medicine Man dispensary, the shop's business consultant Elan Nelson and general manager Pete Vasquez understand its appeal for some smokers.
"It's human nature; nobody wants to be on a list," said Nelson, a cheerful woman with a curly halo of light red hair and thin purple glasses. "So people have continued to foster the black market."
It's hard to imagine a business as massive as Medicine Man feeling the pressure from illegal growers — the sprawling warehouse is doubling its size to 40,000 square feet this spring. A diverse clientele stands in a line that weaves out the door, ranging from businessmen in plaid button-ups to elderly women in cardigans flanked by their friends.
Inside the sparsely decorated shop, customers can choose strains with names like "Ghost Train Haze" and "Alien Dawg," or buy their own plant clones and try their hand at growing. (Under state law individuals can grow six plants and households can grow a total of 12 plants for recreational use.)
But recreational marijuana comes at a hefty cost for consumers, partly because it now carries a 10% special state tax, plus the usual 2.9% state sales tax and whatever the city tax is, and sometimes even more, if the dispensary includes their own 15% wholesale tax — the recreational pot at Medicine Man was taxed at 36%.
The state will use the tax money — an estimated $70 million a year — for school construction projects and enforcement of regulations on the retail marijuana industry.
Not including taxes, the shops' prices are high for a few reasons: a lack of cost regulation within the state, a soaring demand with little supply, and because owners want to try to recoup some of the cash they have dished out in the process of becoming one of the few legitimate "ganjapreneurs" in the world. Colorado has given out 130 licenses so far.
Over the past few months, owners have had to pay for an endless list of essentials, from applying for new licenses, packaging the many pounds of green stuff they grow, and instituting the state's mandatory radio frequency identification system that tracks every single marijuana plant "from seed to sale."
"It is incredibly expensive to grow marijuana," said Michael Elliot, executive director for the Marijuana Industry Group. "We're going from a situation where there were 110,000 medical marijuana patients ... to about 4 billion people in the world that are 21 and up, who could come purchase from one of these businesses."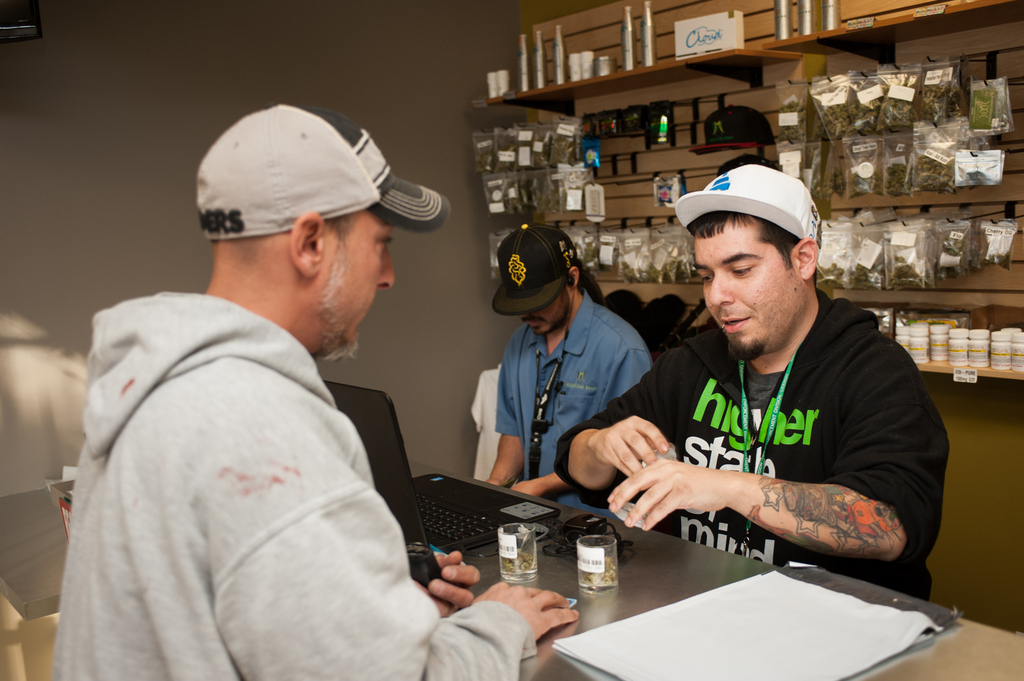 The price of legal pot is expected to drop as more and more shops open and inventories increase. But for now, Spike, a 26-year-old dealer who works at a Denver grow, says he offers a deal to the young professionals he sells to. And small home grows continue to flourish despite the threat of a felony arrest.
If you ask Spike, he can also offer something that the dispensaries, despite all their brand new bells and whistles, cannot: a built-in smoking buddy.
"I'm the same price and I'm a cool guy," he said. Plus, he added, there's no line to see him.
But Spike admitted he is starting to feel the monetary squeeze from the legal dispensaries.
"If you were a responsible grower you could pull in $60,000 a year," Spike said. "Now it's like a minimum-wage job."
In addition to home dealers, smokers have found another way to circumvent the system: Turning to friends who paid between $90 to $200 for a doctor consultation, and $15 to $35 for a medical marijuana card.
"Everyone knows someone who has a card," said 26-year-old student Jessy Rollain, who mentioned she has a few friends who use their medical card to supply to people who are below the legal limit.
But despite the higher prices, business at the dispensaries is still booming: They reportedly made $5 million in their first week.
"The black market will not disappear altogether, but it's definitely not that lucrative," said Art Way, the Denver director for the Drug Policy Alliance.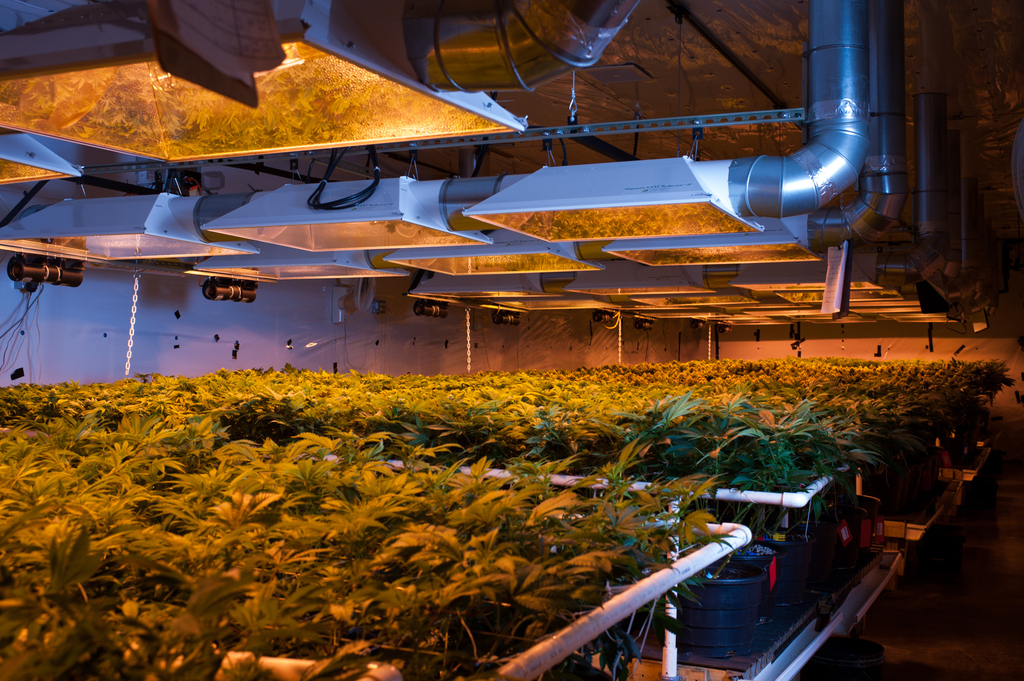 Vasquez, the general manager at Medicine Man, said it would be hard for anyone without a pretty spacious facility to mimic the dozens of strains a place like Medicine Man cultivates in their 20,000-square-foot space — the most convenient to the airport, and described by the Denver Post as becoming "the Costco of weed."
And though eager smokers are still facing lines at the dispensaries, customers benefit from security not generally available in "underground" pot dealings, said Vasquez.
"The guilt is not there," said Bo Bennett, who had made a pitstop at Medicine Man on his way to the X-Games in Aspen from Fort Worth, Texas.
The Marijuana Policy Project's Mason Tvert said he was confident the ever-expanding competition between the legal businesses will push out the small sellers.
Sitting in his corner office in a historical mansion on Grant Street that houses a law firm and doubles as the headquarters for both MPP and the National Cannabis Industry Association, Tvert said eventually the convenience will override the appeal of buying "slightly cheaper marijuana."
For an adult on his way home, Tvert asked, which option would he be more likely to choose: calling everyone he knows to try to find some marijuana, or stopping by the nearest store and paying a bit more?
"There's a reason there's not an underground alcohol market with beer and moonshine being trafficked around the state," he said.
Correction: An earlier version of this article incorrectly identified the Medicine Man general manager as Pete Williams, instead of Pete Vasquez.