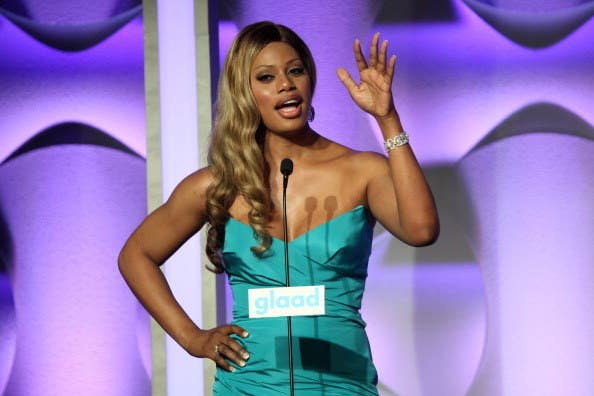 A day after syndicating a column by National Review correspondent Kevin D. Williamson with the headline, "Laverne Cox Is Not a Woman," the Chicago Sun-Times has taken the op-ed off of its website and apologized.
"Upon further consideration, we concluded the essay did not include some key facts and its overall tone was not consistent with what we seek to publish," Editorial Editor Tom McNamee told BuzzFeed in a statement. He added that it was the "right thing to do."
Shortly before the article was pulled, Sun-Times Digital Editor Brandon Wall tweeted, then deleted, that the piece being published was the result of a "colossal parade of fuck ups."
The column was in reaction to Cox, a transgender activist famous for her role on Orange Is the New Black, appearing on the cover of the most recent issue of Time.
"Regardless of the question of whether he has had his genitals amputated, Cox is not a woman, but an effigy of a woman," Williamson wrote. "Sex is a biological reality, and it is not subordinate to subjective impressions, no matter how intense those impressions are, how sincerely they are held, or how painful they make facing the biological facts of life. No hormone injection or surgical mutilation is sufficient to change that."
The writer added that transgender individuals are attempting to legalize "treating delusion as fact."
Many were enraged over the op-ed, with LGBT rights blogs calling the piece transphobic, and one organization creating a petition that accumulated 601 signatures calling for the Sun-Times to pull the article and apologize.
Commenters on the newspaper's Facebook page and on Twitter also said they were going to unsubscribe from the Sun-Times because of the piece.


The Sun-Times has been accused of transphobic reporting before, when in 2010 the tabloid reportedly referred to murdered transgender woman Sandy Woulard as "a man dressed in woman's clothing."
Read McNamee's full statement:


We try to present a range of views on an issue, not only those views we may agree with, but also those we don't agree with. A recent op-ed piece we ran online that was produced by another publication initially struck as provocative.

Upon further consideration, we concluded the essay did not include some key facts and its overall tone was not consistent with what we seek to publish. The column failed to acknowledge that the American Medical Association and the American Psychological Association have deemed transgender-related care medically necessary for transgender people. It failed as well to acknowledge the real and undeniable pain and discrimination felt by transgender people, who suffer from notably higher rates of depression and suicide.

We have taken the post down and we apologize for the oversight.
Update: 5:48 p.m., ET: National Review's Kevin D. Williamson responded to the paper pulling his op-ed, saying he was unaware they ran the piece and requesting that they never run another.
"Tom McNamee et al. are a disgrace to a proud newspaper tradition, and an unhappy reminder that post-operative transsexuals are not the only men who have had their characteristic equipment removed," Williamson wrote.