Clay Aiken Wins Democratic Primary Day After Congressional Opponent's Sudden Death
Update: Clay Aiken has won his primary in North Carolina a day after the death of Keith Crisco, 71, who was challenging the former American Idol runner-up for the Democratic nomination in the 2nd Congressional District.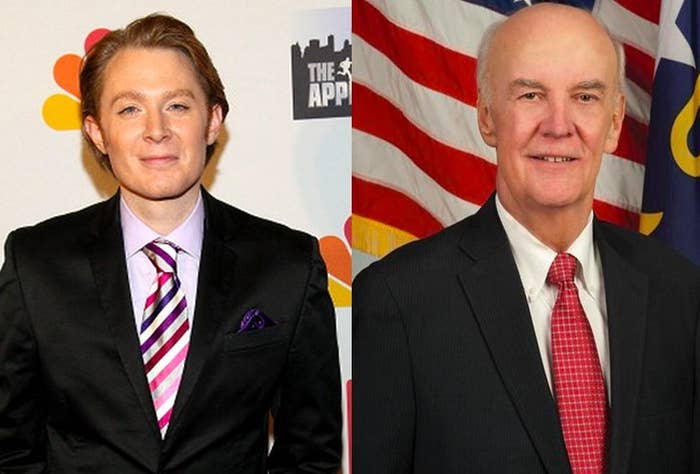 Update — May 13, 4 p.m. ET: Clay Aiken has won the North Carolina Democratic primary the day after his opponent, Keith Crisco, died suddenly in a fall.
Aiken won more than 40% of the vote necessary in order to win the three-candidate race, according to the county-by-county tally posted by the state today.
The state elections board will review the results before they become official, with the meeting tentatively scheduled for May 22, the AP reported.
It is unclear whether Aiken will accept the nomination, having said yesterday he was suspending his campaign following Crisco's death.
A representative for Clay Aiken declined to comment to BuzzFeed, saying they are not issuing statements because the campaign is still suspended.
Congressional candidate Keith Crisco, who was challenging American Idol runner-up Clay Aiken for the Democratic nomination, died today in a fall at his home in Asheboro, N.C., the Courier-Tribune reported.
Crisco was reportedly dead when emergency officials arrived at the scene after a fall that occurred around 1 p.m. His death was confirmed by officials with Asheboro Elastics Corp., the textiles company the candidate founded in 1986.
The 71-year-old was trailing Aiken, 35, by 369 votes in last Tuesday's primary for the 2nd Congressional District nomination, according to unofficial totals. The race was ultimately considered too close to call, and the candidates were waiting from word on an official canvass before deciding whether to request a recount or go to a July runoff, Crisco said in a statement last week.
Crisco allegedly planned to concede the election, Raleigh political consultant Brad Crone told WBTV.
"At his instruction, I had called Gary Pearce to convey that Keith was going to concede the election tomorrow morning and would be calling Mr. Aiken to congratulate him," Crone said in an email.
Though the State Board of Elections released a statement expressing sadness at Crisco's passing, they did not specify what will happen next in the election.
Crisco served as a City Council member in the town from 2003 to 2009, and was then asked to serve as state Commerce Department secretary by then-Gov. Bev Perdue.
Clay Aiken said in a statement that he is suspending all of his campaign operations.
I am stunned and deeply saddened by Keith Crisco's death. Keith came from humble beginnings. No matter how high he rose — to Harvard, to the White House and to the Governor's Cabinet — he never forgot where he came from.

He was a gentleman, a good and honorable man and an extraordinary public servant. I was honored to know him.

I am suspending all campaign activities as we pray for his family and friends.
Congresswoman Renee Ellmers said in a statement that her thoughts are with Crisco's family.
I am deeply saddened by this sudden and painful tragedy and wish God's blessings for Keith's family through the coming days. His kindness and dedication to his principles were models we should all strive toward, and he will be dearly missed. My thoughts and prayers are with Keith's family, friends and loved ones during this difficult time.