Cleveland Museum Director Resigns Months After Former Co-Worker And Lover Commits Suicide
Speculation abounds as the museum begins to search for its fifth director since 2000.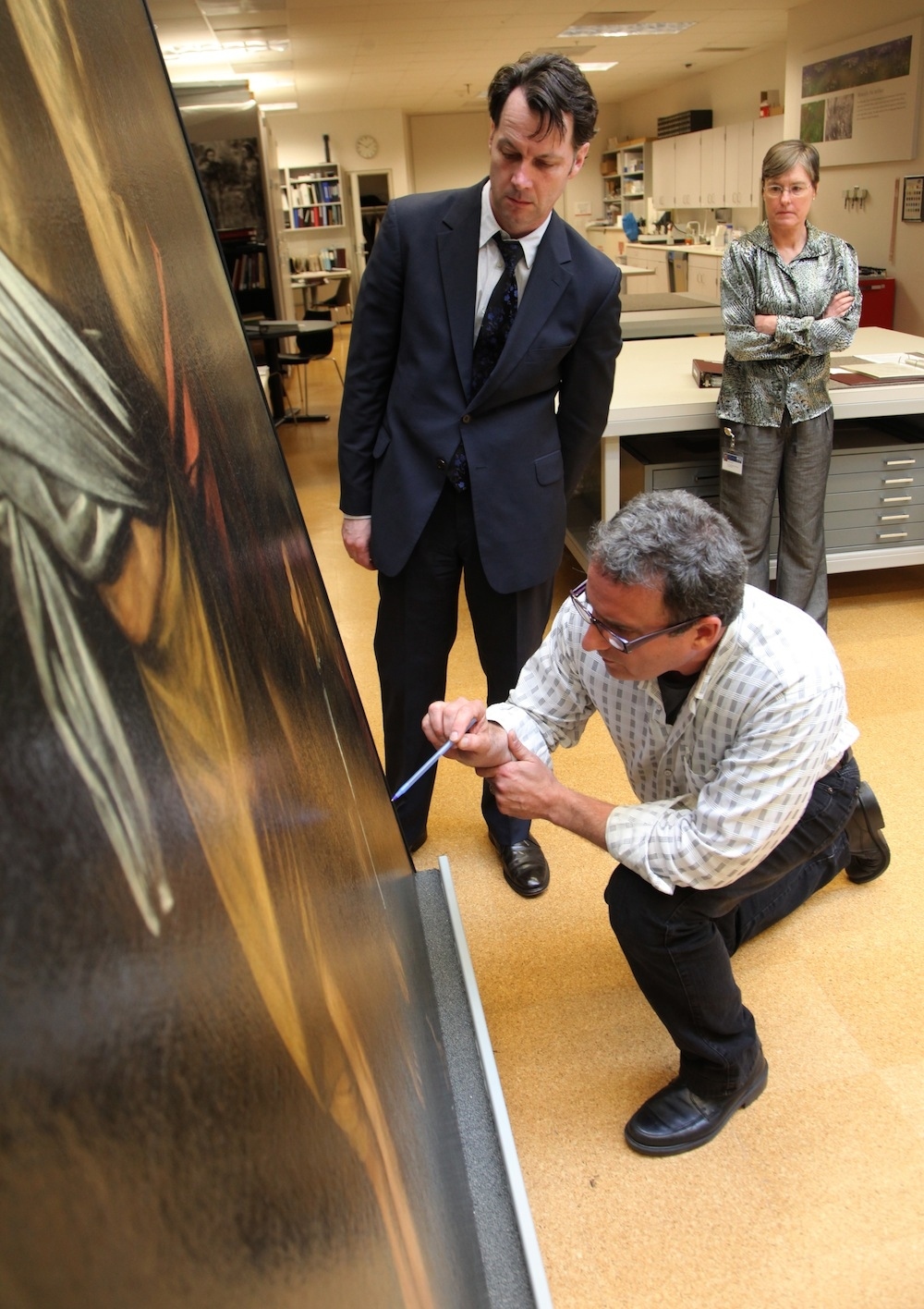 The sudden resignation of a Cleveland museum director turned lurid when details emerged last week that he was pushed out after having an affair with a former staffer who killed herself.
David Franklin stepped down as the ninth director of the Cleveland Museum of Art on Oct. 21, The Plain Dealer reported. In a statement, Franklin claimed to be leaving in order "to spend more time on research and writing."
Franklin, an expert in Renaissance art, was hired in September 2010 to help the museum complete a $350 million expansion and renovation, the culmination of an eight-year endeavor called the "largest cultural project in Ohio history."
A 2010 announcement on Franklin's hire emphasized that the Montreal native and his family "want to stay in Cleveland for a long, long time. The museum needs that kind of stability." Franklin has two children with textile artist Antonia Reiner.
The museum's fourth director since 2000, Franklin held the position for just three years and will stay on as a temporary consultant while the board works to replace him.
The Plain Dealer broke the story on Franklin's resignation on Oct. 21 but was unable to supply a reason as to why Franklin was abruptly leaving.
Two days later, the alt weekly Cleveland Scene got hold of a police report that included details about the suicide of former museum employee Christina Melinda Gaston. Franklin, who was rumored to be having an affair with Gaston, found the Boulder, Colo., native dead at her house in Cleveland Heights with police on April 28. Cleveland Scene speculated that The Plain Dealer had initially withheld information because the paper's publisher, Terry Egger, serves on the museum's board, an allegation that he has adamantly denied.
On Oct. 24, CMA Chairman R. Steven Kestner confirmed to The Plain Dealer that Franklin had indeed resigned after having an extramarital affair with the then-34-year-old Gaston.
According to The Plain Dealer, the Cleveland Heights police report stated that Franklin received a text message from Gaston on April 28 telling him she was "depressed from work." Later that night, Franklin went to Gaston's apartment and "immediately called 911" after knocking on the front door then finding the back door unlocked. The report says Gaston was unconscious, "leaning over the bed" while dressed in a heavy green coat. She was hung by the ceiling fan with white rope.
The Cuyahoga County Medical Examiner's office ruled Gaston's death a suicide following an autopsy and pointed out scars on her wrists that indicated a previous suicide attempt. Police said Gaston didn't leave a suicide note.
Gaston, who was a violinist, pianist, and conductor, had been in the development department at the Cleveland Museum of Art from Sept. 22, 2009, to Nov. 30, 2012, museum spokeswoman Caroline Guscott told The Plain Dealer. She then became the first full-time staffer at ChamberFest Cleveland, an acclaimed concert series in the city.
One blog reported a rumor that the family settled with the museum out of court for an undisclosed amount provided Franklin was immediately sacked and that their daughter's name would not be leaked.
Gaston's stepfather, Ron Flower, declined comment when reached at his home outside Atlanta by BuzzFeed. "We're still in a very bad place right now from grief and all the chatter going around," he said.
One questionable item in the report of Gaston's death is that police said Gaston's iPhone could not be found. A July 1 addendum to the report says that Flower asked police to list her phone and a digital camera missing.
Information about Franklin's past has led some to speculate about the missing items, especially when combined with the knowledge that Franklin was fired from Ottawa's National Gallery — twice — after he "triple-deleted" emails related to his firing of an assistant curator, Erika Dolphin. Dolphin's union officials had filed a request for the emails under Canada's Access-to-Information laws, which government agencies are required by law to permanently archive.
The New York Times reported on the controversy, one of the art world's biggest scandals that year:
"In a court filing he describes how he would regularly engage in marathon sessions of "double-deleting," a practice that might be more accurately termed triple-deleting. First he deleted e-mail messages from his sent box and in box. Then he removed them from a deleted messages folder, and finally he removed them from a folder for recovering deleted e-mail messages."
CMA was not the first museum staff Franklin had failed. Court documents show the gallery's board felt they'd not only lost faith in Franklin's ability to perform his job, but also in him as a person:
"Based on Dr. Franklin's misconduct in deleting e-mails relevant to grievances and access and privacy requests and directing or counseling a subordinate to do the same, the gallery has lost all confidence in Dr. Franklin's ability to perform his duties as a senior employee and deputy director of the gallery. Similarly, Dr. Franklin's subsequent behaviour, particularly the allegations he has made against the director and his colleagues in the context of these proceedings has caused the gallery further loss of faith and confidence in Dr. Franklin."
After Franklin sued to recover his job, the matter ended up in federal court, where Franklin was ultimately reinstated, until he left abruptly to pursue the director position in Cleveland.
That was until a few weeks ago, when the CMA board learned of the police report detailing Gaston's death, which brought about Franklin's resignation, museum chairman Kestner said in a statement to The Plain Dealer.
Kestner said after rumors began to swirl in January, the board of trustees hired an outside lawyer to investigate the allegations, which Kestner said Franklin denied.
"The inquiry yielded no credible evidence to substantiate an inappropriate relationship and the inquiry was closed at that time," Kestner said. "We believe that it would have been irresponsible to take action based solely on rumors."
The Board confirmed in early October that the couple had a "dating relationship" during and after Gaston's employment at the museum.
"Once the relationship was confirmed in early October, the Board acted expeditiously," Kestner wrote.
As for Franklin staying on at the museum in an advisory role, interim director Fred Bidwell told The Plain Dealer it would likely be short.
"It will be as long as necessary, but my sense is not long," Bidwell said.
Franklin did not respond to a request for comment, but his lawyer, Virginia Davidson, sent a statement over email:
"The details that are being reported in the media about David Franklin's departure from the Cleveland Museum of Art concern his personal life. There was a tragedy that has nothing to do with Dr. Franklin's fine performance as Director of the Cleveland Museum of Art," she said.
Though the museum's renovation still has $97 million left in fundraising, museum spokeswoman Caroline Guscott told ArtsJournal that the transition will not halt the project.
"With regards to how will this affect the opening of the final phase of the expansion—we don't see any impact at all. The building project is on schedule (Dec. 2013), having come in on time and under budget," she said.
But Franklin's abrupt departure — which forces the museum to seek out their fifth director in 13 years — begs the question of whether their string of hiring misfortune will outshine their massive new opening.
In a 2010 profile in Cleveland Magazine, Franklin predicted 2013 and beyond would be when the Cleveland Museum of Art would finally shine.
"Those are the years we're going to have people come here," he said, "and if we disappoint them, we're in real trouble for the future."