UPDATED — Sept. 2, 10:37 p.m. ET:
Singer CeeLo Green took to Twitter today to make an attempt to define what rape is, shortly after pleading no contest for charges that he slipped a woman Ecstasy without her consent in 2012.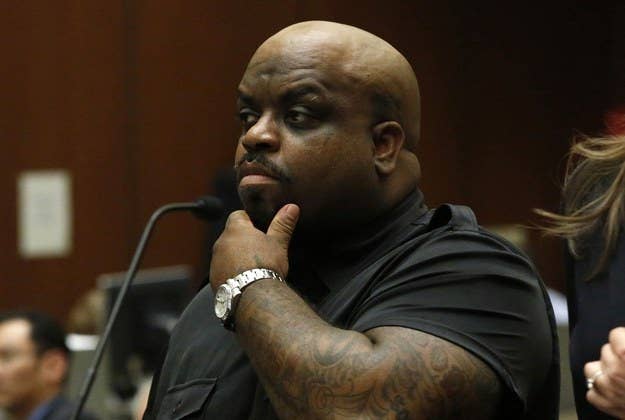 The 39-year-old attempted to defend himself on the social network, replying to users' comments on the case with a series of bizarre statements about rape.
"If someone is passed out they're not even WITH you consciously," he said, adding, "People who have really been raped REMEMBER!!!"


Green's lawyer argued the two had "consensual relations," despite the woman's claim that she woke up in bed next to Green and was unsure of what happened the night before.
Green faced one felony drug charge. Prosecutors' claim of lack of evidence led to no rape charges being filed, but he was still sentenced to three years of probation, plus 45 days of community service.
The Voice coach also emphasized that he wasn't admitting guilt by making a no contest plea.

Green first deleted all of his tweets, defended himself some more, and then deleted his whole Twitter account.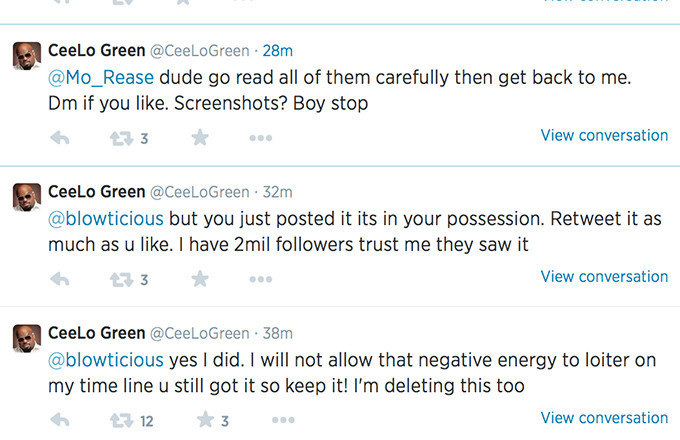 BuzzFeed has reached out to CeeLo Green's representative for comment.
Green had tweeted an apology before deleting his account entirely.
The tweets read:
"Let me 1st praise god for exoneration fairness & freedom! Secondly I sincerely apologize for my comments being taken so far out of context."
"I only intended on a healthy exchange to help heal those who love me from the pain I had already caused from this. Please forgive me as it.."
"...was your support that got me thru this to begin with. I'd never condone the harm of any women. Thank you."
Green's Twitter account was restored this morning, with all of the offending tweets gone from the account.
After an uproar over the tweets leading into Tuesday, Green's new reality show, The Good Life, was canceled by TBS, reported The Wrap. The show had six episodes, the last airing in June.
A network source told the site that the cancellation was due to low ratings.
A few hours after Green reinstated his Twitter account, he tweeted another apology.
The author of this post can be reached at rachel.zarrell@buzzfeed.com.