This Is What Happens When Sir Mix-A-Lot Performs "Baby Got Back" With A Symphony Orchestra
It gets pretty bootylicious.
Twenty years after the Seattle rapper wrote his ode to the gluteus maximus, "Baby Got Back" is still resonating with listeners. Even those who attend the symphony.
The Seattle Symphony gave the song the highbrow treatment through their Sonic Evolution project, which "seeks to bridge the gap between the classical style and Seattle's rich culture of popular music," NBC reports.
Composer Gabriel Prokofiev wrote both a brand new composition inspired by the posterior-loving rapper, and also orchestrated two of his songs, including "Baby Got Back."
Prokofiev said on his blog that he chose to honor Sir Mix-A-Lot because he found the rapper to be "the most interesting and exciting."
"Since tonight is orchestral movements from the hood night, I'm going to leave some of this open if a couple of ladies would like to get up on the stage," Sir Mix-A-Lot said from the stage, reports NBC affiliate King 5.
And plenty of ladies took him up on his offer.
They got, um, pretty into it.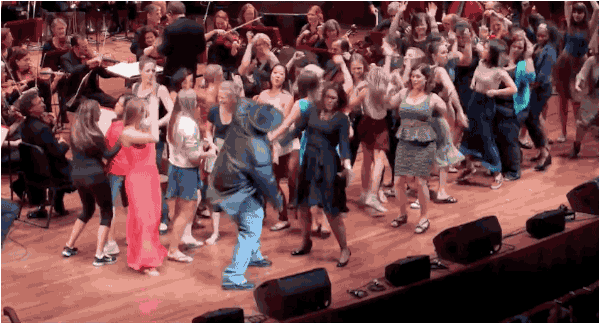 At least everyone enjoyed themselves.
Thank you for your cultural contribution, Sir.