Update — Nov. 4, 12:16 p.m., ET: Gabby Wathen responded to the uproar over her Uber fundraising attempt in a piece for Baltimore's City Paper.
Wathen writes:
I halted donations and deleted the page due to the uproar and the fact that I did indeed reach the goal. I didn't trick anyone into donating. I was blatantly honest about the details of my situation in the description. It is a shame that something that started out as an outpouring of love and support from my friends and family, who knew exactly where their money was going and made the choice to donate on their own, was turned bittersweet and unexpectedly taken out of my hands on such a national and negative level.
The rest of her statement can be read here.
Update — Nov. 2, 6:40 p.m. ET: The GoFundMe campaign started to pay for an Uber ride appears to have been taken down.
Baltimore resident Gabby Wathen decided to take an Uber home from a party on Halloween. But she didn't notice that Uber was in prime time, meaning that rates were incredibly high, and woke up to a $362 charge.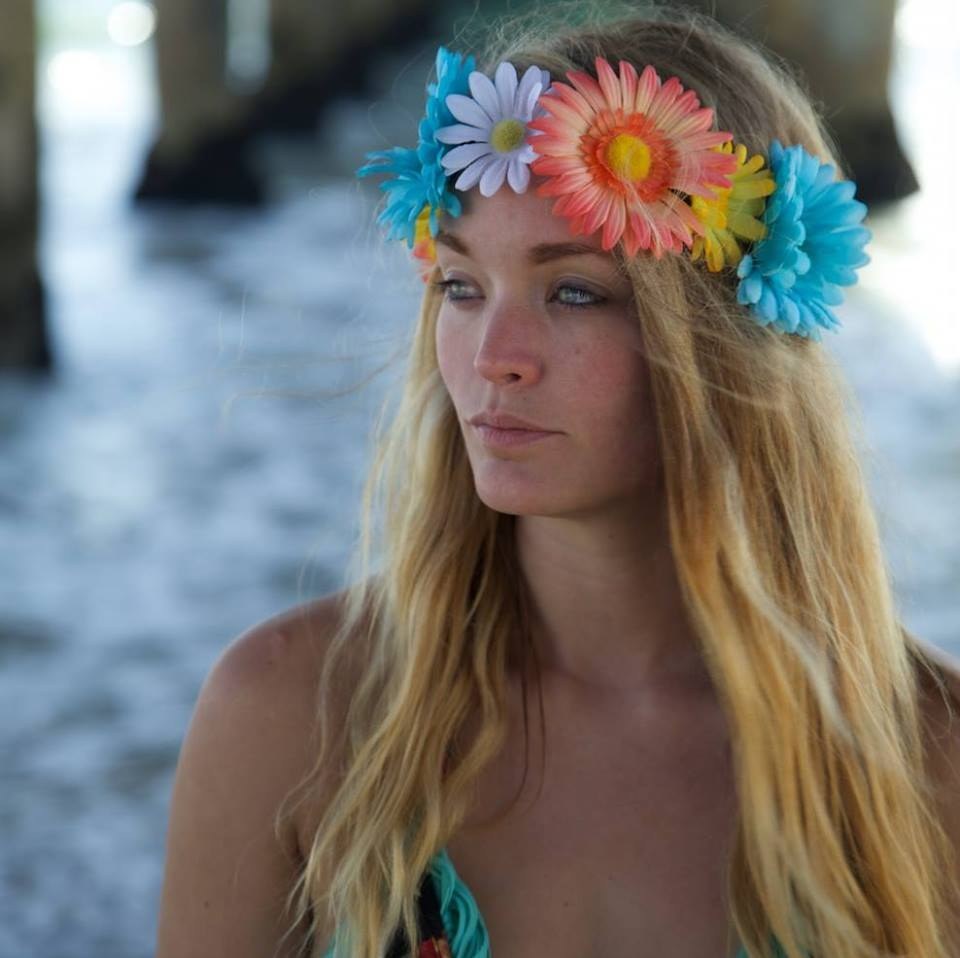 Wathen noticed the charge yesterday, her 26th birthday, and the day her $450 rent was due. But she claims she could no longer afford it, so she took to GoFundMe to raise money for her 20-minute cab ride.
In a post called "Uber Stole My 26th Birthday," first noticed by Business Insider, Wathen wrote:
I live in Baltimore and went out with my friends to celebrate my birthday at midnight. When 3 AM rolled around, I suggested we take an Uber home to avoid drunk driving (#responsibility/#MADD). I live 22 minutes, tops, from the party I was leaving.

When I awoke this morning, I heard a friend talking about how outrageous Uber rates were the night before (9x original rate). I checked my bank account when, unbeknowst to me, I see a charge for $362. Not only is it my 26th birthday, it is rent day. My rent is $450 and I can no longer pay it today due to this completely outrageous charge.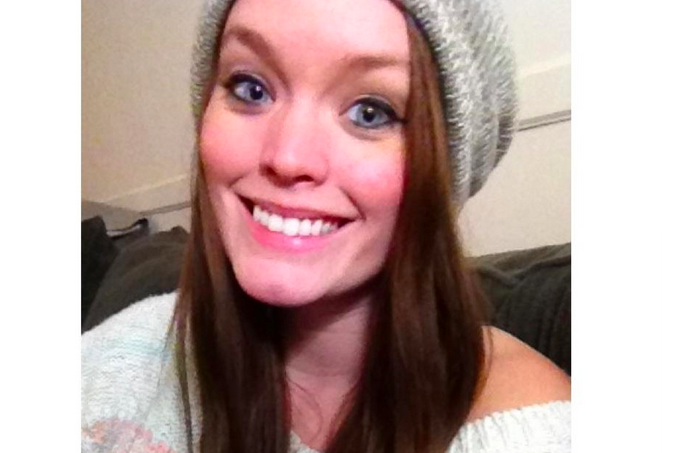 The waitress and freelance writer, who would have had to type in the surge price rating to confirm it, added that she has "had little to no luck in disputing this transaction."
I worked incredibly hard this week to be able to enjoy my birthday this weekend. This misunderstanding has cost me 80% of the funds I have to my name (embarrassingly so) and I spent a good two hours of my birthday crying over it.
I feel taken advantage of and cheated by the Uber name. $367 for a 20 minute ride should never be justified, even on Halloween. Please donate even just $1 if you think this is utter and complete bullshit and also hilarious and very, very depressing at the same time.

Thanks for the ride, Muhammed.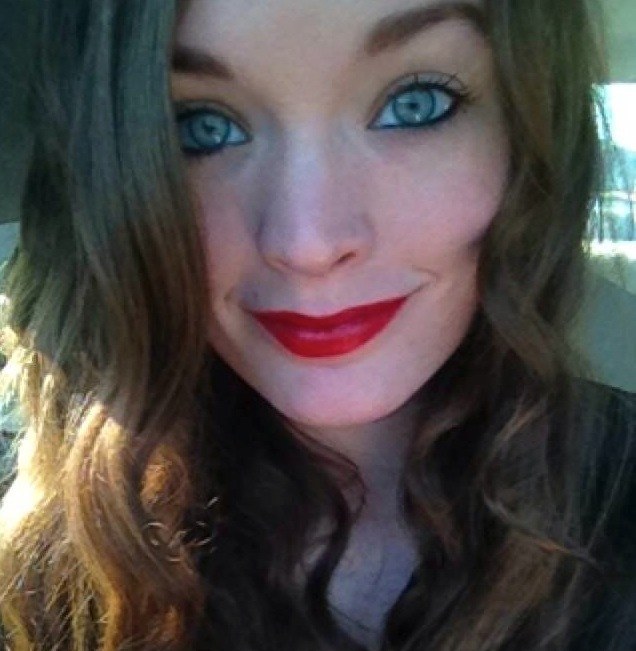 At the time of this writing, Wathen had raised $573, nearly double her cab ride.
She did not respond to a BuzzFeed News request for comment.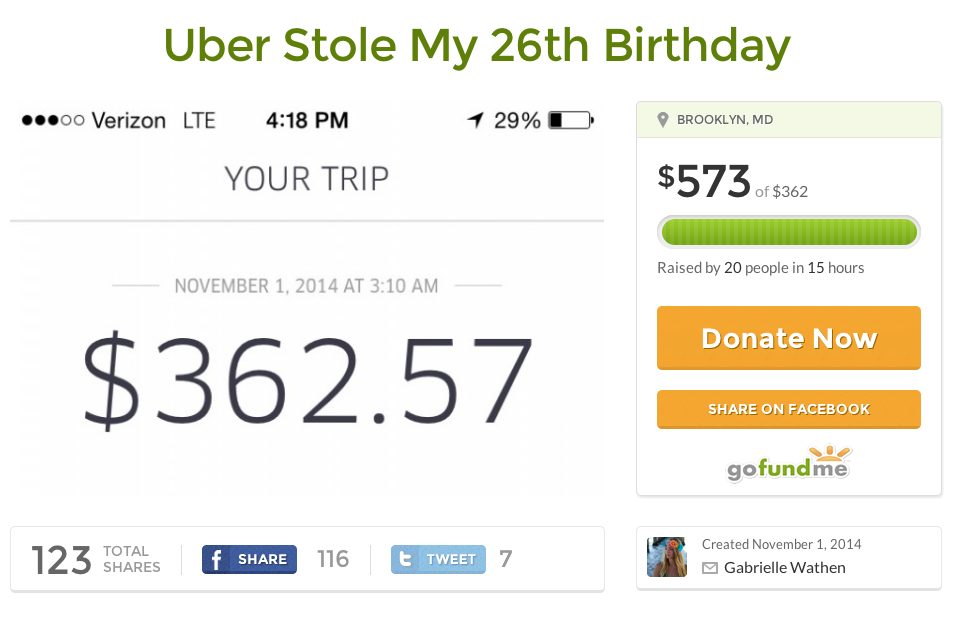 But a few of the comments on the page criticized Wathen for her questionable choices.
As one visitor wrote:
Birthdays are always a good time to celebrate but if someone is that deep in the hole and blacks out remembering spending that money in the first place, I dont know why I'd feel the need to donate. So I understand why she's upset but if you're already having trouble paying rent, drinking to the point of not remembering on your birthday/rent day, doesn't seem like the best idea.
Another added:
Really... it's her own fault for being too drunk to realize. Uber makes you type in what the current fare increase is so you're aware that you're requesting a ride during a price hike.
A spokeswoman for Uber Maryland released a statement to BuzzFeed News:
Uber ensures a safe, reliable ride, wherever and whenever, and dynamic pricing allows us to remain the reliable choice, even on the busiest nights of the year. Our in-app features ensure dynamic pricing is repeatedly communicated and approved before any trip is confirmed.