Bill Kellum, attorney representing Victoria Wilcher's family, told The Clarion-Ledger that his clients have now "unequivocally rejected" a $30,000 donation from KFC. "With everything that's happened, we just didn't feel right about accepting their money," Kellum said. "But we did tell them they were more than welcome to donate the money to the Frank Stile Foundation." (Stile has agreed to perform Victoria's cosmetic surgeries through his nonprofit foundation.)
GoFundMe announced Thursday that unless otherwise instructed by police, it plans to release on Monday the money raised for Victoria. At that time, the money will be available to the organizers of the fundraising campaign. Only a "very small number of donors" have requested refunds, though others are free to do so. At last count the funds totaled about $135,000.
KFC spokesman Rick Maynard told the Los Angeles Times that the investigation into Victoria Wilcher has been closed after a probe conducted by a third party failed to reveal "any evidence that the incident occurred."
The Wilcher family's attorney, William Kellum, told the Clarion Ledger that KFC's investigation was "inconclusive."
"It is deeply disappointing that other parties have taken opportunity to attack Victoria through social and news media outlets," he said. "Victoria is an innocent child with very real physical and emotional scars. The focus of her family has always been, and will always be, on Victoria and making her whole again."
Victoria's GoFundMe page that raised over $135,000 has been suspended by the website.
A spokeswoman for GoFundMe told BuzzFeed they "have been investigating the page and will be taking appropriate action."
"We can not share any details of the investigation," she said. "If you believe this user is committing fraud, or breaking the law in any way, please contact law enforcement officials and we'll be happy to work with them."
Shortly after a BuzzFeed reporter sent a family member of Victoria Wilcher the Laurel Leader-Call article detailing the hoax allegations, the Victoria's Victories Facebook page, where the post about KFC originally appeared, was deleted.
A statement on the Victoria's Victories Facebook page, likely written by her aunt, Teri Rials Bates, denied that the story was invented. "I promise it's not a hoax, I never thought any of this would blow up the way it has," the post said. She added, "It is not over until KFC releases a statement."
"It's not a hoax and whoever said it was is a damn lie," Jesse Bates, a relative of Victoria's, told BuzzFeed through a Facebook message.
Despite the reveal that the story is likely fake, hundreds of dollars were still being donated to Victoria throughout last night to the family's GoFundMe page.
A spokeswoman for Dr. Frank Stile, who offered to provide plastic surgery services for Victoria, said he is still planning on helping the child.
"He is totally committed to helping Victoria," said Susan Davis, his practice coordinator. "For us it's never been about [KFC] and that story. ... Victoria is absolutely the victim in many instances here."
Read the full statement from Victoria's family:
"I promise its not a hoax, I never thought any of this would blow up the way it has. The article circling the web calling this a hoax is untrue. The article it self say the investigation is not complete. It is not over until KFC releases a statement. The media outlet running this story is not connected with KFC. The family has not asked for anything, a attorney is handling all the media publicity for the family pro bono. Please do not believe untrue media. I have personally watched this family go without to provide for Victoria. They have not and would not do anything to hurt Victoria in any way."
The Laurel Leader-Call quoted sources "with deep knowledge of the investigation" on Monday saying the story of the girl being kicked out of a Jackson, Miss., KFC was a hoax and the family has raised $135,000 in cash, "as well as gifts and free surgeries."
According to the report, KFC has hired a third-party consultant to investigate what happened and will not comment until that is completed. Franchise owner Kirk Hannon said in a statement reported by television station WJTV:
"We continue to take this report seriously, and of course have great sympathy for Victoria and her family. Since we have so far not been able to verify the incident in our internal investigation, we have also hired a third-party consultant to conduct an independent investigation to help us resolve this matter. We have always prided ourselves on respect for all people and we will continue to emphasize this to all our employees. In addition, regardless of the outcome of the current investigation, KFC Corporation has committed $30,000 to assist with Victoria's medical bills. Along with the KFC Corporation, we are determined to get to the truth and address the situation appropriately."
Calls from BuzzFeed to Kelly Mullins and her family were not returned.
A few weeks ago, 3-year-old Victoria Wilcher was attacked by three pit bulls when they burst through the trailer of her grandfather's house.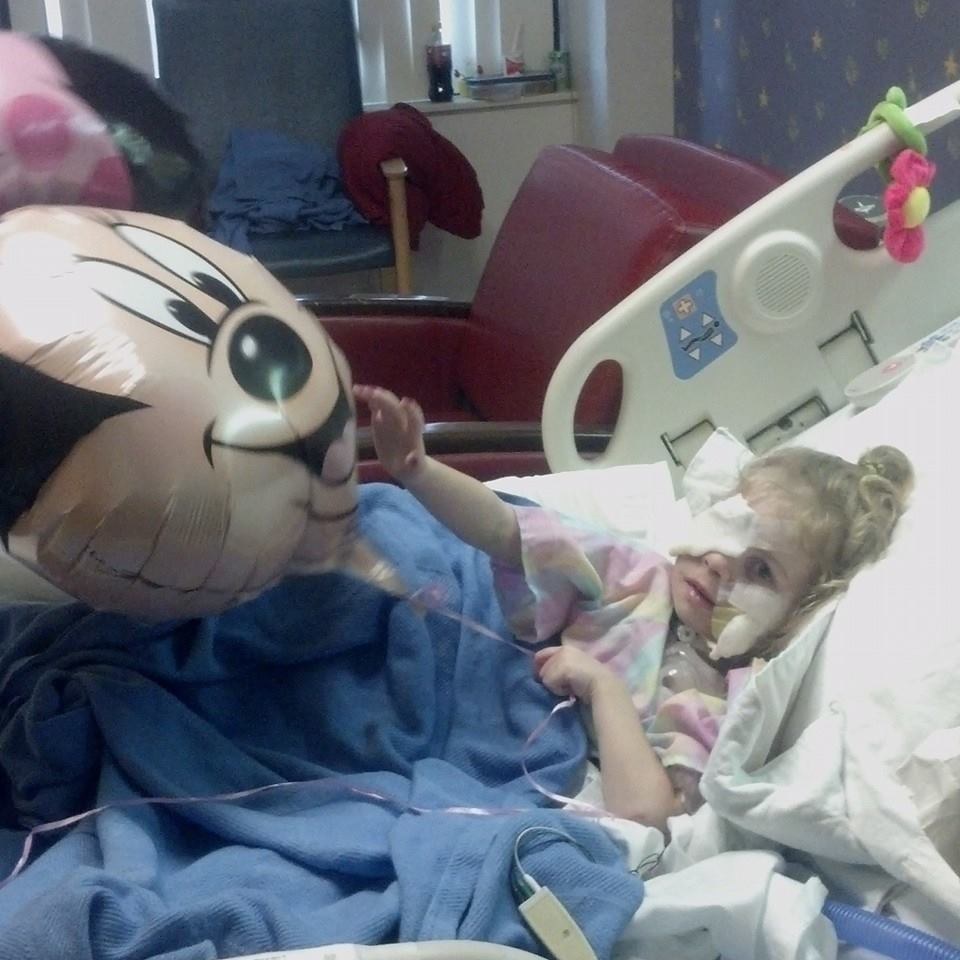 The little girl from Harrisville, Miss., was severely banged up; she broke her upper and lower jaws, nose, cheek bones, and right eye socket. She completely lost her right eye, and underwent multiple surgeries.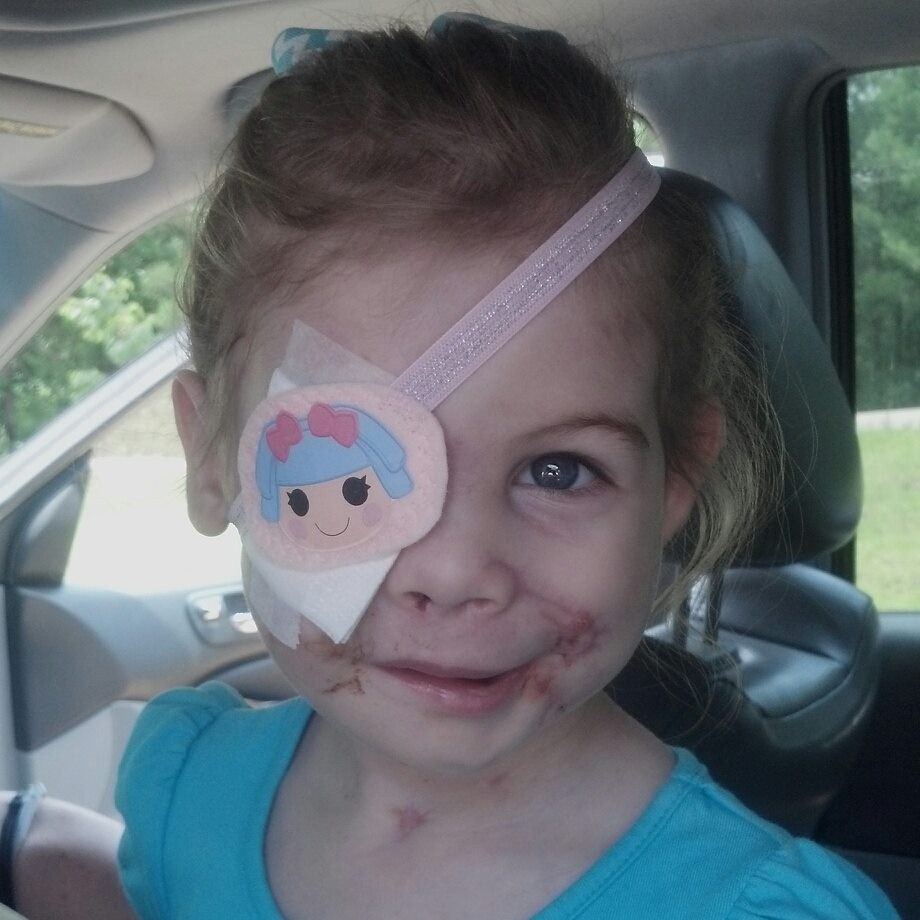 Last week, Victoria's grandmother, Kelly Mullins, told WAPT-TV that after she took the little girl to a KFC in Jackson, Miss., for a snack, the two were asked to leave because the little girl's scarred face frightened diners.
"I ordered a large sweet tea and her some mashed potatoes and gravy because she was hungry. She was on a feeding tube at the time, but I figured she could just swallow [the potatoes]," Mullins recalled. "They said, 'We have to ask you to leave because her face is disrupting our customers.' [Victoria] understood exactly what they said."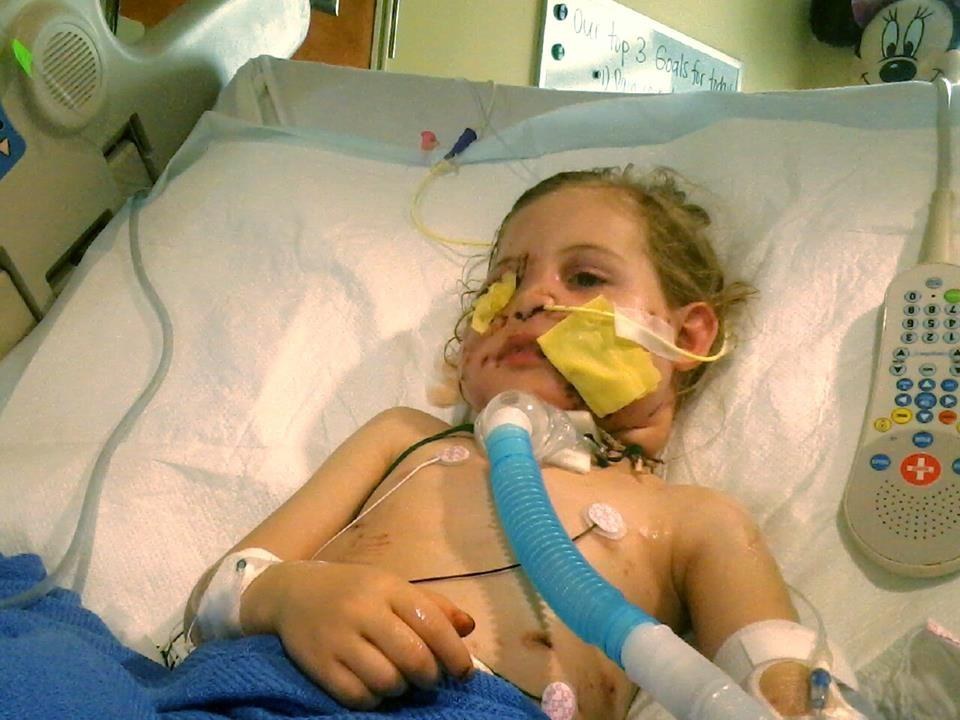 A post about the incident that appeared on Victoria's Facebook support page, Victoria's Victories, got shared more than 2,000 times.
The post read:
Does this face look scary to you?
Last week at KFC in Jackson MS this precious face was asked to leave because her face scared the other diners. I personally will never step foot in another KFC again and will be personally writing the CEO.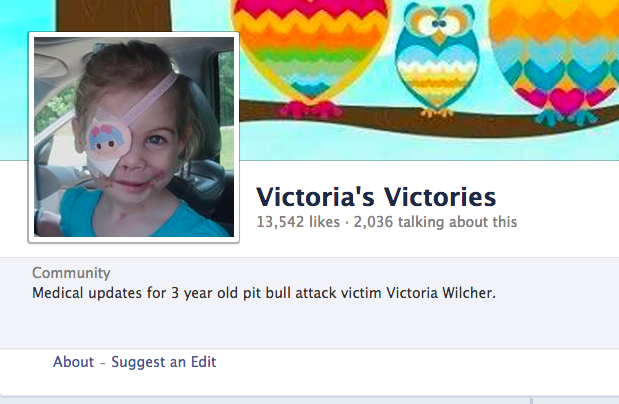 KFC has since launched an investigation into the incident, KFC spokesman Rick Maynard said.
"We take this very seriously, as we have zero tolerance for any kind of hurtful or disrespectful actions toward our guests. Our investigation is ongoing, but we have been in touch with the family and are committed to doing something appropriate for this beautiful little girl and her family."
He added, "We will also work with the franchisee to take appropriate action at the restaurant once the specifics of the incident are determined,"
BuzzFeed has reached out to Maynard for further comment.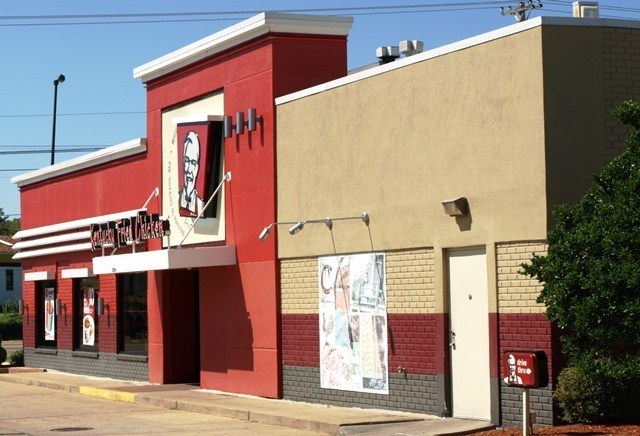 Mullins said the experience has made the little girl self-conscious, and said she won't even look in the mirror anymore.
"When we go to a store, she doesn't even want to get out [of the car]," she said. "She's 3 years old and she's embarrassed about what she looks like. She's embarrassed, and I hate it because she shouldn't be. It ain't her fault."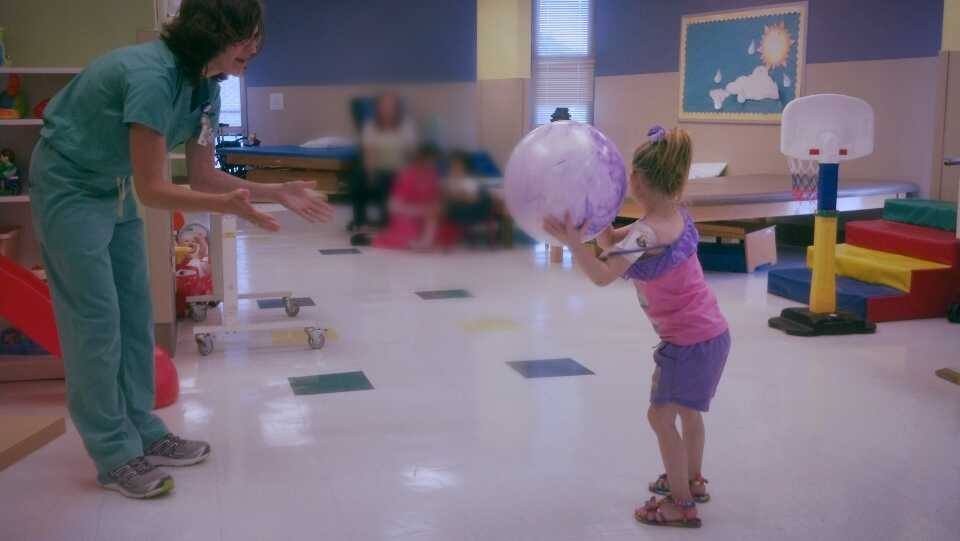 Victoria is on antibiotics and still has multiple surgeries left, but is on the mend, according to her family's fundraising website for her medical bills.
Update — June 15, 6:34 p.m. ET: KFC is still investigating the incident, but told ABC News it will give $30,000 toward Victoria's medical bills.