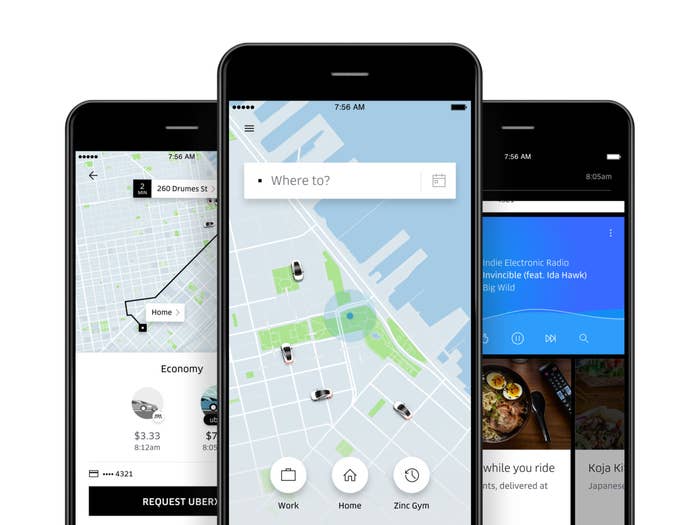 Uber already knows when and where its riders are traveling. Now, it wants to know where they might be traveling next and what they might want to do when they arrive — be it tomorrow or a month from tomorrow.
A redesigned version of the ride-hail giant's mobile app will use data from passenger calendars to predict likely destinations and integrate services like UberEats, Yelp, Snapchat and Foursquare into an "Uber Feed" intended to keep riders engaged and double down on the company's convenience pitch.
"We want to know what you want before you want it."
"We want to know what you want before you want it, so we can deliver a more elegant, more streamlined experience," Uber Chief Executive Officer Travis Kalanick told reporters. "Let's say you normally go home from work at 7 p.m, and you open up the app at 7 p.m. We wanted to give you a button to quickly push that just takes you home."
With that in mind, the new Uber app uses smartphone calendar information to pre-populate likely destinations. Passengers must opt into this service. Those who do will see calendar appointments appear as shortcuts in the Uber app. Opting in grants Uber access to the entirety of a user's calendar information, though the company told BuzzFeed News that it will pull only event locations, times, and titles. That said, users who opt in agree to share their information under the same terms and conditions outlined in Uber's privacy policy, which allows the company to collect and store information, and to share it with third parties.
In the newly overhauled Uber app, contacts can be destinations. That means if you're going to meet a friend who also uses Uber, you can simply enter that person's name in the app instead of their address. Uber will then send a push notification to your friend requesting permission to use their current location as the destination point for your trip.
Kalanick said these new features are intended to streamline the pickup process, typically the most fraught part of the Uber experience. The company expects to roll out calendar integration and its contacts-as-destinations feature some time in December. The first piece of Uber's big app redesign — a reimagined home screen with a swipeable menu of ride options and associated fares — begins rolling out to users worldwide this week.
"Meet a taco at your doorstep is basically the feature."
Beyond displaying expected arrival time and other ride information, the Uber Feed will also enable passengers to control music via Pandora and to order food from Uber Eats and have it delivered to their destinations. "Meet a taco at your doorstep is basically the feature," said Yuhki Yamashita, product manager for rider experience at Uber. A Snapchat integration will share ETAs with friends via selfies. And an integration with Yelp will offer restaurant reviews and menus to passengers who are headed out to dinner. Uber expects to add more such features in the feed and is integrating public transit information, such as subway, bus, and train departure times, with an app called Transit.
The new version of the Uber app offers a swipeable menu of ride options. No more clicking back and forth to compare fares.
With Uber Feed, you can change music in the car through Pandora or order a meal with Uber Eats.
For Uber, this app overhaul is a bet that convenience will drive ridership, making it even easier for ride-hail to become a default mode of transportation for travelers who might otherwise use it as one option among many. If Uber already knows the location of my upcoming 6 p.m. appointment and where I'm going to dinner afterward, why bother taking the subway or hailing a cab?
"If we don't start getting intelligent about what you want, you get 15 choices and you get the cognitive load of trying to decide. I call it the tyranny of choice," Kalanick said. "From the moment you open up the app to when you're in the car and even when you get out of the car, how can we make that a better experience and a more magical one?"