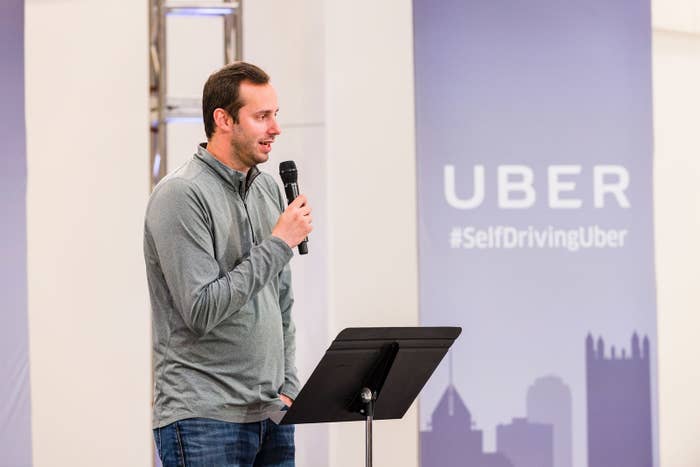 In a court hearing on Wednesday, Waymo's lawyers alleged that Anthony Levandowski – its former employee who is at the center of its contentious lawsuit against Uber – started his self-driving truck company Otto as a ruse so Uber could acquire it and steal proprietary information about Google's self-driving car program.
"We've learned that Uber and Levandowski together created a cover-up scheme for what they were doing," Charles Verhoeven, a lawyer for Waymo, said. "They concocted a story for public consumption. The story was that Mr. Levandowski left Waymo for his own company."
The stunning accusation came at a hearing over whether a federal judge should grant Waymo's request to halt Uber's work on self-driving cars pending a trial. Waymo alleges that Levandowski downloaded 14,000 company files before leaving the company to start Otto.
At Wednesday's hearing, Waymo's lawyers pointed to a stock agreement that gave Levandowski more than $5 million shares of stock that would begin vesting on January 28, 2016 – the day after Levandowski quit Google. They said this amount of stock in Uber, a private company, would be equivalent to about $250 million.
According to state records, Levandowski's company Ottomotto LLC was incorporated in Delaware on January 15, 2016. Uber acquired Otto and appointed Levandowski as head of its self-driving car program a few months later, in July 2016.
Outside the courtroom, Uber told reporters that the vesting agreement was created when Uber acquired Otto and appointed Levandowski as head of its self-driving car program. The company said it backdated the vesting to January 28 to account for his time at Otto, and that shares would only vest when milestones were met. To date, none of those shares have vested, the company said. The ride-hail giant's lawyers didn't address the vesting agreement in court.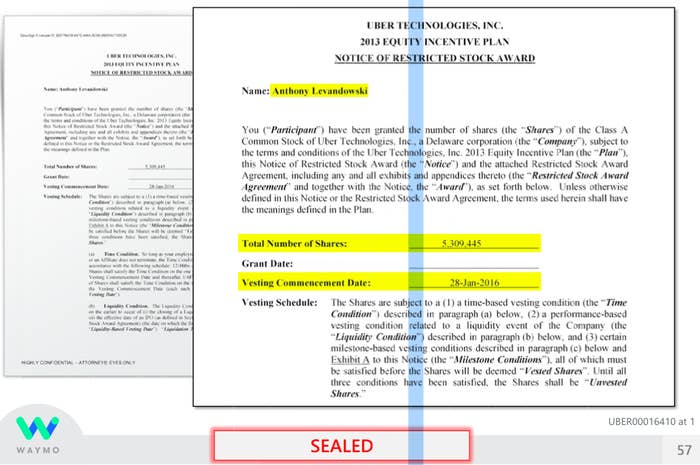 Waymo's lawyers also pointed to emails sent in January by Brian McClendon, Uber's former vice president of maps who left the company earlier this year, that referenced a meeting with "Anthony," presumed to be Levandowski.
The lawsuit centers around laser technology called LiDAR (Light Detection And Ranging), which helps self-driving cars see and navigate. Uber says its own technology is "fundamentally different" from Waymo's designs. But Waymo is arguing that Uber's work has been informed by its own trade secrets.
Throughout the court case, Uber has not disputed the idea that Levandowski may have downloaded files before leaving Google. (On Wednesday, a lawyer for Uber told the judge that "we don't have any basis for disputing that.") Levandowski himself has pleaded the 5th Amendment, which protects him from incriminating himself while responding to questions. Uber says it does not possess the files in question.
As Waymo's lawyers attempted to make their case against Uber Wednesday, US District Judge William Alsup, who's presiding over the case, didn't seem convinced. "You have no proof that shows a chain of Levandowski saying to anybody, 'here's the way that you should do it,' and that is your trade secret," Alsup said.
"All that has been proven is he downloaded 14,000 files. I've given you lots of discovery and so far you don't have a smoking gun," the judge said.
The judge also pondered whether Levandowski may have accessed Waymo's files on his personal laptop while leading Uber employees."The problem we have is that here is someone who is running the accused program who, with the flip of a switch, can consult 14,000 files from his former employer," Alsup said, laying out a hypothetical.
"There's no evidence that happened," Uber's attorney Arturo Gonzalez said.
Last week, Levandowski stepped aside from his role leading Uber's self-driving program and into a lesser position. As part of Waymo's injunction request, it asked that Levandowski be barred from working on Uber's self-driving program entirely.
After the first portion of the hearing, the judge said lawyers from both sides would return to the courtroom for a hearing sealed from the public to discuss the potential trade secrets at hand. Judge Alsup has yet to issue a decision.
UPDATE
This story has been updated to include additional details from court proceedings.