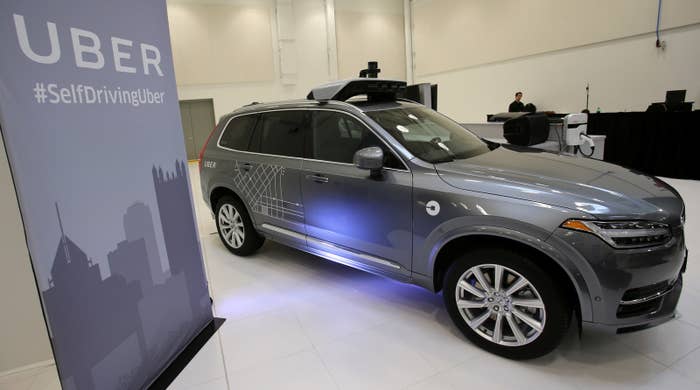 Volvo is opening a research and engineering center in Mountain View, California, where 70 engineers will work on developing autonomous driving, infotainment, and connectivity technology.
Employees will begin moving in as soon as next week. "We are putting the furniture in now as we speak," Lex Kerssemakers, Volvo's US chief executive, told BuzzFeed News in an interview.
The move puts Volvo closer to ride-hailing giant Uber, which is retrofitting Volvo XC90s with its own self-driving technology to put on the road in Pittsburgh. Volvo and Uber also recently announced they were partnering in a non-exclusive, $300 million deal to develop an autonomous car together.
The Swedish luxury carmaker follows a line of automakers who have opened up research and development centers in Silicon Valley recently. Ford set up shop in Palo Alto in 2015 and plans to soon double its staff of 130 people, and General Motors has an office in the area as well. Mercedes-Benz opened a research facility in Sunnyvale, California in 2013.
For automakers, building a base in the Bay Area provides an opportunity to create partnerships with tech companies and startups, and to scout out potential acquisitions to get ahead in the race to develop self-driving vehicles. Ford, for example, says it is working with more than 40 startups on new car technology. The company also purchased Chariot, a San Francisco-based shuttle service, earlier this month.
Besides its plans with Uber, Volvo has several other investments in self-driving vehicle technology, which proponents say could reduce the number of car accidents by removing the chance of human error. The company plans to launch a pilot program in London next year that will give 100 people fully autonomous vehicles. It will launch a similar program in Sweden in early 2018, and it's negotiating with several cities in China as well. The pilot program is aimed at helping the company understand how real people would use autonomous vehicles on a day-to-day basis, and how they would spend their time while sitting in cars that drive themselves.
"We have this vision that nobody should be killed in a Volvo," Kerssemakers said. "Autonomous driving plays a very important role for us in reaching our vision."