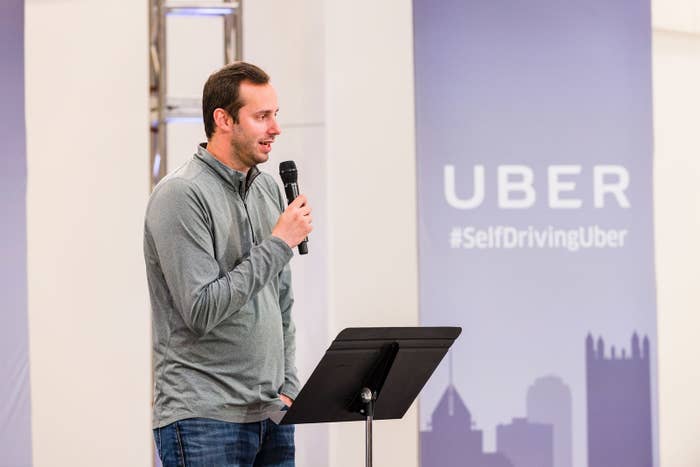 Anthony Levandowski, head of Uber's self-driving car program, is stepping away from his role following allegations that he stole key technology from his former employer, the Alphabet-owned autonomous car company Waymo. He will remain at Uber, but in a lesser role.
According to an internal company announcement first reported by Business Insider, Levandowski has stepped down as head of Uber's Advanced Technologies Group (ATG) and recused himself from all work and discussion of the company's work on LiDAR, the self-driving technology at issue in the suit in which he figures prominently. LiDAR refers to "light detection and ranging" systems; It uses rapid pulses of laser light to help self-driving cars measure distance and navigate the world around them.
Eric Meyhofer, who joined Uber's self-driving program from Carnegie Mellon University when it launched in 2015, will assume Levandowski's ATG duties. Uber confirmed Levandowski's move to BuzzFeed News.
"Going forward, please make sure not to include me in meetings or email threads related to LiDAR, or ask me for advice on the topic."
"... making this organizational change means I will have absolutely no oversight over or input into our LiDAR work," Levandowski wrote in the announcement. "Going forward, please make sure not to include me in meetings or email threads related to LiDAR, or ask me for advice on the topic."
Waymo declined comment on Levandowski's move. Earlier this year, the company asked a federal judge to forbid Uber from using technology and information it alleges Levandowski stole pending trial, and to stop Levandowski from working on Uber's self-driving cars. Uber disputed that request, arguing its own work is "fundamentally different" from Waymo's designs. US District Judge William Alsup will hold a hearing next week over whether to grant the injunction.
Uber is due to submit an official response to Waymo's complaint by Friday. Uber has maintained that while Levandowski is the leader of its self-driving program, he was not a LiDAR engineer and simply "contributed some high-level ideas to the concept," according to one court filing. Uber described him as a manager who "did a lot of cheerleading on the sidelines" at Otto, the self-driving truck startup Levandowski started after leaving Waymo and subsequently sold to Uber. Levandowski was "much more focused on management duties. Mr. Levandowski does not provide input on detailed technical LiDAR design choices at Uber," Uber said in a court filing.
It's worth noting that Judge Alsup recently asked Uber to further detail Levandowski's role in the company's LiDAR development efforts. "You always talk about the professor, but you never say what he was working on," Alsup said, according to transcripts of court proceedings. "Well, why did you hire that guy for $680 million if he wasn't doing anything? So I wonder, what was he working on?"
As of today, Levandowski officially has no responsibilities related to Uber's LiDAR efforts.