Uber will pay $20 million to settle allegations from the Federal Trade Commission that the ride-hail giant advertised inflated estimates of how much its drivers earn on its website and in Craigslist job postings to entice them to join the platform.

Uber claimed drivers in San Francisco earn more than $74,000 annually and that those in New York make more than $90,000 a year, according to the FTC's complaint, filed in a California court. Less than 10% of drivers earn that much money, and the median income is $29,000 less in New York and $21,000 less in San Francisco, according to the complaint.
In 17 cities across the country, Uber advertised inflated hourly wages in job postings on Craigslist from at least January to March 2015, the FTC alleges, though the company's own data showed that in several of those markets, less than 10% of its drivers had recently earned that rate.
"During and after the time period Uber has made these unsubstantiated earnings claims, in many markets, most Drivers have not made the claimed amount," the complaint reads. "In many instances, Drivers have not made the promised amounts even when factoring in non-hourly earnings, such as payments for time-limited promotions and other incentives."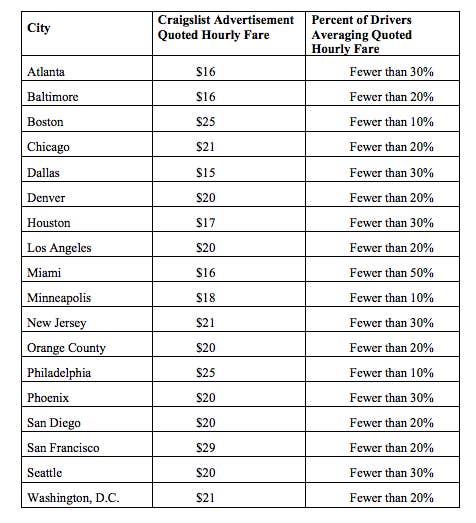 Based on leaked documents and internal Uber calculations provided in response to the leak, BuzzFeed News reported in June that the net pay for drivers in some markets is comparable to that of a Walmart worker. BuzzFeed reported then that drivers in Denver take home an average of $13.17 an hour, those in Houston take home $10.75, and those Detroit take home $8.77.

The FTC also claimed that Uber promised to connect drivers with the "best financing options available" for a vehicle through third-party partner companies, but "Uber has not had any basis for making these claims."
"Uber's communications with at least one auto company have acknowledged payment terms and conditions that are inconsistent with Uber's promises to Drivers," the complaint reads.
As part of the settlement, Uber did not admit or deny the FTC's allegations.
"We're pleased to have reached an agreement with the FTC," an Uber spokesperson said in a statement. "We've made many improvements to the driver experience over the last year and will continue to focus on ensuring that Uber is the best option for anyone looking to earn money on their own schedule."