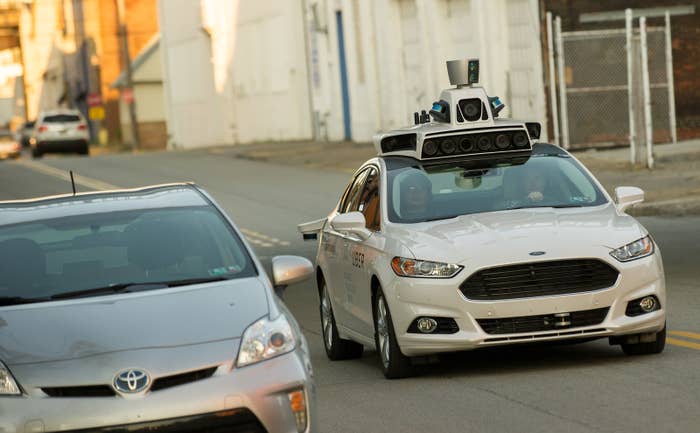 Uber's legal battle with Waymo over of self-driving car technology is growing increasingly more heated by the day. In a Friday court filing, the ride-hail giant dismissed Waymo's allegation that it had intentionally concealed a secret, second self-driving technology called "Spider" as legal theatrics in its effort to halt a competitor's efforts.
"Waymo's newfound focus on Spider is a red herring, intended as a face-saving move and to distract from Waymo's failed allegations against Fuji," Uber's lawyers wrote in a filing, referring to another self-driving technology at issue in the case. "Spider was a design idea that never evolved into a working prototype and was abandoned in October 2016, months before this lawsuit was filed … A preliminary injunction cannot be properly granted based on an abandoned idea."
"Waymo is not entitled to the extraordinary relief it seeks," Uber said, arguing that there is not a "scintilla of actual evidence" that it has misappropriated "Waymo's alleged trade secrets."
Uber's filing is the latest development in its nasty legal battle with the Alphabet-owned Waymo over allegedly stolen self-driving car technology. Waymo sued Uber in February, accusing its former employee Anthony Levandowski — who later joined Uber and became the leader of its self-driving team — of downloading stealing some 14,000 proprietary files before departing. The lawsuit between the two companies centers around LiDAR, or Light Detection And Ranging, a technology that uses rapid pulses of laser light to help self-driving cars measure distance and navigate the world around them.
On Thursday, Levandowski stepped down as head of Uber's Advanced Technologies Group and recused himself from all work and discussion of the company's work on LiDAR.

"... making this organizational change means I will have absolutely no oversight over or input into our LiDAR work," Levandowski wrote in an email announcing the move. "Going forward, please make sure not to include me in meetings or email threads related to LiDAR, or ask me for advice on the topic."
Next week, US District Judge William Alsup will hold a hearing about whether to grant Waymo's request for an injunction to halt Uber's self-driving program pending a trial. That motion had asked that Levandowski be removed entirely from Uber's self-driving program until a trial takes place.
Uber has emphatically denied Waymo's allegations, slamming them as "baseless attempt to slow down a competitor." In its latest filing, Uber sounded that note again, saying Waymo's lawsuit is based on "speculative harm" that Uber could bring its self-driving cars to market first. "Waymo has cited no cases in which fears about future commercialization in a market that does not yet exist supported a finding of irreparable harm," Uber wrote.